Nobby's Style
Originally Published: April 2012
Words: Graham Scott
Pictures: Steve Taylor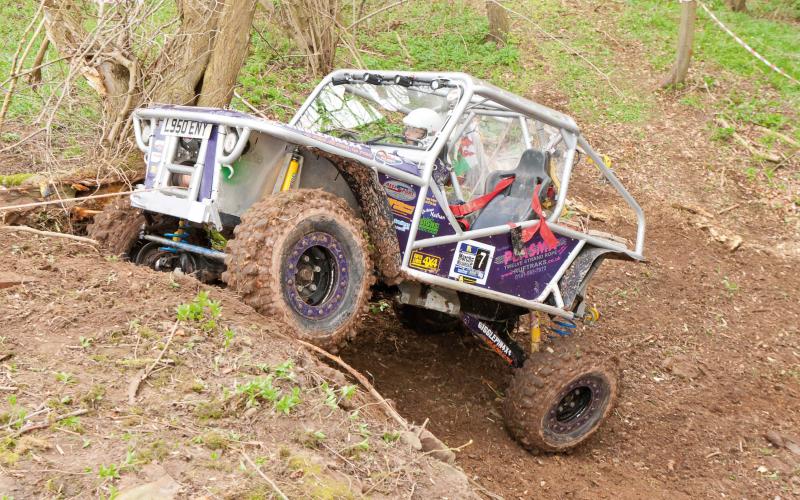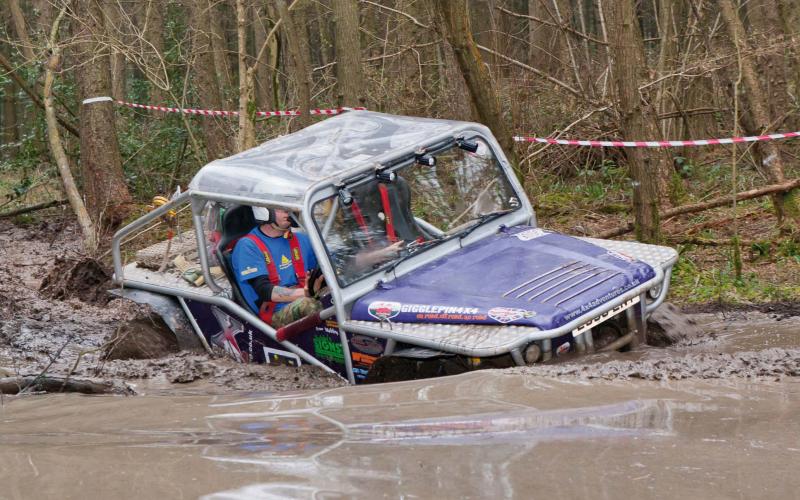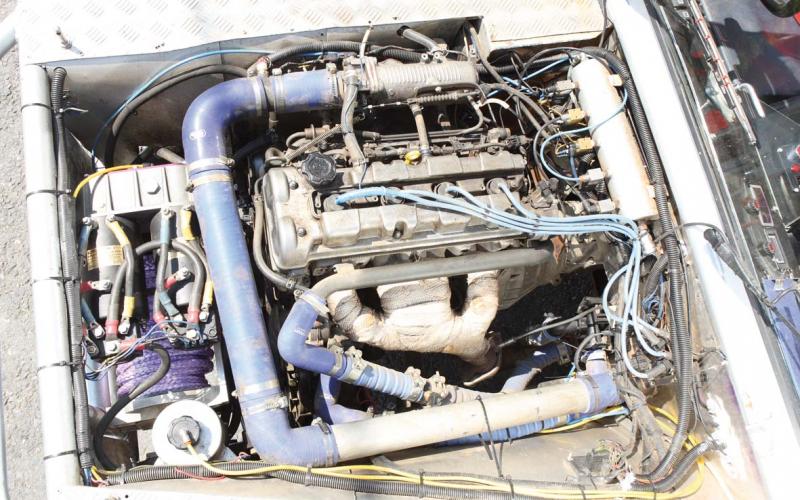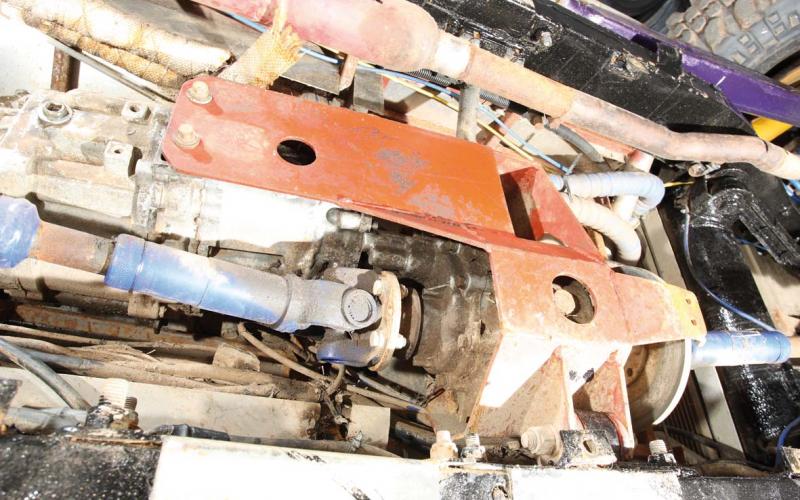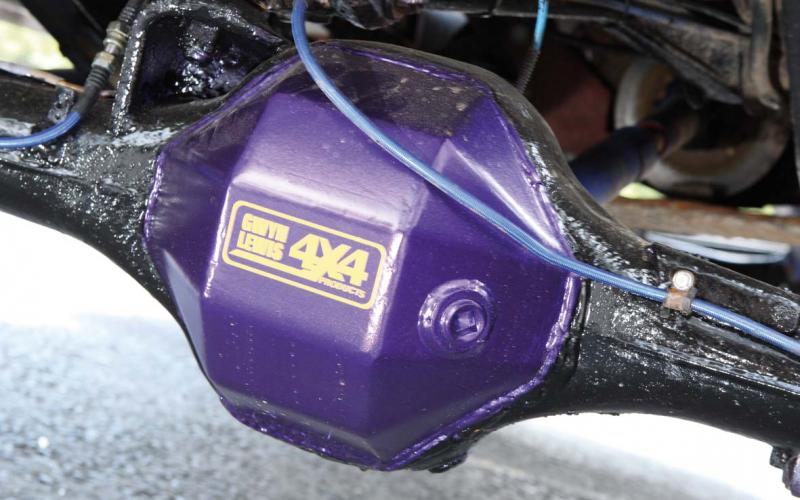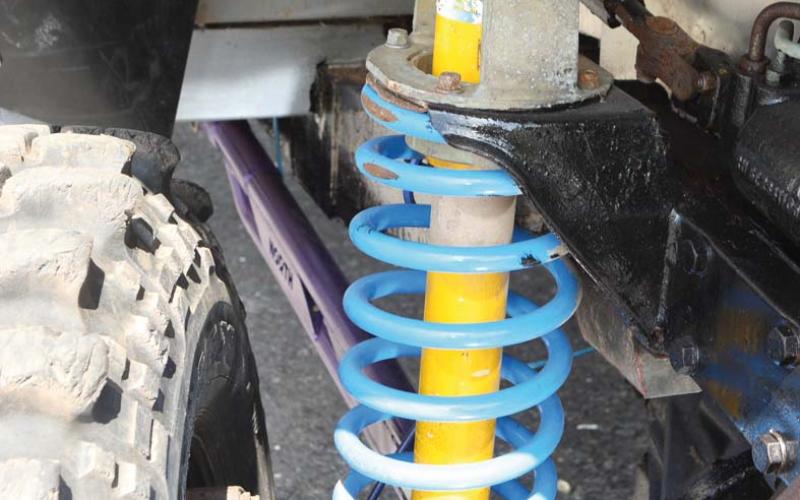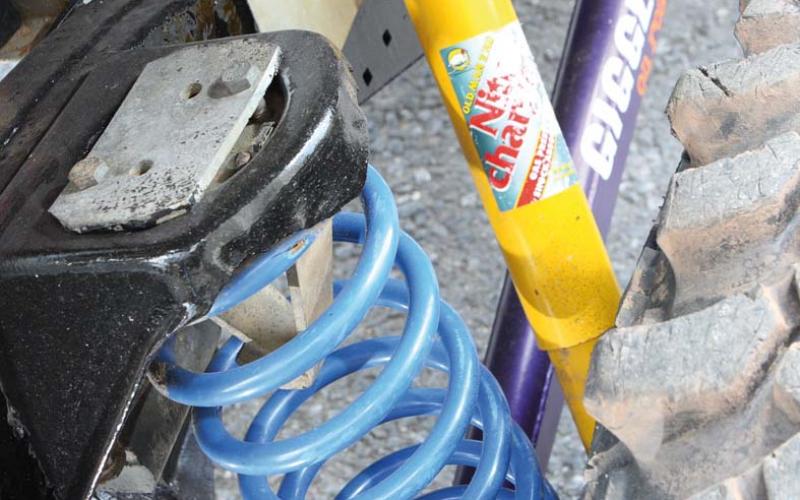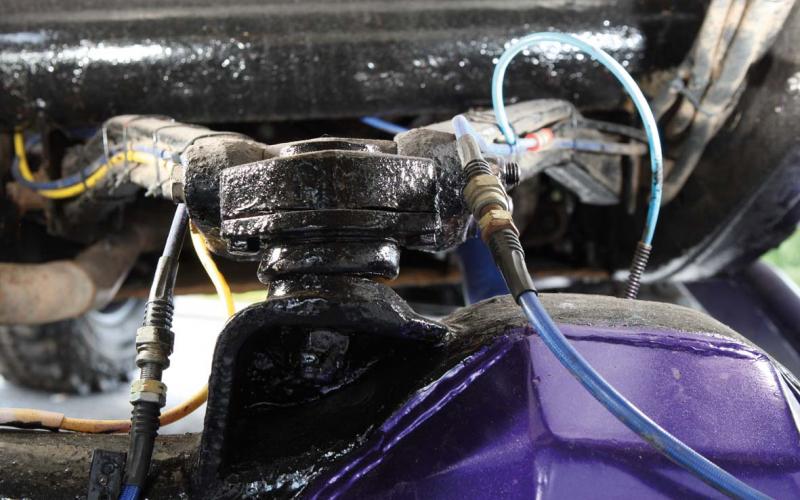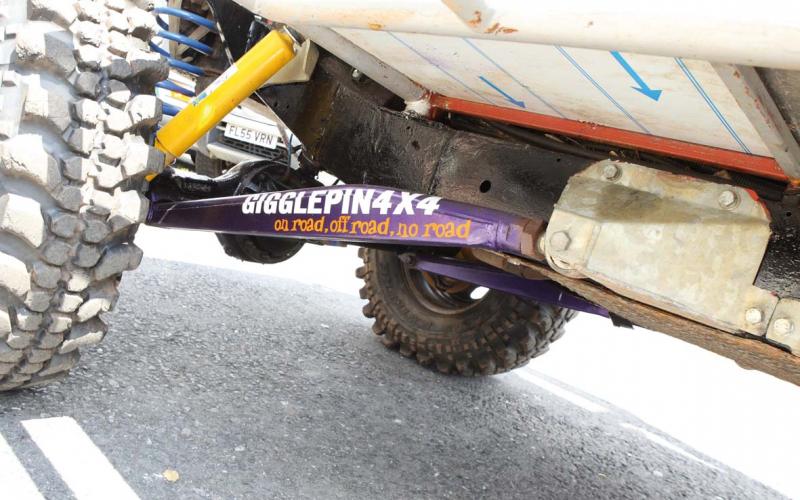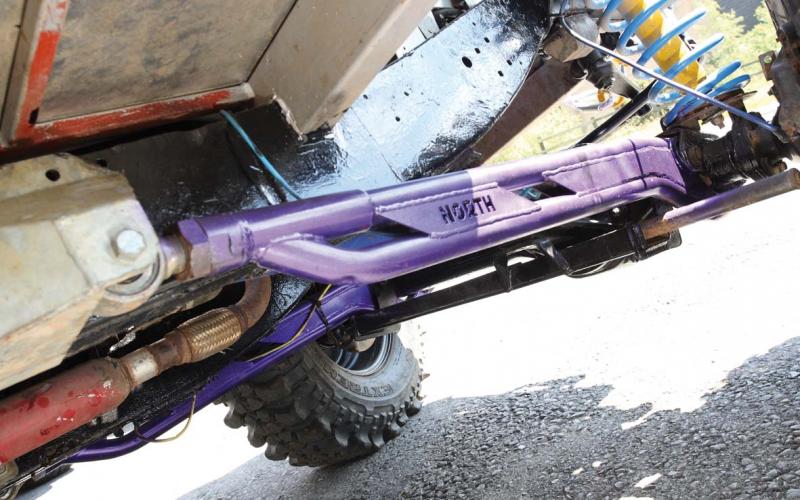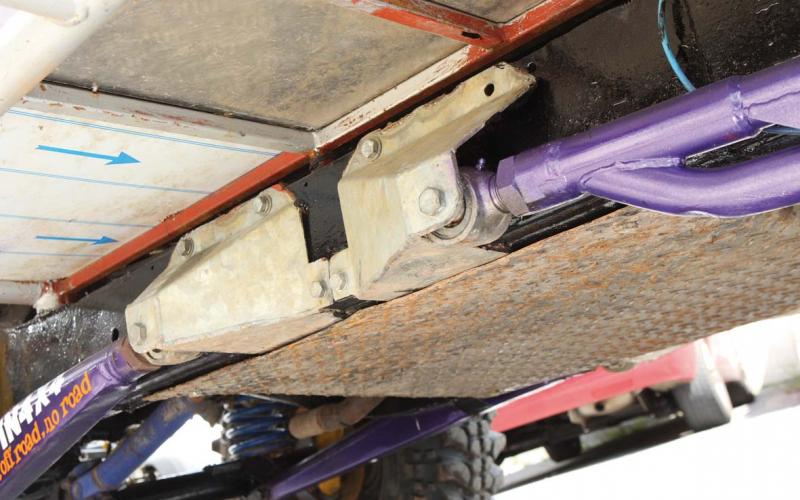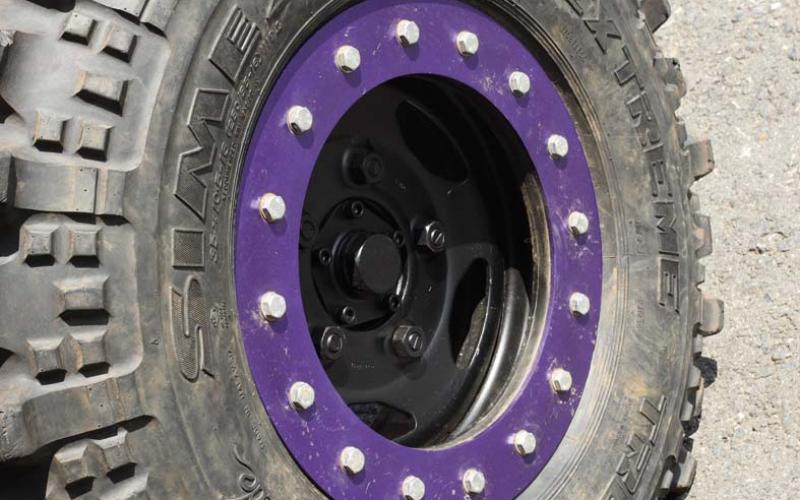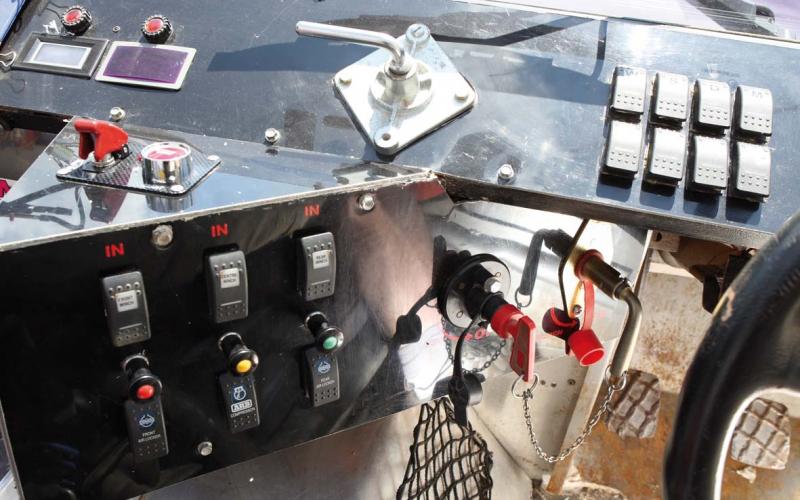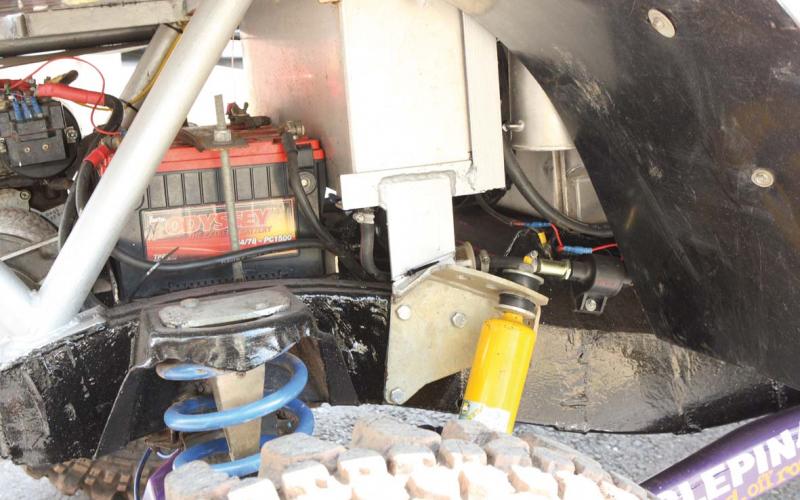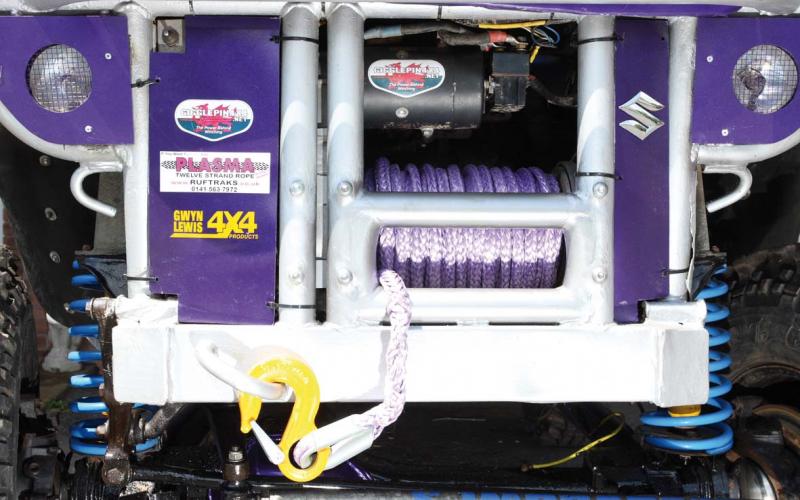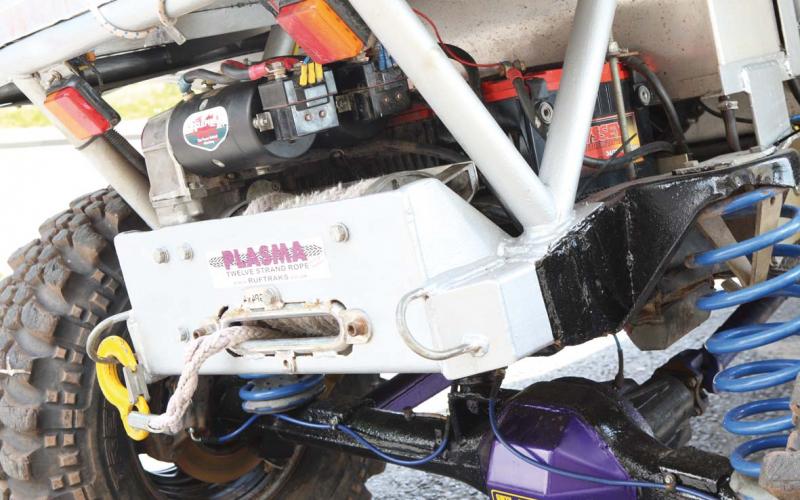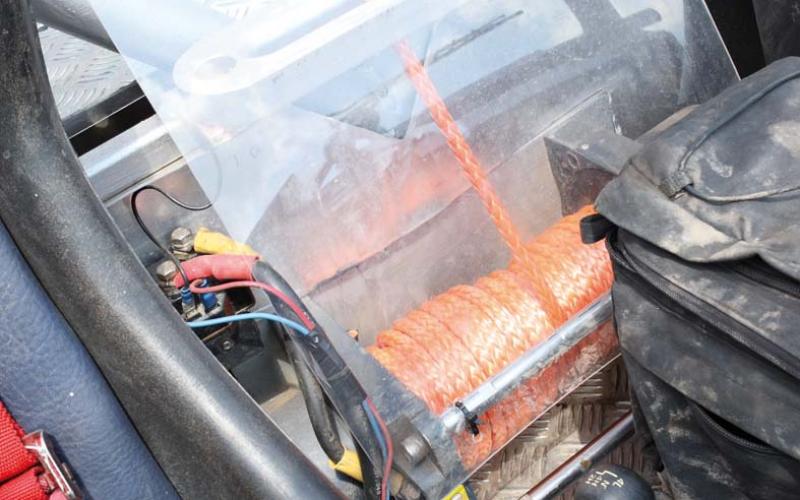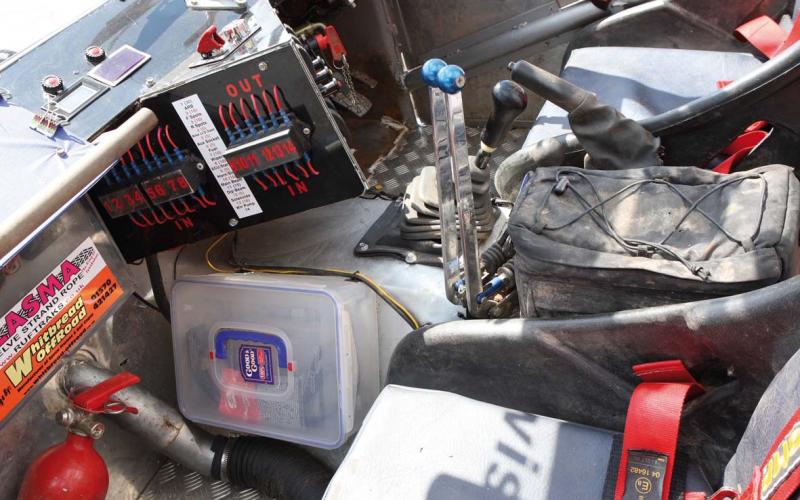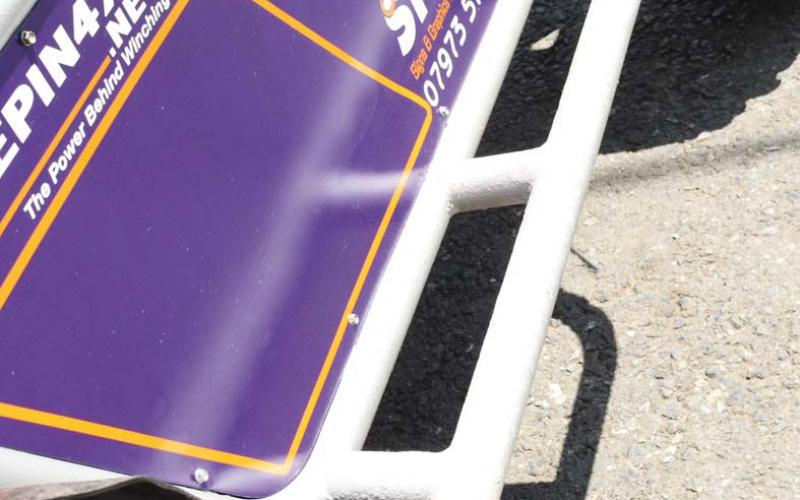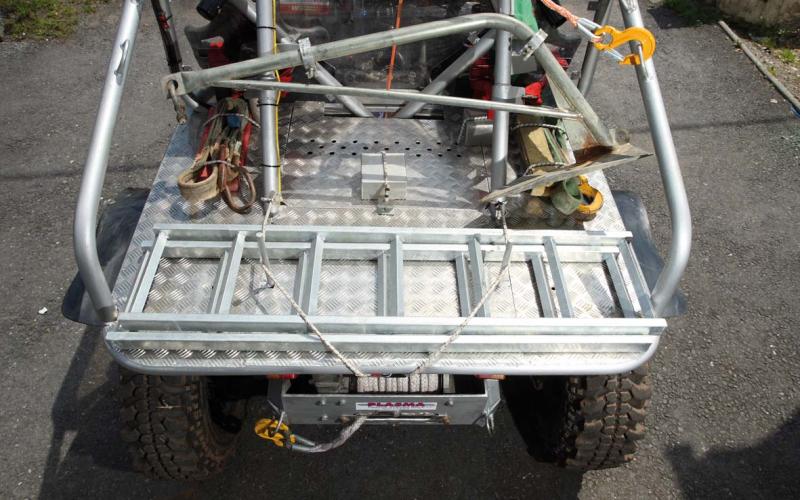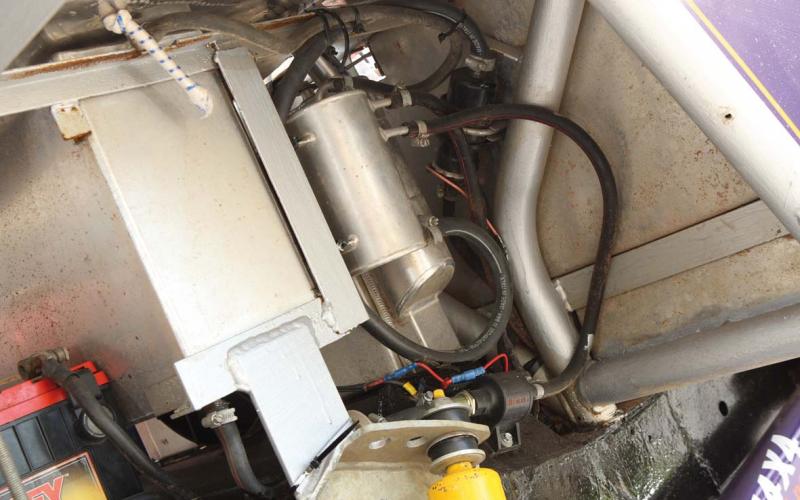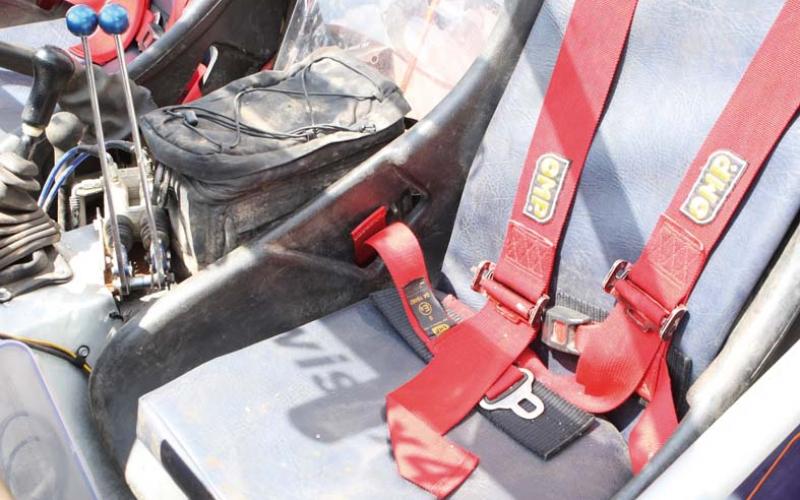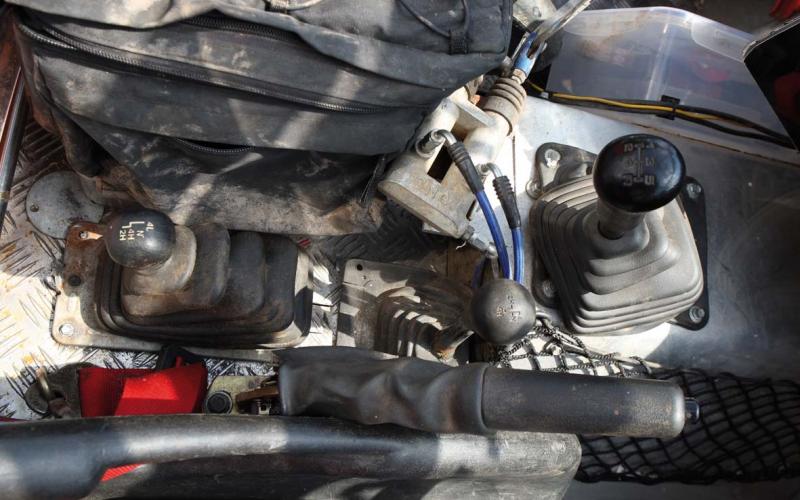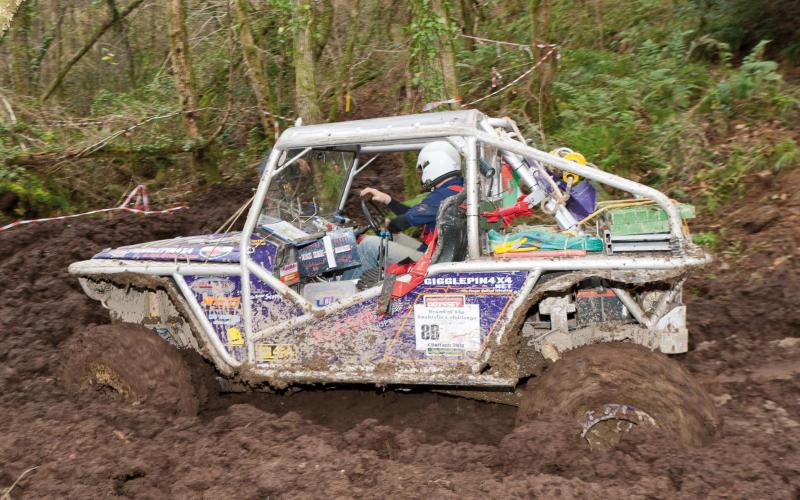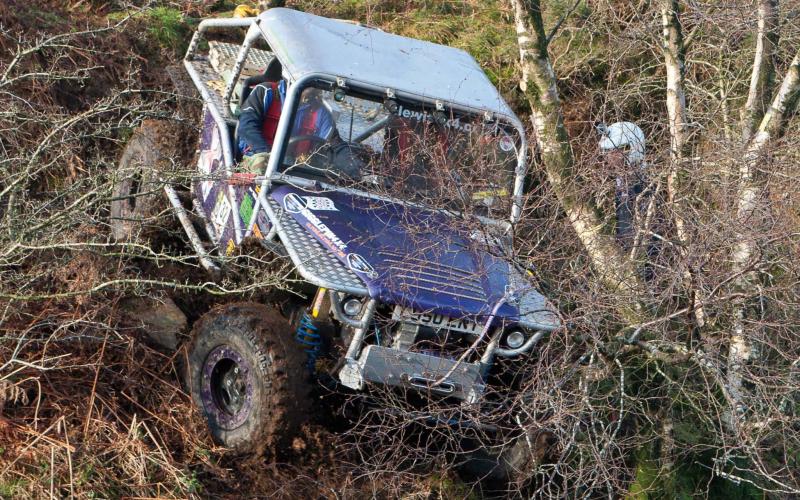 <
>
The name Nobby will forever be associated with a toothless man dancing on the pitch at Wembley. We've no idea how Jason Morgan got it as a nickname, but when it comes to building a challenge truck he definitely does things in his own style.
Jason Morgan is pretty uncompromising in his attitude to his vehicle. 'It was built for a purpose. It's definitely not built for comfort, nor for good looks'.
This is a competition rig, pure and simple. Jason, known universally as 'Nobby' for reasons we won't enquire, is equally uncompromising about who he is and where he's from: 'Welsh Wales, see boyo'. Short of shoving a leek and some daffodils up your nose he couldn't mark out his position any more clearly.
Given the gruff, no-nonsense attitude, you'd be forgiven for thinking he probably bashes bits of metal for a living or runs one of those incredibly hardy mountain farms, but he doesn't. Instead what does he do? 'I'm a full-time foster carer for kids with disabilities. I think it's the best job in the world.'
In between doing a seriously worthwhile job, Nobby has spent about 20 years off-roading. Starting with a Daihatsu Fourtrak, he progressed to a Shogun at playday level before starting the long and rocky road to things like a Series IIA, to which he added a V8 and some dumper tyres then wondered why his diffs and halfshafts kept blowing. The challenge bug bit at the same time as a Suzuki SJ appeared, and now we see before us the latest incarnation of that bug, which, despite appearances, also still features Suzuki.
Nobby is keen to stress that this rig is no simple modified 4x4. He wants to go as far as he can, and to that end he had no intention of simply driving some Solihull product with a set of rough tyres and a snorkel. Although in fact Solihull did feature, in the form of a rather exhausted Discovery which was pushed on to his driveway, complete with chassis and body panels.
After just a few hours some of the chassis remained, but the rest was gone forever. The chassis itself was fairly sound, but it still got a coat of red oxide once it had been shortened front and rear to improve approach and departure angles. At the same time various brackets and stuff were cut away as there wasn't much going on top to attach them to.
What did go on was a Whitbread Off-Road spaceframe for challenge vehicles. This lightweight, tubular unit is made from 48.4mm blue-band steel tube (although a 50mm CDS version is also available). It's strong, lightweight and designed to fit directly to a Discovery chassis.
Malcolm Whitbread, who regular readers will feel they know well, offers the frame kit with various levels of build-up, including none if you're capable of doing the welding. Nobby felt he had no choice. 'With this kind of sport you really need to do your own spannering as, if you get a problem, you have to have a pretty good idea of how to fix it. It was all done in a small garage on the side of my house, mostly by me and my son Nathan, who's also the co-driver.'
Deep in the garage, the work continued. As you can see, painting the bodywork was not a major job. The few panels are made from di-bond composite board (something you normally make signage from), plus there's a bit of aluminium, some HDPE for the wheelarches and clear polycarbonate for the roof. It may once have been a Discovery, but it certainly doesn't look like one now.
Perhaps the biggest surprise is under what might pass for the bonnet. Expecting some big Land Rover unit in there? Think again, it's all Suzuki. A Grand Vitara lost its 2.0-litre petrol engine, which fitted easily into the chassis, as far back as possible. To Nobby it was simply 'a straight install, so nothing to worry about as it was just a case of drop it in and make up engine mounts to suit.' So simple.
The really trick part is that Nobby was running a MegaSquirt controller for the electronic fuel injection. This produces serious results, as Nobby recounts with relish: 'It was put on the rollers after a few events and it's now running 154bhp.' Which is about 30bhp up on stock, impressive indeed. On the other hand, just a casual glance at MegaSquirt is enough to make you go and hide behind the sofa.
For starters, the controllers are billed as 'educational projects for those who want to learn about electronic fuel injection. A large amount of reading and study is required. They are not designed to be a "no hassle" solution to users' EFI needs.' Hmm, still keen to whack one on and see what happens when you fire the baby up? Me neither. But there's no doubting their efficacy once you've done all the reading, study and work. Don't know how Nobby found the time.
He wasn't satisfied to leave it at that, either. He fitted a rear-mounted radiator from AlliSport, located so it will only get blocked with mud if something has gone seriously amiss with the world of gravity.
On to the engine went a Davies Craig water pump and controller kit (nearly everyone seems to call this the David Craig or indeed Craig David but, as far as we know, a young man with facial topiary was not involved). The water pump gets a massive thumbs up from Nobby: 'This has to be one of my favourite bits of kit on the truck as it not only does away with your engine pump, but it also controls the fan and helps eliminate hot spots in the engine when you turn it off, as it continues to pump water round after the ignition is killed.'
Aft of the four-pot motor is the Grand Vitara gearbox, which is then mated to a RockWatt concoction. This features a twin transfer set-up, whereby a Grand Vitara transfer box is then mated to an SJ transfer box. Nobby is a big fan of RockWatt, whom he describes as: 'a tidy bloke really, even though he lives up North. But it does take a while to get used to the gear combinations!'
Heavy-duty Gwyn Lewis propshafts feed into axles off a Land Rover 90. Inside these are 4.7:1 Ashcroft rings and pinions, along with the same company's halfshafts, CVs and drive flanges. ARB diff-lockers also live in there, with heavy-duty diff pans, also from Gwyn Lewis, on the outside. These are 6mm thick and, as Nobby puts it: 'If you break one of them, you've got other things to worry about.'
The ever-excellent Gwyn Lewis also supplied most of the suspension, which is of the dislocating variety. His challenge kit with Old Man Emu +5" shocks and springs works with North Off Road extended front arms and Gigglepin extended rears. We'll be hearing more about Gigglepin later, but let's not forget the Johnny Joints which add to Nobby's suspension package. The bushes, on the other hand, are actually standard, chosen because even though they don't last as long, he reckons they offer more flex than heavy-duty jobbies.
Amazingly, the axles are located in exactly their original location which, to Nobby's knowledge, makes them the only things on the vehicle that haven't been moved. On their ends, mounted using 32mm spacers, sit Discovery rims with Gary Andrews beadlockers and 35" Simex tyres. The vehicle is trailered to events, so there's no need for more than the one set.
Helping slow down these wheels are four-pot front calipers front and rear, the latter plumbed to a set of fiddle brakes. Nobby uses standard pads, reasoning that nothing lasts long in the mud and they're simply cheaper to replace.
The brake lines are the extended, braided type, from Dave at Llama 4x4. Rather more exotic is the X-Eng handbrake, the disc transmission brake being augmented by a hydraulic line lock to provide a belt and braces set-up 'just in case one fails on a silly slope!'
Well, there's nothing for it, we're going to have to talk about the electrics now. This is where I'm aware of the yawning chasm between Nobby and me. This isn't just because he's Welsh, it's because he did all the wiring himself, from design to build. That's just unnatural. Mind you, it did test even his saintly patience.
'I came close to jacking it all in about every other day', he confesses. 'I just had to leave it and walk away before coming back later. I think the hardest part was getting the colours right so we know what colour does what.' Here's what he did in his own words:
'All the main winch wires are 70mm cable with the rest being 50mm, plus all the other main power cables are 35mm. Everything is bespoke and was made and designed by me just for this purpose. There are three main switches, one for killing the winches, one for the ignition and one voltage change-over switch, which is handy when you're dropping down a big bank.
'All the fuses are again wired up to my design, along with the relays. I've tried to wire things up so that most things have their own fuse so at least that way if one fuse goes – unless it's a major one like for the ECU or fuel pump – we can usually get to the end of a section.'
For those whose eyes haven't glazed over, there was a comment there about a voltage change-over switch. Nobby explains what that's about: 'It runs a standard 12V system, plus there's a switchable 24V system for winching, so it has three Odyssey batteries. I think my favourite mod has to be running the winches on 24V, while being able to switch to 12V is a big help, especially when running fast winches.'
Which brings us rather neatly, if I say so myself, to the winches. In terms of what to use, Nobby doesn't see the need to beat around the bush with a long-winded discussion on the subject. 'There is only one winch in my mind to use in competition, and that is a Gigglepin. They are just a brilliant bit of kit.
'On the front I've fitted a Gigglepin GP84 running +60% gearing with over-volted Goodwinch Bowmotor 2. That is mounted to the new Whitbread winch mount front end. On the rear is a Gigglepin GP84 running +40% gearing, also with over-volted Bowmotor 2, which is then built into my home-made winch tray. The centre winch is a TDS, over-volted and mounted on to the cross of the middle hoop.'
All the winch ropes are Plasma 12-Strand and, in Nobby's words, 'come from the sole importer and slightly strange Scottish bloke, Andy T from Glasgow.' That's Ruftraks UK Ltd, to those of you who want to buy one. Back to Nobby: 'I have 12mm on the front, 11m on the back and 9mm in the centre. These ropes are a fantastic product that we have used for many years. I even have a fantastic relationship with Andy – even though there is a bit of a clash of accents!'
As you can probably tell, Nobby has a big appetite for life and a sense of humour that comes out in his off-roading. Among the more remarkable things about him is that he broke his neck back in 1985 and has restricted mobility in it still. That would put some people off all together, but he just fitted his off-roader with a rear-facing camera so he doesn't have to twist round.
Equally, he's put together a very sophisticated vehicle that would be beyond many to make work properly, let alone be competitive in. You sense that hard work is not something he's scared of, nor is there any lack of competitive spirit in what is basically a very good-hearted man.
His first challenge weekend showed up both those aspects, as Nobby recalls: 'The whole build took about eight months, but there again a challenge truck is never finished, is it? It was hours and hours of blood, sweat, cuts and loads of grazes plus a dwindling bank balance. And on its first outing, it took first overall Saturday and Sunday with the only problem all weekend being a bulb falling out. That was a great feeling.'
You can see why Nobby's nuts about his rig, and he deserves to be, because he's earned it the hard way. We feel so nice about it all we're even happy for him to namecheck wife Michelle, son and team-mate Nathan and the boys who helped out: Marc Dyer, Austin Jewitt and Scott Benwell, plus loads more who supplied kit and advice in equal measure. How appropriate for his last word to be about those around him – that's doing it Nobby style…
WHITBREAD, WHITBREAD SPACEFRAME, GWYN LEWIS PROPSHAFTS, X-ENG X-BRAKE, GWYN LEWIS DIFF PANS, ASHCROFT AXLES, ARB AIR-LOCKERS, GIGGLEPIN TRAILING ARMS, NORTH OFF ROAD RADIUS ARMS, SIMEX EXTREME TREKKERS, GIGGLEPIN GP84 WINCH, ALLISPORT FUEL TANK, ROCKWATT TRANSFER BOX, DIY WIRING
Share this article