S Express
Originally Published: November 2004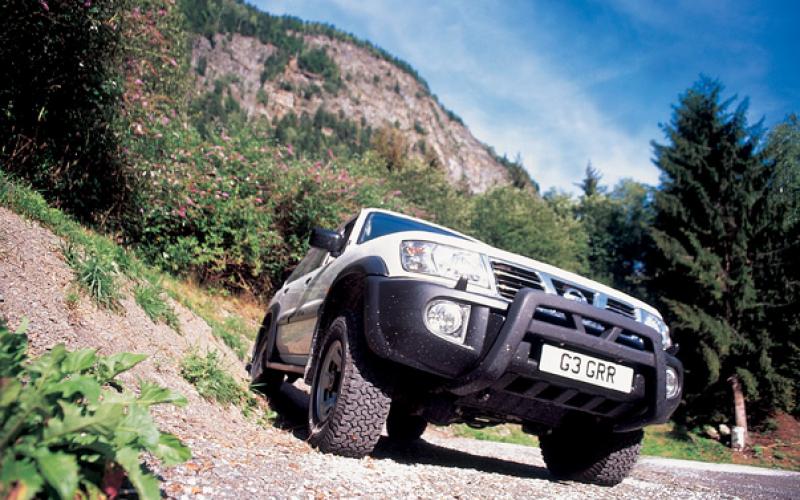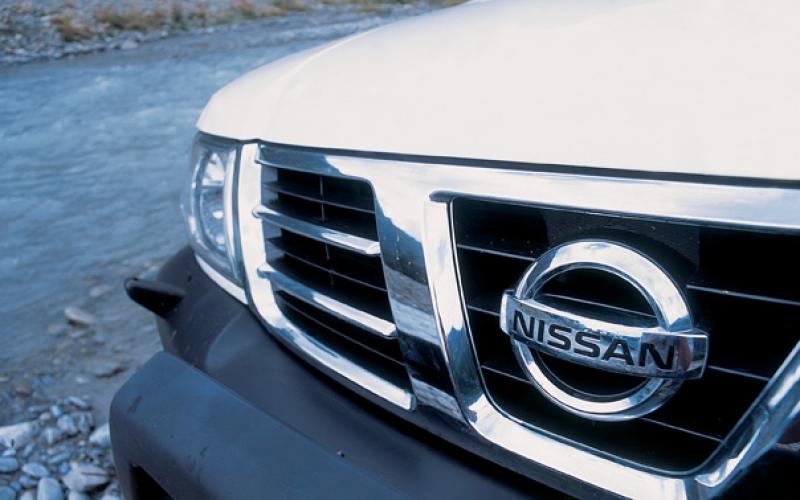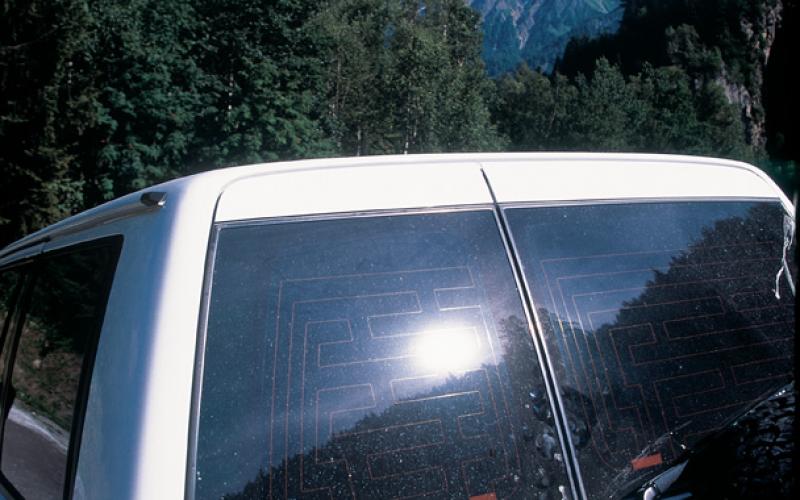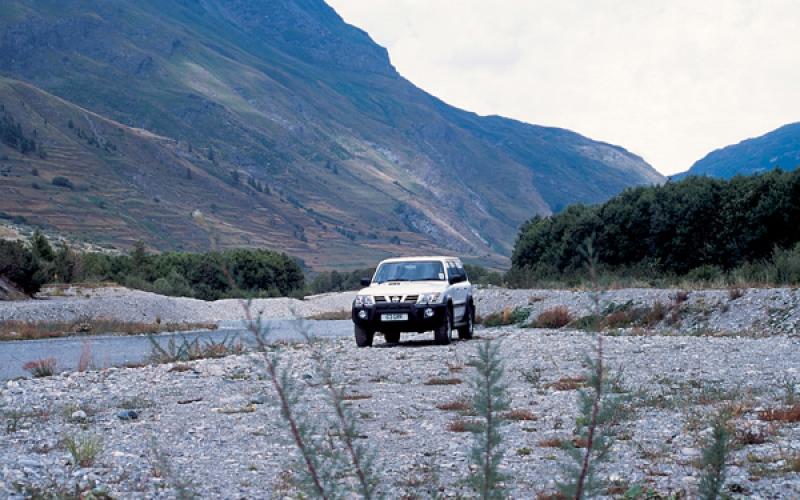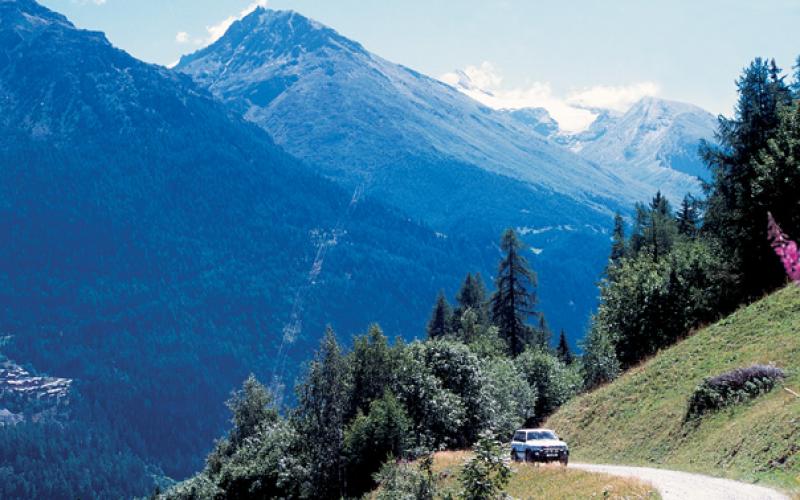 <
>
As Nissan prepared to launch the revised Patrol at Val d'Isère, we renewed an old acquaintance for a journey to the Alps to see it.

 You might recognise the Nissan Patrol in this article. There are plenty of Nissan Patrols in the world, but this one is a bit distinctive.

Why? Well for one thing, it's white, and that's probably least common colour for new cars at the moment. For another, it's got black windows. And then there's that comedy numberplate, something most vehicles on Nissan GB's press fleet seem to carry. But best of all, it's got steel wheels.

Best of all? You could say. Not because there's anything wrong with alloys, of course, but because the steels on the Nissan Patrol S signify that this is one of the very few no-frills 4x4s left on the market. Introduced last year, it's the basic vehicle supplied to aid agencies and UN organisations – and whereas the other Patrol we get here, the SVE, lays it on thick with all the usual luxuries, this is a lean, fit working truck which shows that real quality is about a lot more than bling accessories.

At £24,000, the Patrol S is one of the most expensive ways of buying a vehicle with steel wheels. In fact, with the exception of the Morgan 4/4 and a few Mercedes C-Class and Viano variants, you can't spend more without getting a set of alloys about your person whether you want them or not.

Now, none of this is new. But if you're in the market for a familyman's 4x4, the sort that you can drive to work, load to the gunwales with kids and luggage, hitch up to a caravan or trailer and use for the occasional bit of off-road fun, and your budget's on the low side of the mid-twenties, it's almost certain that among the options you've considered, the farmer-spec Patrol is conspicuously absent. You might have looked at a number of other Nissans, in the shape of the brilliant X-Trail and the perennially underrated Terrano. You might have considered an upper-medium Freelander, assuming space isn't a priority, or thought about using Land Rover's run-out pains to bag a big discount on a boggo Discovery.

You might have knocked the dust off a Frontera, or dreamt of getting a dealer's trousers down on an ex-demo Shogun, Land Cruiser or Grand Cherokee. You might have been highly impressed by what the Rexton, Sorento and Terracan offer for your money, but wished you could stretch to a slightly more prestigious badge. But you've probably never, even for a moment, thought that a sodding great Patrol with nothing to offer but size, size and more size could fit the bill.

After all, if you're doing a lot of miles, you're going to want a few creature comforts, right? You don't want to go halfway across Europe on your hols in some big old third-world workhorse that doesn't pamper your privileged backside every inch of the way and make you feel like a king every time you come back to it, do you?

Shame on us here at Total Off Road. No, that's a cop-out. Shame on me. When I spoke to Nissan about sorting us out with a vehicle for the hack down to Val d'Isère for the annual 4x4 show at which this year the revised Patrol got its world debut, I asked for an SVE. And when they told me that the only version they had available on those dates was the S, I found myself hesitating before going for it.

And I have even less excuse than most, as I've already spent a week with the Patrol S. The self-same Patrol S, in fact, if the mileage on its clock is anything to go by – it's highly unusual for press fleet cars to make it into five figures before being moved on, and the Patrol bust the 20k mark during our journey. And, in case you didn't get last October's issue of this magazine, I absolutely raved about it.

That was after experiencing the Patrol first and foremost as a towing vehicle, a role it fulfils like few others in the price bracket. For 'few,' read 'none'. But a long-distance bash on the autoroutes of France, followed by a set of twisting mountain passes…

A different prospect entirely, and one you'd think we might have chosen to undertake in some nifty sport-ute with cruise control and everything else besides.

In fact, cruise control is about the only feature we could have done with in the UN-spec Patrol. And lo and behold, it's not available on the SVE anyway. Because if there was ever a journey that proved a good 4x4 is made deep down, not on the surface, this was it.

As always when the crew from TOR are heading for Europe, we crossed by ferry with P&O. But despite the opportunities this offers for emerging refreshed on the other side, ready for some serious mile-munching, we were still expecting a two-day run when we disembarked at Calais. It was already lunchtime, and our target of Macon was looking a long way distant… Maybe if we'd been in some nice big executive saloon or the aforementioned sport-ute, but surely our big truck wasn't going to coddle us enough to make a stint like that possible?

Well, as I said, shame on me. Shame on me for even thinking such a thing. Because the ease with which the Patrol disposed of the 400-plus miles to the glorious capital of southern Burgundy was little short of comical. One moment, you're trickling through customs in the port, the next you're rumbling down the autoroute, clocking up junctions as St Omer, Arras, Reims, Chalons-en-Champagne, Troyes, Dijon and Beaune fly by… It's the stuff of continent-crushing gran turismo dreams, but the Patrol was doing it and doing it well, the thumping rumble of its big turbo-diesel mixing with a little road and wind noise to form a gentle backdrop to the ever-changing scenery.

If you're used to travelling in France, you may have noticed that the autoroutes are far less debilitating to drive on than our motorways. That's partially due to the thinner traffic, of course, the result of a lower population density and tolls which make short hops unattractive. But more than that, it's because whereas in Britain you always seem to be driving in a cutting, in France the autoroutes normally appear to have been laid down on top of the land like a ribbon, allowing you to see the world around you as you press on.

Famously, they even have signs telling you touristy stuff about the regions you're passing through – to your left, there's a town where they make cheese, to your right a mediaeval battleground… and underneath, there's a subterranean canal along which barges are towed by tugs.

Combine this with the aires de repose at which you can stop and take a breather (without being assaulted by screaming kids, honking arcade machines or pustular gimps in Mister Byrite suits giving you attitude when you don't want to sign up for the rubbish credit cards they're pushing), and you've got a recipe for a road-trip experience which, short of actually being quite appealing, certainly doesn't fill you full of dread the way it would in Britain.

Or maybe it's just that with the Patrol's fantastic seating position, you can see everything around you. It's a true old-style off-roader, with seats that perch you way above the rest of the traffic – and this, more than any amount of leather and wood ever could, makes it a breeze to travel in. When you're doing battle with French motorway manners, too, it's comforting to know that you're sat in a superior position and surrounded by plenty of metal.

You'd think that if ever there was a vehicle not to mess around with on the road, it would be the Patrol. Especially this ruffty-tuffty no-chrome-to-worry-about Patrol. Not that that's how it feels inside. People have said that the Defender is one of the very few classless cars, in that you get brickies and foresters, company directors and the Queen all driving what are to all intents and purposes identical vehicles. And whereas the SVE can't help but feel at least a bit like it's got some Joneses to keep up with, the S is a vehicle built to do a job – and it doesn't much care who it's doing it for.

That job is not, of course, covering 800 miles in a day with only one break of more than about ten minutes. But having swept us down through France to Macon on day one, we were completely confident in its ability to convey us all the way home from Chamonix, where we'd ended up after the trans-Alpine journey you see in these pictures, in a oner. Who needs to stop when your vehicle is one big self-propelled aire de repose?

Even with BFG All-Terrains on its solid steel rims, the Patrol isn't at all rough – rumbustious, of course, but completely composed and, it goes without saying, possessed of a poise that's shaken by absolutely nothing. It all makes for a completely calm and relaxing drive, even at speeds which are within ten percent of its limit – if you want to emerge refreshed and unruffled at the other end, forget those big, flash executive saloons and get yourself into something made for crossing deserts.

On the subject of deserts, anyone who's been to Val d'Isère will know that you need a vehicle with more than just motorway talents to get there. Especially from the south, over the breathtaking Col d'Iseran, which was the route we took. And we also decided on a creative approach to the journey from Val (which is, 4x4 show apart, a bit of a hell hole) to Chamonix, using a variety of mountain roads and – oh, baby – some sensational unsurfaced Alpine tracks.

We all know the Patrol is a formidable off-roader, but we also know that it's big and unwieldy. Or at least we ought to, because that's one of the oldest clichés in the book. But yes, it is a big vehicle. It's six whole inches longer than a Jag S-Type, for example, and only three narrower than an XKR. And it's a massive six inches taller than a Vauxhall Agila.

Makes you wonder how they manage to pack so much space in there, doesn't it? So we weren't unduly worried about the steep, winding switchbacks up to the Espace Killy from the Val d'Isère showground, or through the massive pines of the Forêt de Ronaz as we picked our way slowly across country towards Bourg-Saint-Maurice and the road for the Mont Blanc Tunnel.

There's not a lot you can say about these Alpine tracks, apart from things like 'wow.' Naturally, they're only open in the summer – some actually become marked-out pistes during the skiing season – but they're actually driveable in pretty much any 4x4, or even a car with a decent level of ground clearance. Of course, that's not the point.

As strangers in the area, being in the Patrol gave us the confidence to set out into the unknown (we did know that they were rights of way, before you ask) in a way not every sport-ute might.

And the reward for taking the road less travelled? Well, just look at the pictures. You can find far more taxing off-road terrain much closer to home, but you'll look long and hard to match the combination of magnificent scenery and splendid isolation that comes from having a 4x4 like the Patrol at your disposal.

The feeling of isolation didn't really start to kick in until we reached the higher ground, however, thanks to a steady stream of mountain bikers who were happy enough to file past us as we pulled across to one side of the track. We sometimes needed to get on the brakes a bit sharpish when they first saw us, though. One chap in particular came perilously close to having a major stack as he rounded a corner at high speed and came face-to-face with the Patrol's imposing front end, which wouldn't have been so bad if he hadn't been carrying his pre-schoolage daughter in a sort of papoose on the back of his bike.

This pressure on the tracks in the Alps mirrors some areas of Britain, though in France the rights of way are more frequently used for access to remote properties and small villages. We saw only a handful of walkers on the way over Ronaz, but further on, around Chamonix, hiking is far more popular. Compared to Val d'Isère, Chamonix is a breath of fresh air – a proper town, not a twee skiing trap, and an intriguing mix urbane chic and outdoorsy grunge.

Coachloads of pensioners in slacks come to eat fondue and sit on cable cars, unwittingly rubbing shoulders with studenty types here to climb rock faces, pull stunts on snowboards and smoke a lot of dope. It's touristy, of course, but a proper town with a heart and soul of its own nonetheless – and with Mont Blanc and the Aiguille du Midi towering over it, not to mention Europe's biggest glacier, there can be few places with such a setting.

During the summer, this all adds up to what could be an absolute paradise for 4x4 exploration. But we'd counsel caution; the number of walkers on the tracks means you must choose your route with some care. We touched on this in an article in our September 2002 issue, and it has long been an issue in the Haute-Savoie province – in some areas, local administrators have caused legal conflicts by erecting quasi-statutory signs purporting to say that vehicles are banned, while others have taken the rather more intelligent route of calling for voluntary restraint during the busiest periods.

These tend to be the latter half of July and the whole of August, which did a fine job of messing up our itinerary. But there were still plenty of tracks on which to give the Patrol a workout, winding crazily up hillsides in the shadow of the Glacier des Bossons with dizzying, tree-lined drop-offs first to the right and then the left.

One thing we found was that on steep tracks with a deep gravel surface, we were having to engage four-wheel drive to stop the back axle from spinning out and digging in. With a full-time setup, we suspect there would have been enough traction to stop this from happening in the first place.

As more and more 4x4s go automatic with an eye to American sales, the Patrol S remains true to its roots by giving you a five-speed manual and nothing else. And we used it, too – on some of those Alpine descents, even with enough grip to make braking as safe as you like, it was nice to be able to drop into low gear and let the big diesel take over.

Yet all too soon, we were back at ground level. At Chamonix, this means you're a couple of miles up in the sky. But you know what I mean. And after that 800-mile charge we spoke about earlier, we were back down at sea level, sitting on the quayside at Calais docks and wondering why, in a peculiar diversion from the norm, the facilities on the French side were so bad in comparison to what you get both at Dover and on the ferries themselves.

It's a strange sort of comparison, and a mightily contrived one, but P&O's ferries on the Dover-Calais route have a Club Lounge in which, for a few extra quid, you get a better seat, a bit of peace and quiet and some complimentary drinks. It's not much, but it makes a massive difference – especially when your crossing is the one proper break you take in a long journey.

And the same goes for the Patrol S – a vehicle which proves that as long as you get the basics right, nothing else matters.

You can keep your leather and alloys. Give me a good, honest truck any day, something that spends my money on seats that support me and a dashboard I can read, a vehicle to prove that, providing your basic air-con's cold enough, new-fangled climate control is a waste of time. When Nissan brings the revised Patrol to the UK, it will move the vehicle upmarket to try and attack the Discovery, Shogun and Land Cruiser; what it won't do, however, is mess with the deep-down spec that keeps it real, and that should come as a massive relief to everyone who appreciates the essence of a good 4x4.
Share this article