Make Your Workshop A Handier Place
Originally Published: February 2014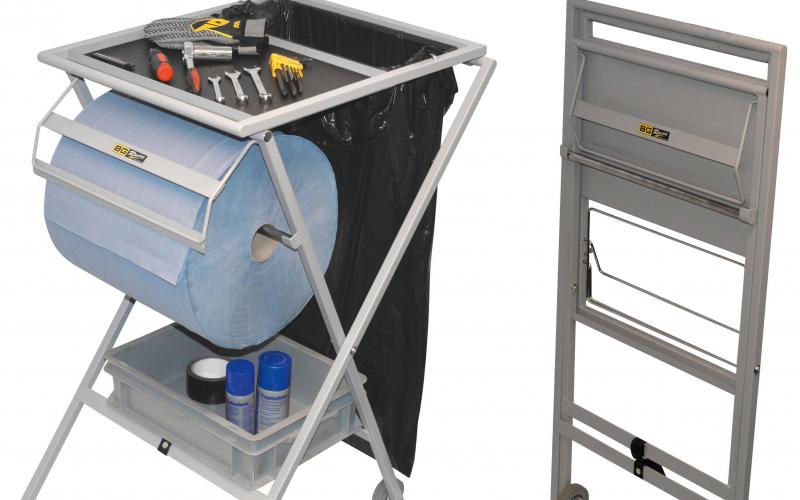 <
>
Brown and Geeson has recently introduced two new products that promise to make life easier in the workshop. As we all know, an easier life means more efficient working, which in turn means you spend less time up to your arms in grease and more up to your knees in mud. So you see, this is kit that can improve your off-road life, too…
First up is the Wheel and Tyre Trolley, designed for moving large tyres around your garage or workshop. It was designed primarily with pit and paddock use in mind – but if it had even occurred to B&G that there's a form of motorsport where people use 37" tyres, we're sure they'd have realised how well suited it could be to that, too.
The trolley has two fixed and two rotating castor wheels, which are lockable to keep it in place once you're done with rolling it around. Made from powder-coated mild steel, it's available in either 1300mm or 1500mm internal lengths and features an adjustable width of 450mm, 525mm and 600mm.
Then there's B&G's new Folding Utility Work Station. This incorporates a tray to hold a small selection of tools, a paper roll holder, a waste bin bag holder and an area for a 300 x 400mm Euro bin (ideal for storing nuts, bolts and so on).
The unit is fitted with 75mm diameter wheels and has a folding design for ease of transportation. Again made of powder-coated mild steel, it's priced at £131.99 inc VAT.
That compares with a rather more wince-making £304.20, again including VAT, for the 1300mm version of the tyre trolley, so we can guess which will be at the top of your shopping list. Both could certainly play a handy role in a well sorted off-road workshop, though; don't forget, the more efficiently you do things in there, the more time you have left for the real fun! www.b-gdirect.com is the place to go.
BROWN AND GEESON, TOOL AIDS, BG RACING, WORKSHOP
Share this article