May The 4x4s Be With You
Originally Published: August 2009
Words: Jabba The Hut
Pictures: An Ewok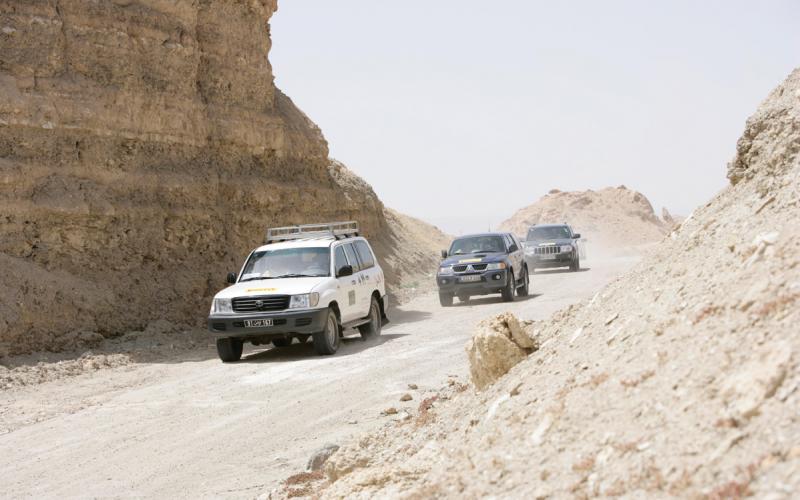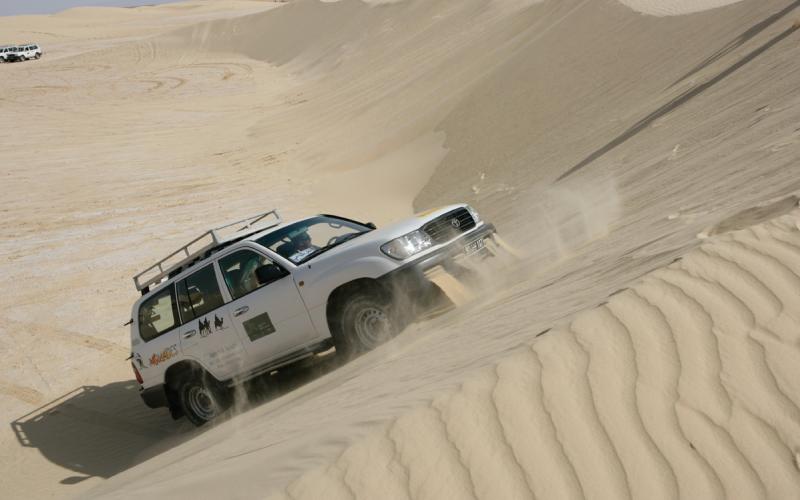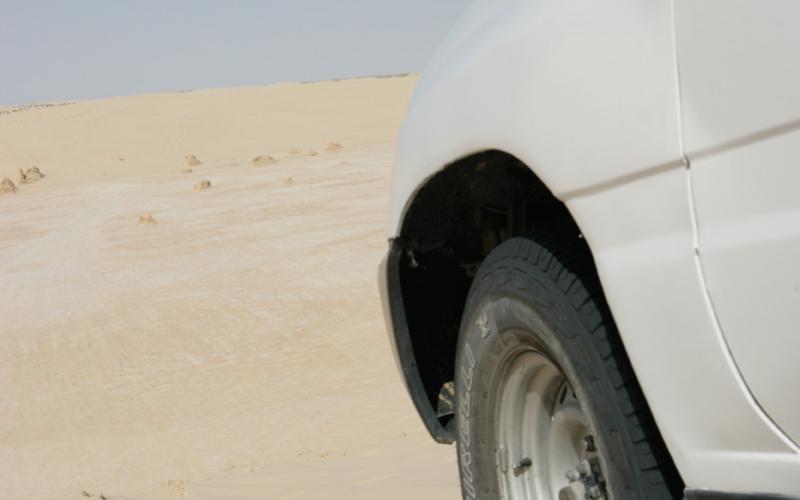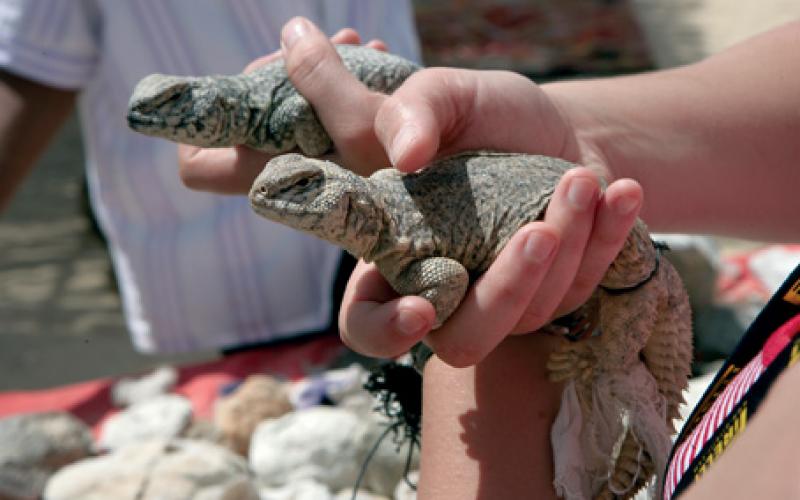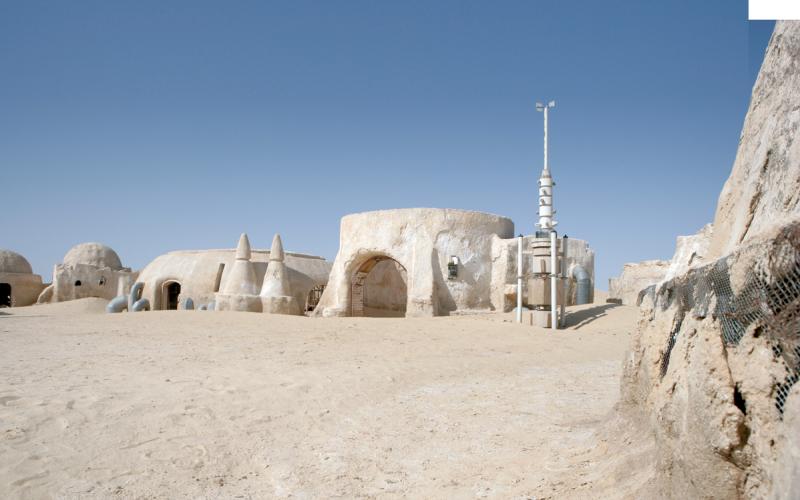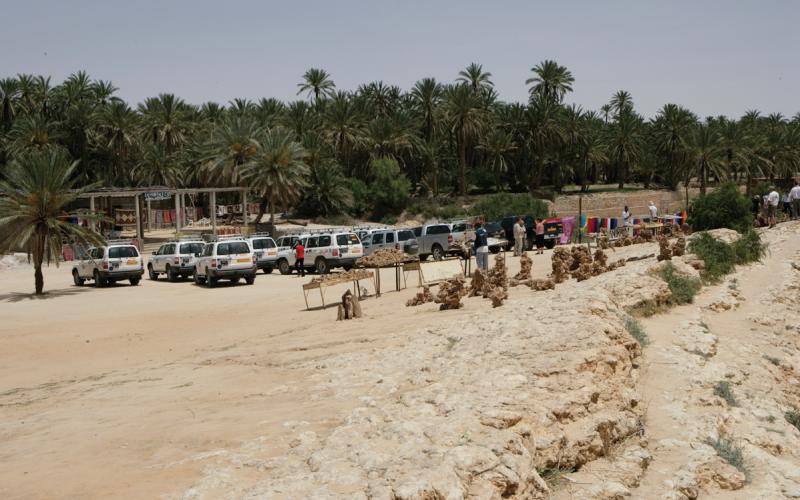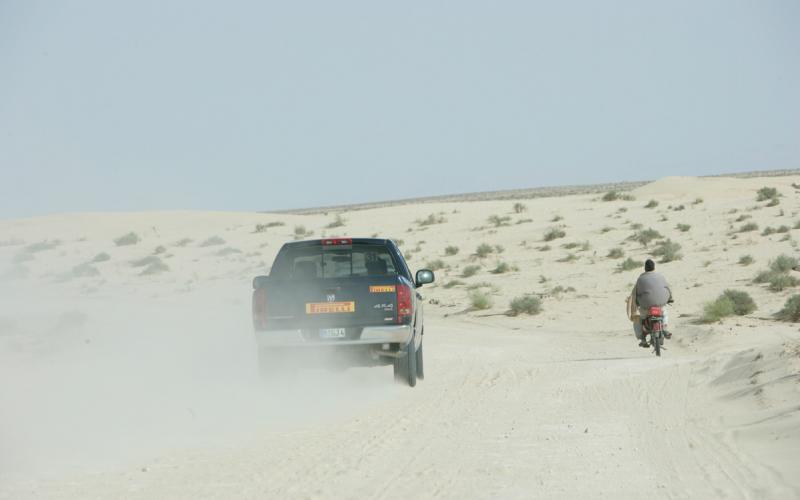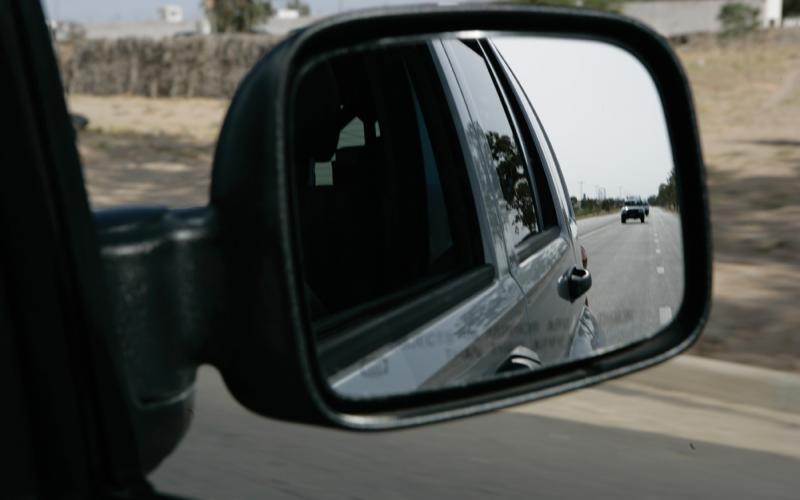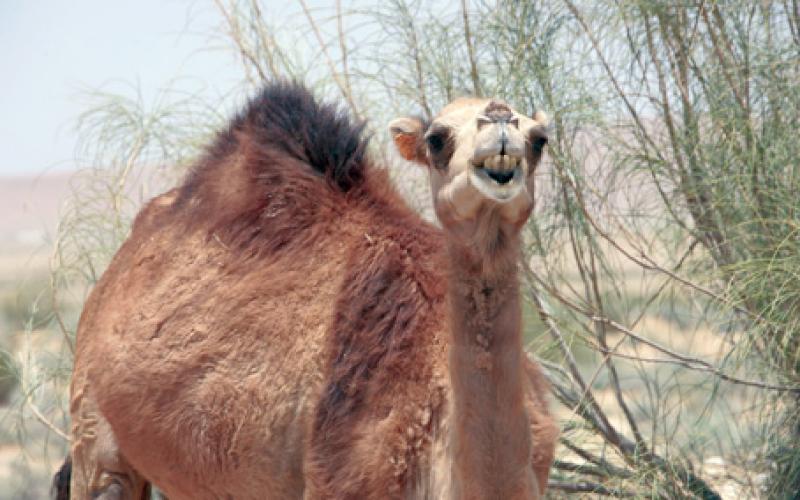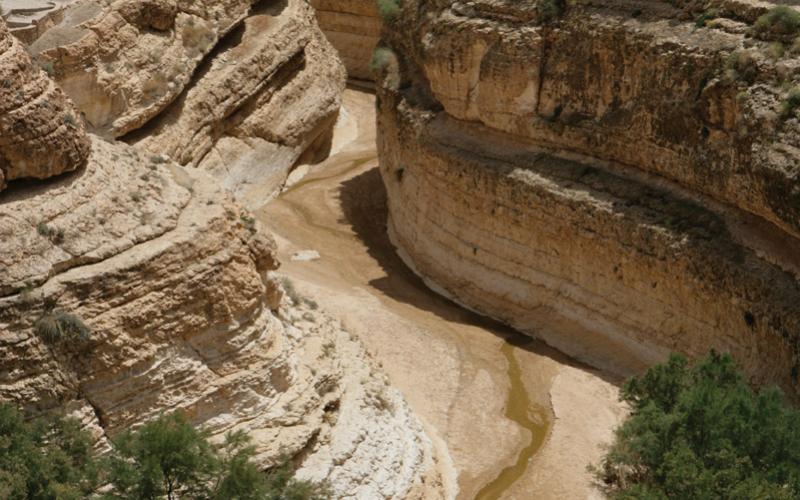 <
>
There are many reasons to go overlanding in Tunisia. Not that you needed one, of course – but when you get the chance to pilot your vehicle across the desert sands to a perfectly preserved intergalactic village inhabited by Ewan McGregor in Star Wars, it's time to engage four-wheel drive and set your course for a galaxy far, far away…
Driving across the Tunisian desert, following a near-invisible track through the sand, the settlement ahead loomed towards us from a heat haze shimmering above the dunes. In the distance, we picked out the shapes of individual buildings, stark and sharp-sided against the soft shapes of the sand. It looked for all the world like just another typical oasis town.
But then our convoy of 4x4s, each of them rolling on Pirelli  Scorpion ATR tyres, pulled into the quiet, dusty streets of the village before us. And all at once, we were no longer in a country on the other side of the Mediterranean: we were in a galaxy far, far away.
Tunisia's desert land, on the northern fringes of the Sahara, are famous for many things. Hot sun, hot sand and hot off-roading are three of them. But did you know that the endless dunes are also littered with film sets, left over after the Hollywood circus had left town… and that unless you're handy on a camel, many of them are accessible only by 4x4?
The township of Mos Espa was frequented by Ewan McGregor, Liam Neeson and co during the making of Star Wars – The Phantom Menace, which came out in 1999. Home to Anakin Skywalker, played in the film by Jake Lloyd, it was on the planet Tatooine, which as every Star Wars anorak will tell you had two suns.
Ideal fodder for a location in Tunisia, then. Let me tell you, out here just the one sun is more than enough to be going on with.
Star Wars director George Lucas has used Tunisia a lot during his career, as have several other Hollywood directors. But Mos Espa is unusual in that he had it built from scratch; normally, he prefers to use genuine buildings for his desert sets.
It might have been phoney, though, but with its traditional architecture and desert features this surreal little settlement looked spookily lifelike as we approached. Not that I was paying too much attention. Having never driven on sand before, I was concentrating hard on just keeping up with the vehicles ahead and staying on the barely visible track across the dunes.
Mos Espa is definitely a fascinating place to arrive in, though, but this was one of those journeys on which just getting there was reason enough to go. We were of course here to drive, after all – and drive we had to, even to get anywhere close to Skywalker's erstwhile home. You could say it's more in a galaxy four by four away, than far, far away, as the film set sits literally in the middle of the Tunisian desert, near the oasis town of Tozeur, accessible only by the faintest sandy track. You'd stand little chance of making it to this remote location in any vehicle that didn't have four-wheel drive, and probably several that did.
Those Scorpion ATRs didn't do any harm in helping us get there, either. Our set was fitted to a Mark 2 Jeep Cherokee, which made up the Pirelli convoy along with a Dodge Ram, a Mitsubishi L200 and several white Toyota Land Cruisers; the vehicles had been doled out using a lucky dip system, and while it could be said that we had drawn the short straw, I was quite happy with something a bit different to the norm.
As we swung out of Tozeur, leaving our comfortable resort hotel behind and pointing the Cherokee's nose towards the wilderness, I cranked up the stereo with some Arabic pop on a local radio station. Maybe the softest-edged vehicle here wasn't such a bad option after all, we decided; we'd just have to learn to work its mega-camp image.
After a while, we swung off the tarmac and into our first leg of sand driving. I'm told that we were on a road, but you could easily be fooled into thinking that we were driving aimlessly because of how heavily buried the track was. No problem for the Scorpion ATRs, though, and with a handy contingent of Tunisian guides to keep us right, we didn't have to worry about the navigation, either.
We did have to worry about the Cherokee's ground clearance, though. This was always a bit of an Achilles heel for the Mark 2, meaning I was going to need to be skilled in the ways of sand driving if the Jeep was to avoid embarrassment on the dunes. I'm not; and it didn't.
Up ahead, the guy in the Dodge Ram paused momentarily while cresting a deep, soft ridge in the sand. To let the big truck get out of our way, we had to lift off too – and with our momentum gone, our fate was sealed. I stuck the Cherokee in low second and put my foot down, which might have worked in British conditions, but moments later we were embarrassingly bogged into the ridge, wheels spinning dolefully as they burrowed deeper and deeper in. Cue much merriment, as everyone else stopped to take photos of our misfortune, before someone finally towed us out. Rotters.
Having learnt my first lesson in sand driving the hard way (as far as I can tell, you pretty much do everything the opposite to the way you would on mud), the convoy was soon underway again and the next dune we crested had us winding our way down to the spectacular scenery of Tatooine. Apart from giving us the opportunity to indulge in lots of cliched impressions of Yoda, Darth Vader and Chewbacca (and indulge we did), at this point we also got to hop in with one of the local dune-bashing experts for a demonstration of how it should be done.
From the outside, this looked frankly terrifying, but once ensconced in the passenger's seat it was extraordinary how sedately we trickled up and down the extreme slopes. A combination of the right vehicle (a Land Cruiser, with diff-locks everywhere), a highly skilled driver and the right tyres for the job made sure that despite some earlier speculation to the contrary, we all survived and were soon roaring away again in a different direction across the sand.
One sight that really cropped up in abundance – other than an alarming number of camels – was the preponderance of white Land Cruisers. Literally, around ninety percent of the vehicles we encountered both on and off-road in the desert regions belonged to this clan. It got me thinking that perhaps I was missing out on something in my frivolous Cherokee; it was time to get back to basics. At lunchtime, the opportunity presented itself for a swap, and a team who'd been driving one of the Land Cruisers in the morning were only to happy to swap their white truck for our higher-tech 4x4.
I should point out here that this wasn't a Land Cruiser as the breed is known in the UK. Here, of course, Toyota's finest is a high-class, high-tech luxury truck with a huge kit list and a price tag to match. Go to Africa, on the other hand, and the same vehicle is available in a far more basic form, with a lower-tech non-turbocharged engine, a simple manual gearbox and a live front axle. Put simply, British Land Cruisers are built for British motorways and school runs: African Land Cruisers are built for Africa.
With a bumpier ride than the Cherokee, along with a non-functioning stereo and less powerful air-conditioning, trading up to a real desert wagon wasn't a popular decision with my passengers. But now at last we were doing things properly – and driving the big truck gave me something to concentrate on in the afternoon's convoy, which spent much more of its time on rather bland tarmac roads.
We did hit the sand again once or twice, and here the Land Cruiser absolutely excelled. Basic, it may have been, but its all-terrain ability was vast; drive one pretty much anywhere that there's not tarmac beneath you, and it's instantly obvious why you see so many in the world's most hostile environments.
Of course, environments don't come much more hostile than the strange world of Star Wars, but despite the roasting sun at least we didn't have any Death Stars to worry about as we trundled back towards Tozeur to take advantage of the hotel's swimming pool and abundant supply of cold beer. A single day's fully guided off-roading is about the softest-edged way possible of exploring the desert, sure, but after two vehicles, one recovery and a galaxy far, far away, I reckon we'd done enough. Pirelli's new sand tyre had proved its worth, too; we could say without doubt, although with a hint of predictability, that the force was definitely with us.
Film sets in Tunisia
Exploring old film sets adds an interesting and very unusual dimension to any trip to Tunisia. There are several here, and many are accessible only by 4x4 – so whether you're just visiting on holiday and joining a tour, or passing through on a major overland expedition, it's the perfect excuse for an adventure in the desert.
Star Wars
The most commonly visited Star Wars set in Tunisia is the village of Matmata. You can even stay overnight here, in the troglodyte-style Hotel Diar el Barbar, and there are also traditional cave dwellings nearby to visit. In the Onc el Jamel area near Tozeur, meanwhile, you'll find the Mos Espa set which we visited.
There is actually a market town called Tatouine in Tunisia. It influenced George Lucas' choice of the name Tatooine, but there's nothing related to Star Wars itself to see here – except of course for road signs with the name on.
Indiana Jones
In Raiders of the Lost Ark, Tunisia was used as a stand-in for Egypt. The town scenes were shot in Kairouan, but you might not recognise it if you visit now – 300 TV aerials had to be removed from homes in the town before filming could start.
The canyon where Indy threatens the Nazis who have the ark with a bazooka is also in Tunisia. It's actually the same place that R2D2 got zapped by Jawas in Star Wars!
The English Patient
The production was filmed in the mountain oasis of Tamerza, in the South West of Tunisia. The Cave of Swimmers was filmed in a crevice on a hill outside the town of Degeche; you have to be particularly careful not to inadvertently cross the border into Algeria here, though, or you could find yourself in very serious trouble.
Life of Brian
The Monty Python crew were crucified in southern Tunisia, near the village of el Haddej. Locations in Monastir and Sousse were used for urban Jerusalem, while desert scenes were shot around Matmata (the same location as Star Wars). The Ribat of Harthouma fortress in Monastir, meanwhile, was used as the Roman fort in the film, thus being immortalised as the backdrop to Brian's abduction by flying saucer.
Share this article