The Goat That Roared
Originally Published: December 2002
Words: Tim Gibson
Pictures: Steve Taylor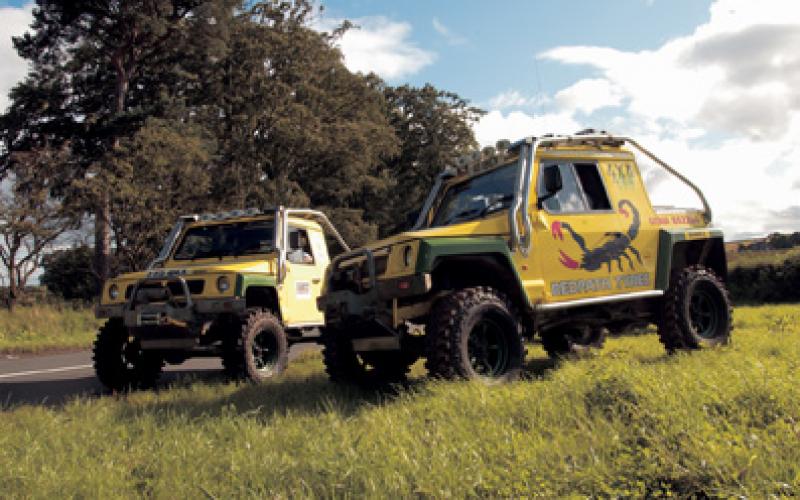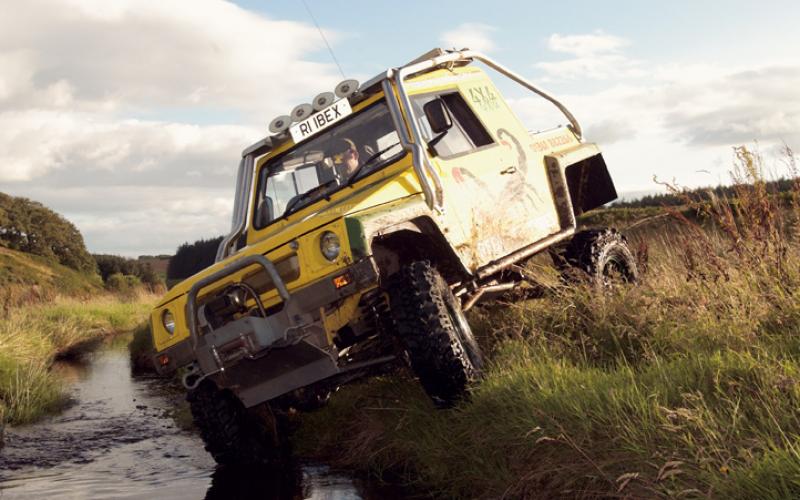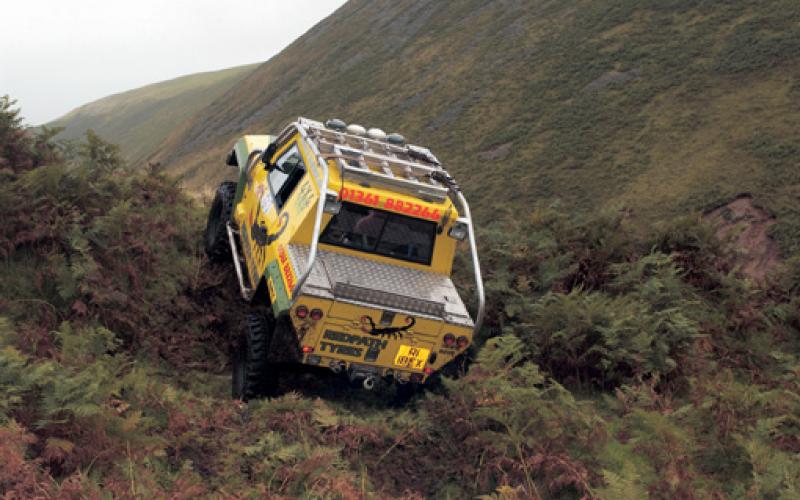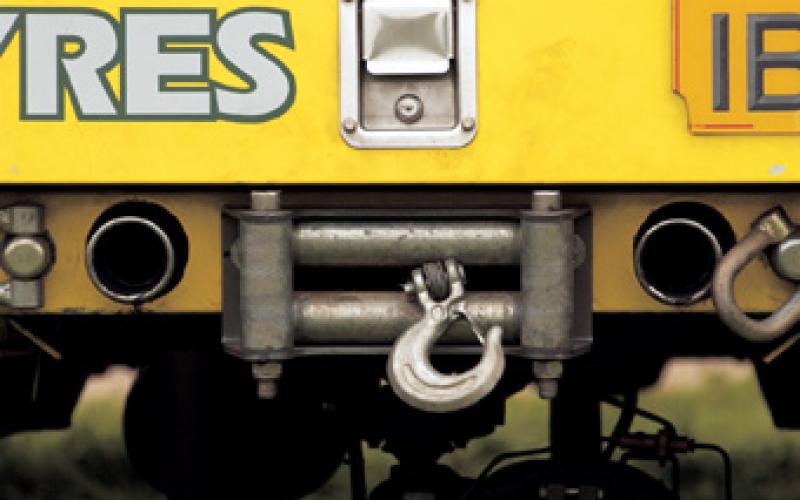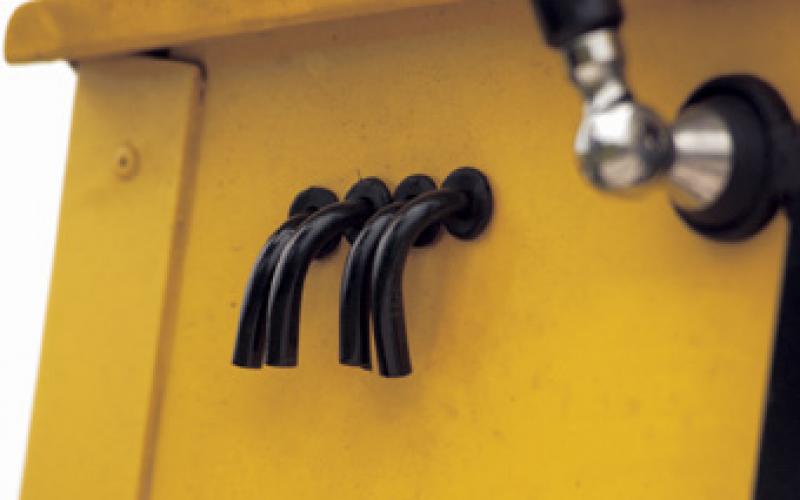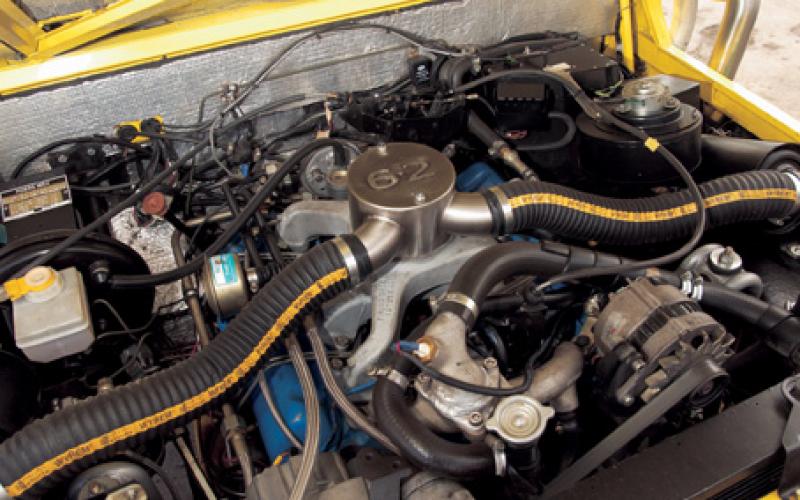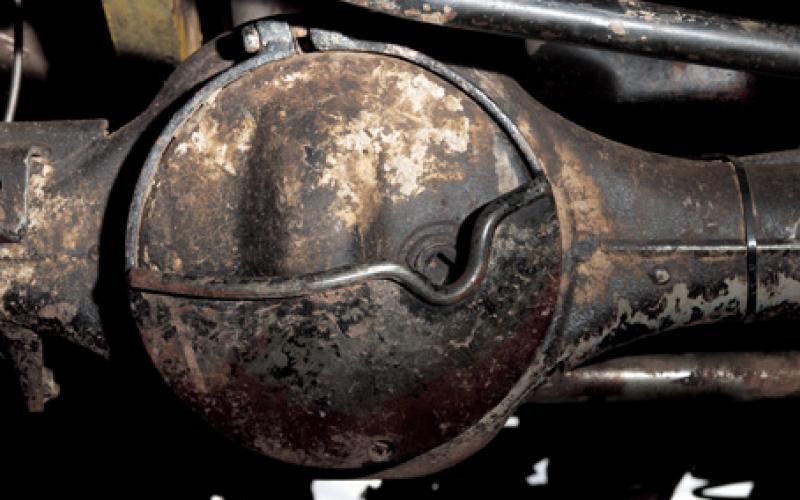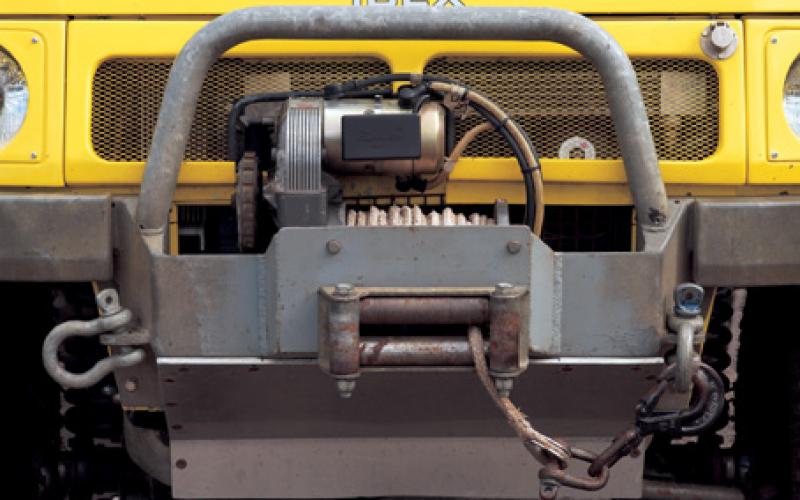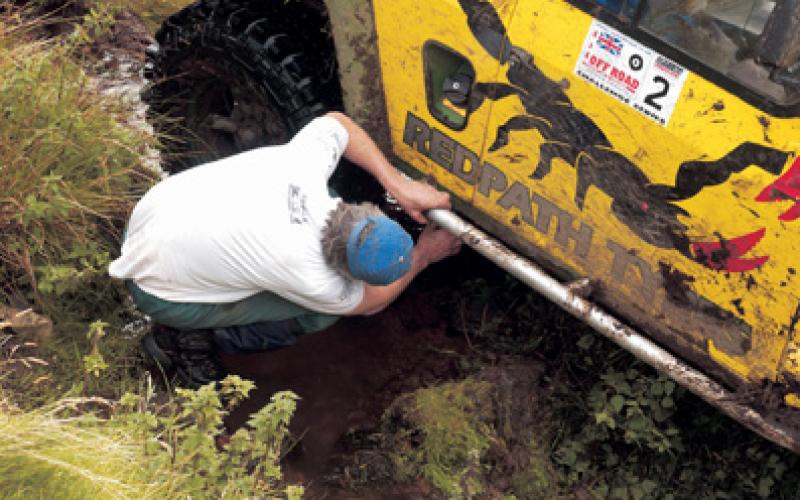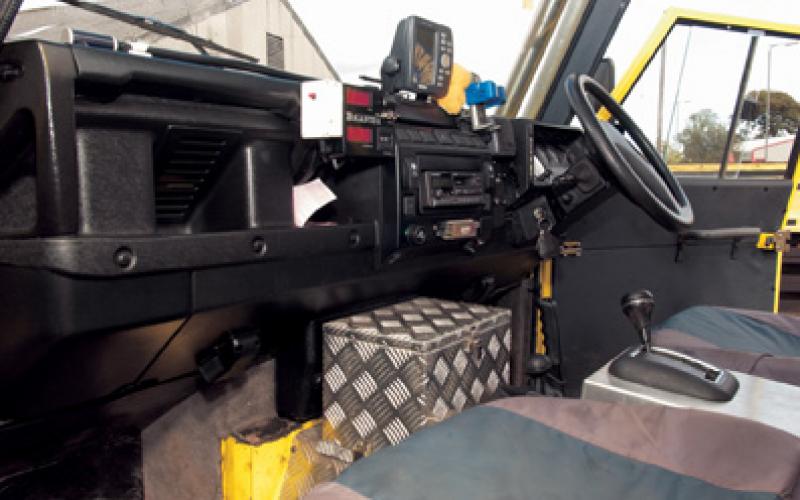 <
>
As if the Foers Ibex wasn't capable enough, Neil Redpath has fitted his with Scorpion Racing's celebrated Extreme suspension. And twin ARBs. And a 6.2-litre GM diesel. Can't see that being much use off-road, then…
I'm not sure what hormone is triggered by talk of modified off-roaders and engine conversions. But whatever it is, someone could make an awful lot of money by selling it on street corners after dark.
Next time you feel an attack of the blues coming on, try to think of your favourite 4x4; your dream off-roader. If the cloud above your head doesn't disappear faster than a hamburger at Fat Club, you're obviously not fully human.
And if the vehicle that enters your head just happens to be Neil Redpath's awesome Ibex, your spirits will raise so much you'll have to duck to leave the room. You see, this is a vehicle of pornographic proportions. Powered by a 6.2-litre V8 General Motors diesel, it growls its way round competitions at home and abroad with all the voracity of a lion in the jungle.
But lions don't have the ability to wade through up to five feet of water, and they certainly don't have almost four feet of travel. So, in comparison to Neil's Ibex, they're just big pussy cats, really.
For those of you who don't know, the Ibex (named after a sure-footed North African mountain goat) is a type of dedicated off-road vehicle designed by Yorkshire-based Foers Engineering. It's now in its fourth incarnation, with a number of wheelbases available, including a 6x6. Initially, it was sold as a kit car – although John Foers, the man behind the machine, has always been happy to supply turn-key vehicles too – and the component parts were taken from coil-sprung Land Rovers.
Unlike many kit cars, however, the Ibex is a separate vehicle in its own right, and its only relation to the donor car is that it utilises many of its parts. A spaceframe structure gives the Ibex an enormous amount of rigidity and makes it almost impossible to break. Stories abound of people driving into Ibexes and scarcely making a mark, while their own vehicles bear more than a passing resemblance to crumpled tin foil.
Apart from sharing a lot of parts, another similarity between the original Ibex and a common-or-garden Land Rover is they both have very angular styling, with sharp corners at the edges giving each of them its own distinct square profile. The evolution of the Ibex II in 1995, however, led to somewhat softer styling, and this continued with the launch of a fourth-generation model earlier this year – this vehicle now sells alongside the Mark II.
One thing that has never changed about Foers' design, however, is the truly phenomenal approach and departure angles of the Ibex. Before I share them, consider the fact that Land Rover's 90 – regarded by many as representing the zenith of off-road ability among production vehicles – has more than adequate approach and departure angles of 48 and 49 degrees respectively.
Now consider, by way of comparison, the 92.9-inch short wheelbase Ibex 240, with its approach and departure angles of 85 degrees each way. Are you smiling yet?
These figures are achieved by the minimal overhangs that make the Ibex – in all its guises – so distinctive. A further benefit is that the vehicle's weight is concentrated between its axles, which of course makes for better handling and towing performance.
Other enhancements that feature in the Ibex II design include a deeper windscreen to improve visibility, while the mark four has a shallower upper body slope as well as larger wheelarches to accommodate bigger tyres.
As for the Ibex III, this was a one-off design that used a Ford Explorer rather than a Land Rover as the donor car. However, just as Tony Blair is to George W. Bush, so the Ibex is seen by many as an extension of the Land Rover marque rather than a separate entity -– and so the two models currently available utilise parts from Solihull, not Detroit or Mexico or somewhere like that.
Construction is a mixture of GRP (wings and grille), along with aluminium (body panels and frame), and this keeps repair costs to a minimum as well as protecting against rot. Many owners opt to buy their car in kit form, sourcing their own component parts and building a vehicle specifically suited to their needs, although there's no shame in ordering a ready-built Ibex direct from the Foers workshop. After all, no-one thinks it strange to buy a factory-built model from a mainstream manufacturer, and the Ibex is certainly of comparable quality.
The beauty of a car like the Ibex is that each example is unique, designed to meet the specific requirements of individual owners. This makes it an ideal competition vehicle and, as Neil Redpath testifies, more than capable everyday transport.
Not everyone can boast everyday transport quite like his, however. Sitting on 18-inch wheels shod with 295/60x18S tyres and bearing a distinctive registration plate that leaves you in no doubt about its origins, R1 1BEX is a breathtaking sight. Stand a naked supermodel next door to it, and nobody would give her a second glance – except to complain that she was obstructing their view.
But Neil Redpath is not the sort of man who's very concerned about whether his vehicle looks the part, provided it does the job. If the vehicle looks impressive, that's secondary to getting the technical specification right and giving his fellow competitors something to worry about.
A good example is that GMC power plant, which produces a moderate 185bhp but puts out its maximum torque delivery of 330lbf.ft at just 1800rpm. Neil deliberately chose a non-turbo unit, because he wanted to avoid the turbo lag that was a feature of the 300Tdi he used in his previous Ibex. 'With the Land Rover engine,' he says, 'you had to wind it up on your way down a hill to make sure you got up the other side. In the new car, it's a totally different story. I have to remember to back off when I reach the top, or risk breaking a halfshaft.'
It won't come as any surprise to you to learn that said halfshafts are of the heavy-duty variety, as are the CV joints on the end of them. For those situations in which something has just got to give, however, the shafts have been modified to make them a little weaker, so that they let go before the CVs. Neil estimates that he and navigator James Feeney – along with Steve Barras and Patrick Smart, who run a similar vehicle and make up 'Team Ibex' – can change a broken halfshaft in three to four minutes. A CV joint takes about 35 minutes and costs £76 more.
Actually, Neil is unconcerned about the monetary cost. His primary interest is in saving time and keeping the vehicle in sight of the leaders. The difference in length of repair time here can be enough to turn a potential podium finish into middle-ranking mediocrity.
And middle-ranking mediocrity is not something that will ever be good enough for a team that's invested so much in building a winning vehicle. Especially not when it's so conspicuously special, even by Ibex standards – watch it in action, and you'll soon see the effects of the Extreme suspension set-up that's this year's in-thing in Land Rover circles.
The fruit of a tie-up between Italian company Equipe and Britain's Scorpion Racing, the Extreme system is famed for giving vehicles a truly ridiculous amount of suspension travel. Neil reckons the Ibex is showing not much less than four feet of travel, and can in theory at least park it with one wheel on the front wing of a Defender while the other three maintain contact with the ground. We can only say 'in theory,' because for some peculiar reason there was a chronic shortage of Defender owners willing to let their trucks be used for demonstration purposes when our photographer was there.
The Scorpion kit achieves its extraordinary travel by using cranked rear trailing links and making a virtue out of the rear springs' non-captive nature. The limits of the suspension's travel are defined by the length of the shock absorbers, so the kit uses 20-inch Equipe units to give the axles two and a half times more droop than standard.
It won't come as any surprise, then, that the propshafts aren't as they left the factory, either. Neil uses doubled-up universal joints from an early Discovery: 'We tried single joints,' he reports, 'but the suspension has so much travel it snapped them out.'
In order to get this vehicle cross-axled, you need to find an axle-twister so extreme that two of its wheels will be sitting directly underneath it. And they'll still be touching the ground. No need for diff locks, then, you might think… well, think again.
The axles used on the vehicle are from a 90 at the front and a 130 at the back, and inside each is an example of ARB's finest. 'You have to maintain maximum traction all the time,' says Neil. Helping the Ibex do just that is a set of 35-inchers from Simex, supplied by Neil's own company, Redpath Tyres. I hope he got a good price.
Neil's plans clearly don't involve getting stuck very often, but there'll always be someone else who needs help. And besides, the sort of people who organise challenge events have a bad habit of sending you through the sort of terrain you couldn't drive in a tank, let alone a wheeled vehicle – so the Ibex has not one but two Warn winches to help it cope with every eventuality.
Gracing its front end is an old favourite in the shape of Warn's doughty 8274, while taking care of things at the back is a mid-mounted XD9000i whose cable is run through a fairlead in the tailgate. The team arrived at the set-up for the latter unit to help even out the vehicle's weight distribution, as well as to let an eye be kept on proceedings from the cab.
Although conventional steel cable is used with the XD9000i, the front winch is fitted with plasma rope. Neil says he put weight above strength when choosing this – with 125 feet of line on the winch, a traditional cable would weigh about 18lbs. The plasma rope has a weight of just 8lbs – a significant reduction when you're trying to stay competitive.
The winches run on a dedicated 24-volt system using two Optima dry-cell batteries and an alternator taken from a Ford Cargo lorry. Another two 12-volt batteries, fitted in series for the rest of the vehicle, run in conjunction with a Cosworth alternator.
Currently, the Ibex's brakes are standard 130 discs and calipers, chosen because they are the widest Land Rover products available and Neil thought they'd have a better chance than anything else of persuading the vehicle to stop. Experience has proved otherwise, however, and cross-drilled discs and kevlar pads are on the agenda with the aim of making the system perform more efficiently.
Most of the component parts for the vehicle were sourced from new by John Foers himself, who has been fully supportive of Team Ibex and its endeavours. Obviously, a vehicle whose twin snorkels enable it to wade in water coming halfway up its windscreen is a good advert for the Ibex brand, but Neil is grateful for the genuine interest the company has taken in his truck.
It's not been without difficulties, though. With hindsight, Neil wishes he'd used a GMC gearbox with the engine and got hold of an adaptor – available from Australia – to combine it with a Land Rover transfer box. Instead, he sourced a kit from America that enabled him to fit a ZF four-speed auto box, as used by Land Rover, to the GMC engine, thinking that would work better with the Solihull transfer case.
As many others before him have found, however, a gearbox might be man enough to cope with the healthy torque output from a Rover V8 or Tdi – but it can still be overwhelmed by the 6.2-litre unit's infamous transmission-lunching ability. Three hours into his first competition, Neil blew a hole in the ZF's torque plate, reducing the Ibex from four-wheel drive to no-wheel drive in one fell swoop.
A remedy that seems to be working, for now at least, is to use not one, not two but three torque plates, all bolted together and installed as one. Neil reports that this does not lead to a significant loss in flex, but massively improves the ability of the gearbox to cope with all that torque. If any further problems occur, however, he won't waste any time in sourcing a General Motors gearbox for the Ibex.
Another problem became apparent when Team Ibex competed in the recent Bulldog Trophy. Peat bogs to the left of you, moors to the right of you, and ten six-figure map references to locate in a wilderness of muck.
As the Ibex slogged through the challenging terrain, the pressure of a big engine and an automatic gearbox on the various cooling systems started causing them to overheat. Not only did the gearbox oil begin boiling, the Ibex went through five engine belts as they melted in the intense heat.
Since then, R1 1BEX has used one big serpentine belt. It also benefits from twin fans on the gearbox oil cooler and a 14-inch Kenlowe fan on the standard Land Rover radiator.
You've probably gathered by now that Team Ibex is an exceptionally well drilled operation. A combination of lengthy experience – a couple of decades, in Neil's case – and attention to maintaining their hardware in good order means you'll look long and hard to find a more effective combination of vehicles and crews on the off-road scene.
Regarding the other half of the team, Steve Barras' Ibex is similar to Neil's – the only real technical difference is that it doesn't feature the Extreme Suspension. Given that it's very rare to see one competing without the other, they are a formidable force in their corner of off-road motorsport and fully intend to make a real mark next year.
Neil somehow found time to have a baby this year, so he hasn't competed as regularly as you'd expect. The team are through to the final of the Optima Challenge, however, on 16 November at Tong, and have big plans for 2003, including a possible trip to Malaysia to have a crack at the Rainforest Challenge.
Now the majority of teething problems have been sorted on the vehicle, they can concentrate on winning events. After every competition, R1 1BEX gets left in the capable hands of Patrick at Maddison 4x4, who was also heavily involved with the build. He goes over it and mends or replaces anything that looks in bad shape. That way, Neil can be confident of beginning every competition he enters with the smallest risk of mechanical failure.
Which puts an awful lot of pressure on the navigator, you'd have thought. One poor decision can cost the team victory, so he's grateful that James Feeney is such a capable co-driver. The two Garmin GPS systems are quite useful, too.
It all goes together to make up a team that's ready and waiting to do justice to these awesome off-road vehicles. Having sorted out its initial problems, Neil is now very happy with his truck and says he can't wait to see Team Ibex competing more regularly next year. And while that might not be good news for the other vehicles in the challenge scene, it'll certainly help the rest of us stay cheerful.
Share this article