Rogues Gallery
Originally Published: July 2010
Words: Olly Sack
Pictures: Steve Taylor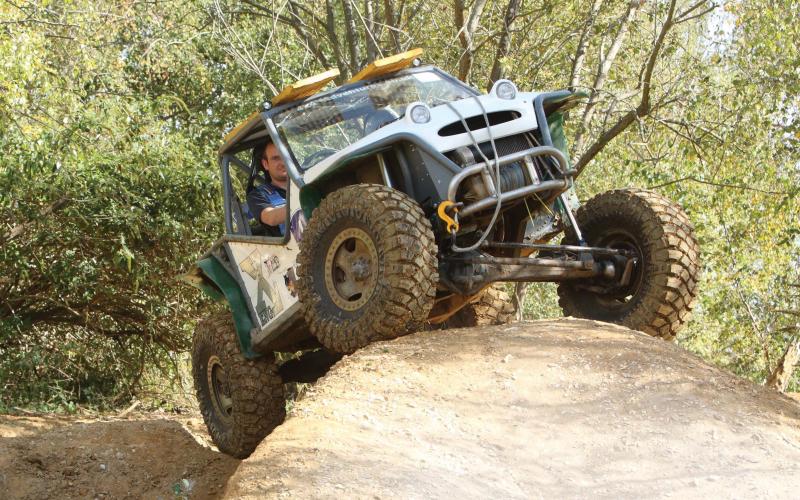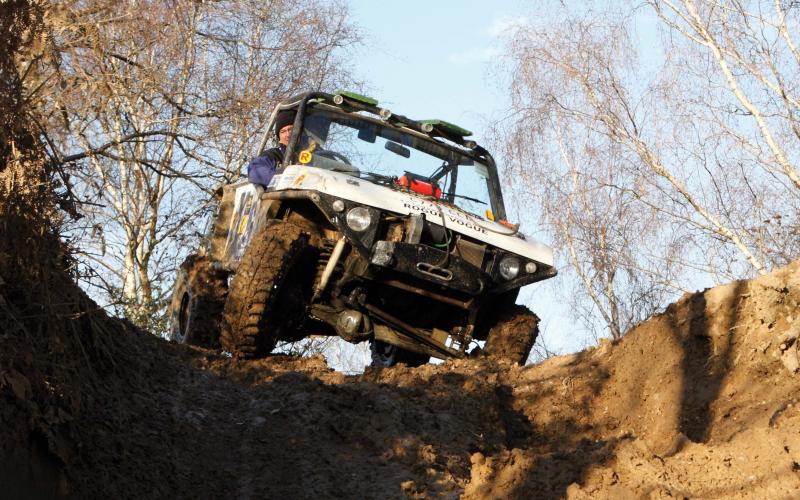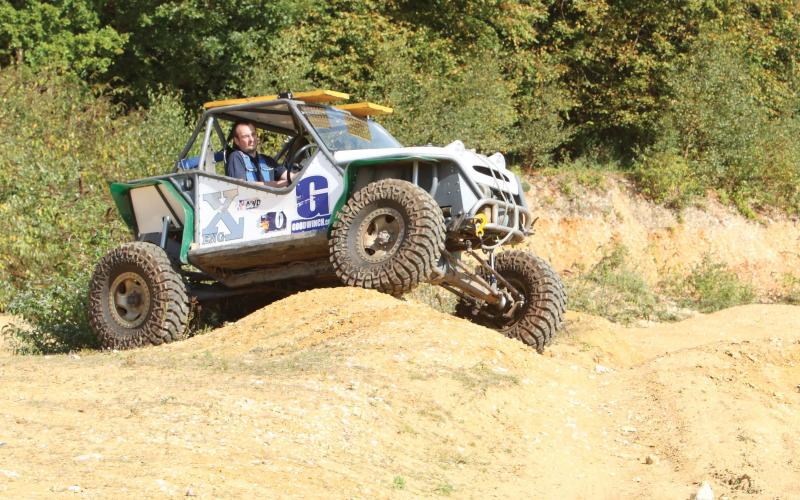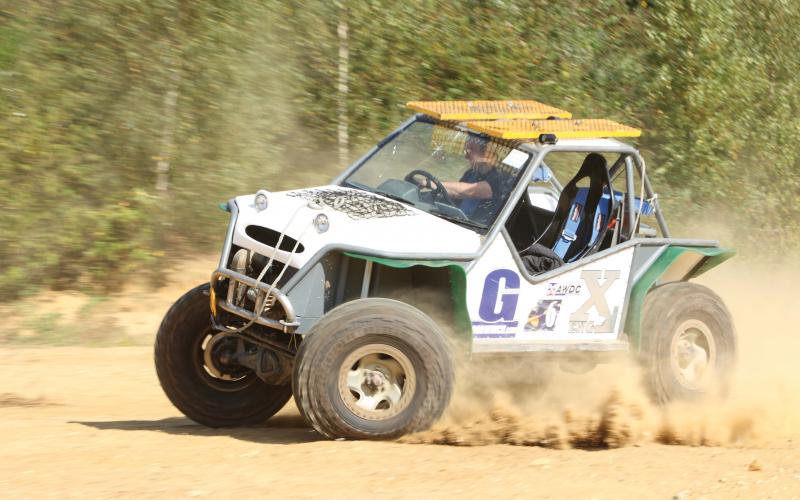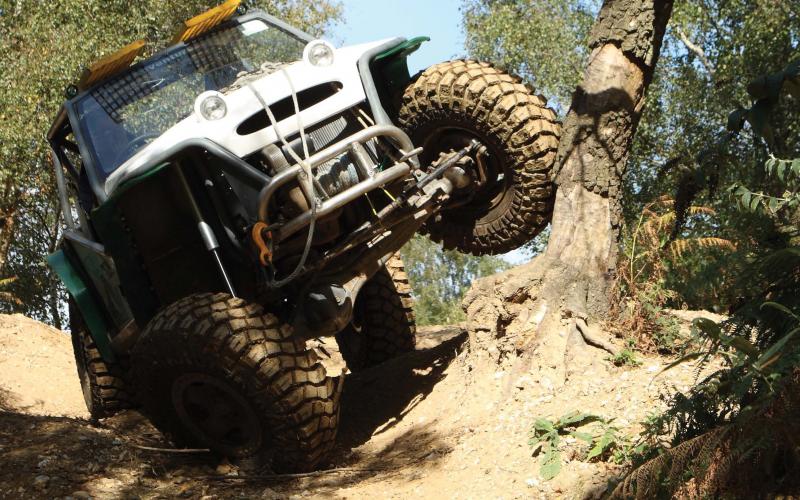 <
>
Nick Watts has become synonymous with a 4x4 called Rogue Vogue. That'll be a Range Rover, then, you might think. And you'd be right… though you'd also be very wrong. Welcome to a tale of not one but two unique challenge trucks.
Here on the good ship TOR, when we talk to people about their 4x4s we normally expect them to tell us about a vehicle. Nick Watts didn't: he told us about two.
Nick, whose name will be very familiar if you're into the challenge scene at national level, or just take an interest in what the most innovative vehicle builders are up to, is a blacksmith by trade. Not a bad start, that, if you plan to do more than just bolt on a load of shiny kit you've bought off the internet. He's also a long-time Land Rover fan, whose many workshop projects have culminated in a vehicle which currently holds the title of All Wheel Drive Club Truck of the Year.
'A vehicle?' Well, it's fair to say that you can only drive one at a time. And of the two you see on these pages, only one is still up and running in the same form. But the story of Rogue Vogue, as Nick calls it, is very much about not one but two machines.
Or more, even, if you trace if back to the very beginning. 'When I was young,' says Nick, 'we used to travel across Salisbury Plain to visit family. I remember many trips spent looking at the rather bleak view of traffic following traffic. Occasionally, there would be groups of vehicles that, although they look the same as each other, were totally different to anything else. Land Rovers – Army Land Rovers. It was years until I realised the potential for these vehicles. But then my brother bought a LWB Series II diesel – and the rest is history.
'The first Land Rover I bought was a Series I, when I was 18. It was in need of a total rebuild, which I eventually did after ten years. In the intervening period, I bought and eventually re-chassised a Series III station wagon on to coils. Actually, it occurs to me now that my brother has a lot to answer for, as I then bought a Range Rover – having been terribly impressed with the one he had bought!'
That was back in 2001, when the Series III succumbed to terminal bulkhead rust. 'I was lucky enough to get the chance to buy a bobtail Range Rover which a friend of mine had done a superb job of converting,' Nick recalls. 'Unfortunately, he had sold it to a less sympathetic type who had neglected it somewhat. It was a 3.5 V8 with the three-speed auto, and four-door full-body bob rather than pick-up back. When built, it had a nice paint job which had long since seen its best, but it had a name painted on the side: 'Rogue Vogue.' The name stuck, and now I'm on Rogue Vogue 4.'
In true Land Rover fashion, the numbers have only really been filled in by history. Just as there was no such thing as a Series I until the Series II came along, Rogue Vogue 2 was another 3.5 V8 auto, this time with the four-speed box, which Nick shortened and turned into a crew-cab.
'It was never really named,' he admits, 'but it fills the gap.'
One reason why this particular Rangey only ever became a footnote in this story is that having built it, Nick had to sell it on again as he was having a baby. 'Not personally,' he adds, in case you were wondering.
It didn't take a whole lot of nappies and sleepless nights to convince him that in actual fact, his workshop was probably the most peaceful place left in his life, and not having an excuse to go and hide there might not have been such a good idea after all. 'I lasted about six weeks without a project, so I had to start something to save my sanity. I sold the idea as being at home building, rather than out driving. It almost worked…'
First, a Range Rover…
Looking at the pictures, you'd have to say that 'it almost worked' barely begins to describe what came from Nick's exile in the workshop. Or indeed, what in turn came out of that. The vehicles we're looking at here are Rogue Vogue 3 and Rogue Vogue 4 – two very different approaches to doing the same thing. Nick built the former, competed in it for the whole of the 2008 season then replaced it with the latter for 2009. A few parts were carried over – principally the axles and winches – but each started from its own distinct place.
'I started to consider what attributes the ideal off-roader would have,' he says, 'bearing in mind the reduced amount of time I now had to repair and straighten bent bits. By now, I had my sensible Discovery and a trailer, so I could build something with minimal weather protection and tow it to events.
'I knew I wanted to do competitive events, having seen what Paul Wightman had done in the previous two years. So a roll cage was going to be essential, as would at least a front winch and preferably rear. Constrained by the lack of available funds, I started to collect bits as they came up; the front winch I already had from the original Rogue Vogue, and I bought a second-hand full roll cage from a car which was scrapped by a friend of mine.'
'Then another good friend of mine decided that he should get a new car so that his 'tidy' Range Rover could become his off-road toy. This meant he wanted to bobtail it. We cut a deal which saw him get my bobtail and me get his four-door Rangey, which had a carbed V8, three-speed auto and a very battered body.'
Now there was actually a vehicle to work on, the project could begin in earnest. And earnest it surely was, because Nick wasted no time in getting well and truly stuck in. 'We cut the body off from the top of the windscreen, the bottom of the B-post and across where the rear wheelarches start, and sent it, complete, to the scrap yard. Then we cut the rear end of the chassis off, level with the back of the tyres.' No messing about there, then.
Having come from another Rangey, the cage was ready to be plonked right down on to what was left of the chassis. 'That was the basis for the whole shape of the car,' says Nick. 'We rejoined the back end with a 6mm winch tray, ready for a winch when one came up, put in additional tube work to support plastic sheet panels and removed the front inner wings to allow more room for the tyres to turn in on full lock.' These were eventually replaced with galvanised sheet, after the side tubes had been extended forward and down to the chassis rail. Above this, the original bonnet was used – albeit shortened by 4.5 inches.
Talking of inches, as we all know every well thought-out project starts with its tyre size and works back from there. Except that when you go to Billing and there's a special offer on bigger ones, you work back from there, instead. 'I set out to get 235/85R16s,' Nick explains. 'But when it came to it, the show price for 35x10.50R16s was the same. So no choice, really!'
Whatever tyres you fit, they're not a whole lot of use without an axle to chuck them on. The big surprise here is that in the early days of Rogue Vogue 3, these were completely standard. Nick recalls that at this stage, the vehicle was 'useable,' but things were about to get a whole lot more interesting.
'I built and fitted a version of a three-link system, which I had tried with great success on the previous Rogue Vogue,' he says. 'This time, rather than bolt it on, I welded it direct to the axle casing but bolted it on to the chassis for convenience. I converted the rear to three-link with a panhard rod, which worked really well – though I found it hard to keep the bushes on the third link in one piece.'
Helping it all flex properly was a set of Pro-Comp RS9000s, with 14 inches of travel at the back and 12 inches up front. But then Nick started thinking about locking diffs, as you do… which got things going in a whole new direction.
Normally, when you want to put lockers in a set of Range Rover axles it's a simple case of deciding which brand to go for. Not here, though. Not when you can take the Toyota route instead…
'A set of 1993 Land Cruiser HDJ80 axles came up on Ebay,' says Nick, 'and I decided that at £350 they represented the best value for money way of fitting diff locks and uprated shafts and CVs. So I travelled to Worksop to collect them – 200 miles each way!
'I fitted the front axle on a single link of two tubes converging in the centre of the crossmember under the gearbox. The rear axle was fitted with radius arms and a reverse A-frame on to the centre of the existing A-frame crossmember, meaning I didn't need to use a panhard rod.'
So, that was an easy way of fitting axles which not only had lockers but also delivered bomb-proof internal strength. Except they didn't. They'd lock alright, but it didn't take long before the CV joints announced that they were worn out. Cue a set of aftermarket replacements, whose problem was that, in Nick's own very technical assessment, 'they turned out to be crap.'
Answer? Stop messing around. Longfield Super Axle, which is based in Washington State, offers a transferable lifetime guarantee against breakage on all its CVs and UJs; as yet, Nick hasn't had to take them up on this.
The axles might not have let go, but Nick admits that in the vehicle's first season it confronted him with technical problems on every single outing. Despite this, he competed in all eight rounds of the 2008 All Wheel Drive Club challenge series. 'We finished in the top third,' he says, 'which was our goal at the start of the season. However, it was clear to me that the Range Rover lacked a certain finesse, which I thought I could achieve with a new car.'
It takes a pretty dedicated off-roader to build two new vehicles in consecutive years (either that or he'd become a dad again), but this is indeed what Nick resolved to do. And if that's not painful enough, it meant breaking up the car he'd laboured on throughout the previous winter.
'Rogue Vogue 3 retired and donated her axles and winches, plus a few other bits. The remains live on with a new owner who is in the process of rebuilding her.'
And then, a Vitara…
So, how does one address the issue of minimal finesse in a challenge truck? You guessed it – go on a diet. 'Light weight was the order of the day for the new car,' says Nick. 'But also, it had to comply with the construction criteria for AWDC and MSA cage requirements. The wheelbase would be 100 inches for stability, but the extent of the tyres had to level with or behind the front and rear of the body.'
This time, 100-inch wheelbase notwithstanding, the donor vehicle wasn't going to be a Range Rover. That's because Nick intended to base it on a tubular frame, so chassis length wasn't an issue. Weight saving certainly was, though – so it won't come as much of a shock to you to learn that despite its name, Rogue Vogue 4 started life as a Suzuki Vitara. Dating from 1991, the example Nick picked up was a 1.6-litre three-door auto: 'at just 1100kg,' he says, 'it seemed like the ideal donor.'
Not that there was ever so much to donate. Nick started by making up the box-section chassis rails and crossmembers, with steeply raked ends to make way for plenty of articulation.
Then on went the Land Cruiser axles from the old vehicle, each using a single central mount at the chassis end with an overslung panhard rod for lateral location. 'I am well supported by X-Eng,' says Nick, 'so I used a pair of their suspension joints to mount the axles. Suspension is achieved through a set of Fox Air Shox, which are fully gas adjustable and rebuildable.'
All good, but with the vehicle's design calling for taller tyres than ever at 37 inches, the carb-fed 1.6-litre Vitara engine wasn't exactly going to be melting holes in the tarmac. Nick's solution was to double up on the transfer boxes by mounting a Suzuki SJ unit behind the Vitara's original, thus giving the potential for ultra-low gearing. 'I had to remove the front output from the original transfer box in order to allow the front propshaft to pass,' he admits, and this is where we see the true appliance of science. 'I did it with an angle grinder, a cover plate and some self tapping screws. It still isn't leaking!'
Keeping it all in place when things go wheels-up (which they had for Nick the previous year) is a set of engine mounts made using Range Rover front radius arm bushes. You just knew there was going to be some Rangey stuff in it somewhere, didn't you? Downstream of the transfer boxes is an X-Brake (the version designed for the Suzuki SJ, obviously), beyond which you'll find a pair of custom props Nick made himself from standard units. The man's a blacksmith, don't forget.
Skinning it all out is a body panelled with 6mm polypropylene sheet. Up top, there's a clear polycarbonate roof panel for visibility, while the bonnet is moulded from fibreglass and has a pair of motorbike headlights set in it.
The whole lot is mounted on a frame created around the Vitara bulkhead, which was installed complete with windscreen, wipers, all controls and (crucially, reckons Nick) the heater. 'I couldn't see a lighter way to achieve all those essentials,' he says. The framework's all made from CDS, aside from the sills which are of high-strength Domex 700 box (this, reports Nick, has already proved extremely durable).
The CDS in question is all 44.45mm outside diameter, with a 3.25 wall thickness for the safety cell and 2.03mm elsewhere. To save weight, both overall and outside the axle lines, the front and rear winch mounts are of stainless steel tube – another advantage of this is that they remove the need for a fairlead.
Like most serious challenge trucks, the vehicle carries three winches, but rather unusually all three of these are different. Up front, there's the familiar Warn 8274, with an M8000 from the same company in the middle and a TDS Goldfish from Goodwinch at the back. All run Albright contactors, and there's also an Albright split charge system managing a pair of Numax batteries from X-Eng. Front and rear winches have Bowmotor 2 motors, which Nick rates as 'awesome,' while the Dyneema Bowrope they're spooled with has, he reports, 'suffered abuse for all eight rounds of a season without breakage.'
Keeping the centre of gravity in check is a custom fuel tank, mounted as low as possible behind the cab in the bottom of the load bay. On top of this is an ammo box for recovery kit like shackles and snatch blocks, and topping it all off is an X-Anchor. 'It's been superb,' says Nick. 'Mine has got my name stamped on it and I've had it since launch.' Further up still is another X-Eng product, in the shape of four Azimuth spotlights, which sits just ahead of a pair of waffles.
You'll see from the pictures that the Azimuth lights didn't actually go on until after we'd taken our pictures of Rogue Vogue 4, but that just goes to prove that even a project of this magnitude is never really finished. Along with the winches and lockers, they're among the very few electrical ancillaries; all the switches are imported from America, but aside from the split-charge system and necessary kill switch it's all kept as simple as possible.
Likewise the interior of the vehicle, which is very functional but less than lavish. The seats are fibreglass bucket shells, which Nick says 'aren't as uncomfortable as they look,' and three-inch Mastercraft four-point harnesses keep the crew firmly in position whatever happens. More practical still is a clipboard mounted to the dash, which plays host to instructions and maps during events, and punches are marked on a number card stuck to the windscreen.
In a world where the simplest pleasures are prone to getting unnecessarily over-complicated (how many people do you see turning their 4x4s' dashboards into flight decks with laptops, GPS units and all sorts of other kit just for a bit of green laning), Rogue Vogue 4 continues what has become a fine tradition for Nick of doing the things that matter well, and doing the other things not at all. Its forerunner was simple and effective, but a bit on the crude side, so what we're looking at here is a classic case of lessons learned. Lessons about what he got right in the first place, which was most things, and what he could have done better, which he now has.
No great surprise that it was named Truck of the Year by the All Wheel Drive Club, then, was it? The vehicle's first test drive was on to the trailer to head to Kirton for Round 1 of the 2009 Howlin' Wolf series, so fifth overall wasn't exactly a bad result. That's in spite of the inevitable teething troubles, which in this case came courtesy of a blocked fuel filter and faulty cooling fan.
This event was also the debut for Delta-Tek's air freespool drum for the Warn 8274. Nick's truck was one of three with a prototype on board, and all won trophies during the course of the season. 'I won my class every time I used it,' he says, so you can safely assume he'll be sticking with it now full production is ramping up.
By the end of the season, Nick and co-driver James Trembath had been first in class four times and first overall on two further occasions. At the end of the season, the team's efforts were rewarded with a crushing victory in Class 2 and a hugely impressive second place overall in the championship table, a mere three points behind Rob Tunnah's four-wheel-steer, portal-axled Mitsi-Mog.
By no means was it all plain sailing, though. The donor parts had been salvaged from a very tired Vitara, and the auto box tended not to think much of being put into reverse. Which can be a problem. But where there are problems, there are always solutions – and where there are solutions, there are opportunities. Hence Nick's reasoning that if he was going to be changing the gearbox, why not lob in a new engine at the same time? After all, Suzuki did a very nice line in 24-valve V6s for a while, and Simon Rafferty at X-Eng sourced a 2.0-litre Vitara which would act as a donor.
As lob-ins go, however, this one was anything but simple. 'The V6 bell-housing is about 100mm longer than the one on the 1.6,' says Nick. 'That was my first major problem – no room for radiator and fan. Eventually, with some careful measuring, I found a radiator for a VW on Ebay which would just fit with an electric fan on the front. I still needed to make other modifications to the frame, though, mostly engine mounts and brackets which were in the way of the engine and ancillaries.
'We also had to fit an oil cooler for the gearbox, complete with its own fan, and a high-pressure fuel system was required. But by far the biggest issue with this conversion is the electronics; the gearbox has an ECU of its own which controls the overdrive and sport functions. Despite first impressions, it seems quite happy to run without the engine ECU. The engine ECU controls the fuel injection and the ignition, with no distributor.
'I decided that the best way to go was to scrap the original electronics completely. I got hold of a Megasquirt 1 v3 ECU with extra code installed so that it can control a Ford EDIS6 unit. After many hours with wires and pipes, it was all installed and running. Megasquirt is a totally programmable ECU which controls fuel and, when coupled to the EDIS unit, controls the ignition as well. The added benefit is that because the spark from the EDIS coil is so strong, it will keep on running virtually underwater.
You can expect the new set-up to make Rogue Vogue 4 a more formidable competitor than ever as it beds in; first in class and third overall at the first round of the 2010 Howlin' Wolf certainly wasn't a bad start. Testament indeed not only to Nick's ability to visualise and build a vehicle, but to develop it onwards towards its full potential.
Whereas Rogue Vogue 3's shortcomings were such that only a whole new build would do, you can't help but feel that this time, we're looking at the finished article. As always, it'll develop as time goes on – but when you consider that this was by no means a money-no-object project, and that for every item bought new there's any number which have been home-fabricated, salvaged or made to go again, you've got to say that by any standards, it's a car to be proud of.
Or rather, it's two cars to be proud of. The first Rogue Vogue may be no more, at least not in the form that made it famous, but its spirit very much lives on in the vehicle that replaced it. There's not much Vogue left in Nick's challenge truck these days, and precious little that could be called Rogue, either – but there's all sorts of good qualities that make it a very fitting end to a project that's lasted coming on for a decade.
Share this article