Mercedes-Benz M-Class ♦ Vehicle Test ♦
Originally Published: January 2013
Words: Alan Kidd
Pictures: Steve Taylor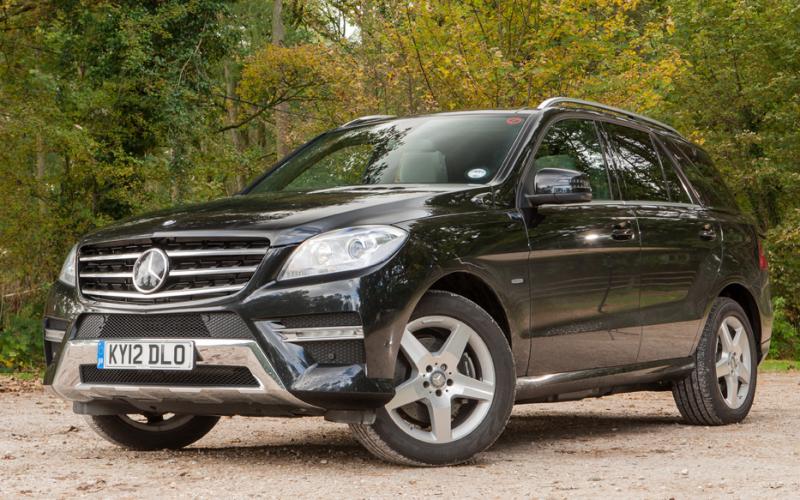 <
>
How will the M-Class fair for Mercedes in our review?
Range
Launched in mid-2012, the third-generation M-Class has a range of just three models. Everyday versions offer a choice of 2.1 and 3.0 diesel engines, each with the same trim level, then there's a stonking AMG model with a 5.5 V8 and a price tag to match. 
Buying and Owning
Reputable brokers have already started quoting discounts of up to 10% on the new M-Class. It's still well into premium territory even then, but running costs on the entry-level model are impressively modest and even the more powerful diesel nudges 40mpg. Reliability should be a given, but the ML hasn't traditionally held its value as well as some of its premium SUV rivals. 
Inside
Mercedes has the happy knack of creating interiors which manage to be classy but not showy, and the M-Class carries on that fine tradition. The dash surfaces aren't the most touchy-feely of all time, but the impression of quality is overwhelming and although there's an awful lot of controls jostling for your attention, they're laid out with perfect clarity.
The seats are excellent, too, with loads of support and adjustability. They're heated and cooled as standard, and clad in a man-made leather finish that's very nice if not as baby-soft as the real thing can be. Needless to say, the options list is ready and waiting.
Oddment stowage is only okay, with useful console bins but a small glovebox and door pockets you can barely get your hands into. You won't hear any moans from behind you, though, with excellent leg and head room and individual air-con controls for the rear seats.
These have bases that tip forward to let the backs drop flat. It's an old-fashioned system, but it doesn't steal too much of your loading length so it's forgiveable. A nice low lip makes it easy to slide bulky items aboard, too.
Driving
The previous-generation M-Class was so good that if we say we didn't notice any great difference in this new one, we say it as a compliment. The diesel engine is as sumptuously torquey as ever, and with the full complement of shove coming in from a low-down 1600rpm it moves the vehicle with no apparent effort.
The result is a fantastic level of refinement that's maintained at all speeds. Backed up by an impressively smooth ride quality, it makes for a totally relaxing drive; you could glide up the motorway all day long and barely realise you're even in a car at all.
It'll handle, too, turning in with lots of feel and absolutely no drama. You'd be thunderstruck if it didn't grip the road with complete composure, and the unsurprising news is that you won't be thunderstruck. It simply holds on, once again with a complete lack of drama as the body stays stable and the sophisticated 4wd system stays on top of which wheels have the best traction in any given fraction of a second.
Our test vehicle had air springs with adaptive damping, as well as active anti-roll bars to stabilise the suspension. That sentence is worth £5000 on the options list; we can't comment on the difference it makes, having not driven an M-Class without these features, but it's fair to say that with them, its dynamics certainly do excel. It's stable and linear in corners, never feeling as if it's having to fight against the forces trying to make it run wide.
Whether that makes it any more entertaining to drive, or simply enhances its natural sure-footed stability, is another matter. Without making a song and dance about it, however, it goes straight into the top drawer for SUV dynamics.
---
 Verdict
It was easy to love the second-generation M-Class, because the first-generation one was so bad. This Mark 3 model doesn't have that luxury. It feels more like a progression than a revolution this time, but once again Mercedes has moved the game forward. The new M-Class is beautifully appointed, delightful to drive and even quite affordable to run. It can get very expensive by the time you've reached the end of the options list, but few vehicles anywhere use technology to such effect.
Share this article