Penfold Tomcat AK
Originally Published: June 2015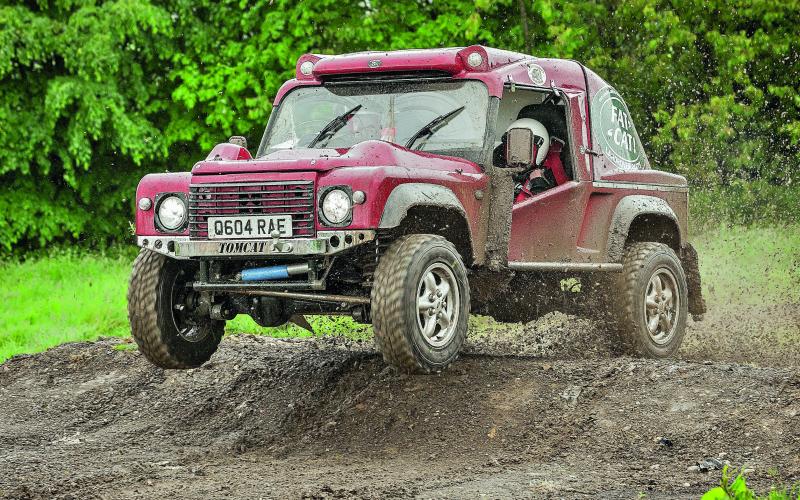 <
>
Most 4x4 fans find themselves drawn towards one aspect of off-roading or another, but Shane Penfold is into the lot. The Disco 2 he uses for laning featured in TOR a few months ago, but he also runs something altogether more exotic. Because after his old Tomcat laid down its life to look after him in a comp safari accident, he built himself another – and it's one of the finest looking examples you'll ever see 
Words Mike Trott
Pictures Steve Taylor
 It's a grey and muggy day in May, and we're out playing with a few vehicles at Xtreme Off-Road 4x4 down in Somerset. There's a handful of Discoverys, a Pajero and, catching air around the place, Shane Penfold's Bowler Tomcat.
But then things get less grey and less muggy, albeit a lot hotter. Happily, we've already taken all the pictures we need of Shane wringing the vehicle's neck… because all of a sudden, it's gone and caught fire.
Shane is one of the guys responsible for James Old's Discovery 1, which you can read about elsewhere in this issue of TOR. He also helped build the brace of Disco 2s we featured back in March, one of which is his own daily drive and green laning toy).
The Tomcat is his other toy, and it's rather an expensive one. Expensive and going up in flames, until the hasty application of an extinguisher brings the panic to an end.
Shane and Tomcats appear to have a chequered relationship, actually. He used to own another one, but if you search for 'SCOR 4x4 Tomcat Crash' on YouTube you'll see what happened there. Over she went, several times, after the nose of the truck dug into the dirt. Shane's racing again now, but the Tomcat took one for the team and laid down its life to protect his.
'Racing a Tomcat is something you always want to do,' says Shane. 'But can you afford to run it, crash it up or put it into a bank or ditch?
'The trouble is you're always competing; you can't just pootle around. You're always pushing it to the limits. The roll cage is definitely the best thing you can fit, especially once you've had a crash, because you realise just what can happen.'
The man has a point. There's no point in owning a comp safari motor if you're only going to use the first 2000rpm of its rev range. Shane, however, has had plenty of experience of strangling his cat over the years – he's been trialling since the age of 17 and has competed in winch challenges as well as comp safaris.
His Discovery 2 is the one he uses for laning, sensibly enough. While you could take a Tomcat green laning, he says, you probably wouldn't want to: 'When you're travelling down the average green lane, you'll be doing, say, 10-15mph. You can't really green lane the Tomcat as it doesn't come into its own till around 60-70mph.'
At that sort of speed, the Rover V8 will be roaring away, entertaining the onlookers – and playing on the back of Shane's mind. 'They are lovely engines,' he says. 'But you're always worried something will go wrong.'
When his Tomcat decided to set itself ablaze on our photoshoot, the problem was simply that an oil pipe had let go. With the engine running so hot, you very quickly get smoke and fire.
Of course, you don't need a vehicle as specialised as a Tomcat to go safari racing. People have been doing it in full-bodied Range Rovers and Discoverys for years – often with great success. Put one head to head with a comparably engine Tomcat, though, and there'll only be one winner – especially if both drivers tried to take any corners at the sort of speed only one of them is made for.
Yet when it comes to using the Disco's drivetrain for the foundations of a Tomcat, it's somewhat wonderful. The chassis, axles, wheels and brakes on Shane's are all from a Disco 2.
'It took us around 18 months to two years before we got everything how we wanted it,' Shane tells us. 'The Tomcat was built from new and was built to go racing, but we tried to make it better by, for example, using the D2 chassis instead of the D1.'
The result is a Tomcat that looks as well as it goes. 'I try and take it out as often as I can,' says Shane. 'I used to go out with the Southern Counties Off-Road Club – they've got some brilliant tracks. My truck spends 99% of the time covered up, but when I do take it out people always say "Wow, what a beautiful car!"
'In some ways, it's almost too nice to race! I take it to shows quite often and twist it up on the ramps.'
As we've mentioned, Shane (with help from a few friends, including Mark Ham who spent most Tuesday nights with him Shane fettling the machine), has put a lot of time and effort into building this 'proper play toy.' So much so that his daughter won't let him sell it!
'A lot of more thought went into this build than my Disco 2. You have to plan where things are going to go that little bit more. Dave Ashcroft was fantastic with us, and Paul Williamson from Tomcat is a great guy. He understands what you're trying to build.'
Shane has recently returned from 16 days in Morocco, where he fell in love with the freedom of the trails and terrain. He went in the Discovery, but now he's come up with the idea of taking the Tomcat for a spin out there.
'I'd quite like to convert the Tomcat to one suitable for overlanding – put the doors on and so on. Taking it off to Morocco, that would certainly be the place to do it. There's lots of lovely flat land, but I think I'd fit a Td5 engine in it if I was going to go that route.'
Now that's a holiday with fun written all over it.
Owning a Tomcat can be an expensive hobby, and racing one is sure to be more so. From what we saw, you might get a bit of a tan, too, even without going to Morocco, but that was just a one-off and certainly no reflection on the Tomcat itself.
At any rate, we think Shane does a good job of summing up why owning a Tomcat – especially one as beautiful as this – can put such a smile on your face.
'The adrenalin rush you get is amazing. When you're younger, lots of guys want to be a racing driver – and when you're out on a stage, you say to yourself, "I'm actually doing it!"
'I ask some people what they do at the weekend and they'll say, "Oh, just watched a bit of TV and that, you know." Then they'll ask what I did. And I'll reply, "I went racing!"'
We photographed Shane's Tomcat at a site operated by Xtreme Offroad 4x4. Based in Shepton Mallet in Somerset, the company promises 'the most challenging off-road course in the South West' for its training and corporate clients. You can get in touch with them by paying a visit to xtremeoffroad.co.uk.
'Thanks to Andy Bell (electrical), Mark Ham (Mr Commercial!) and Dave Knapp from DK Automotive,' says Shane. 'Adrian Everett – it's all his fault! Thanks to Julia and the kids for putting up with the build and the years to come. And thanks to Shane Penfold Jnr for running around stages taking photos and so on!'
Share this article