Cracking On
Originally Published: April 2016
Words: Paul Looe
Pictures: Harry Hamm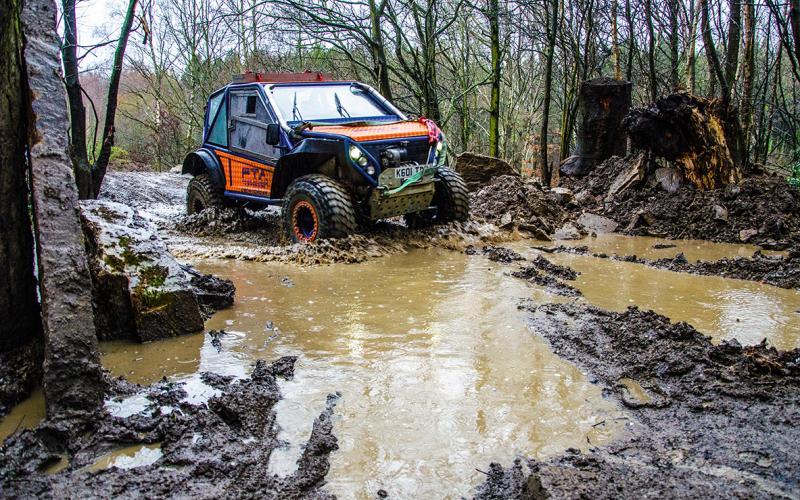 <
>
After many years as a playday beater, Leigh Norminton's V8 Discovery had bodywork that was riddled with stress cracks. Many people would just have weighed it in at that point, but Leigh simply took off the knackered bits – and set about building one of the most radical kit cars you'll ever see
We often feature vehicles owned by people who've owned a long list of 4x4s. Usually it's either one Land Rover after another or a wide range of different trucks that led them to whatever it is they own when we show up.
But there's also the occasional off-roader we meet who's only ever owned one 4x4 – and it turns out to be a work of complete genius. Way back in only our third ever issue, for example, we wrote about a scrapyard owner who started messing around with an old Hi-Lux and, with no experience at all of building a modded vehicle, created a sensational four-link bobtail that's still one of the very best trucks we've ever seen.
Leigh Norminton can't quite claim to be a newbie to modded 4x4s, as he also knows what it feels like behind the wheel of a Pajero on 33" tyres. He's in the spanner trade, too, so when he set out to build himself something fun he already had the skills. But however comfortable he is in the workshop, he doesn't have a long line of off-road builds behind him.
Yet the truck you see here is absolutely exemplary, and certainly unique in its own way. That's because in the world of off-road kit cars, it shows what you can do when you let your imagination run riot.
As we're forever saying, it's always a surprise that more people don't explore the kit option when creating off-road toys. With so many would-be donor cars (mainly Land Rover Discoverys, obviously) ready and waiting to give up their long-lasting mechanicals to anyone who'll just do something about their rotten chassis or beaten-up panels, the options are rife.
Obviously, a couple of decades ago Land Rover fans tended to make their own kit cars by building hybrids. But ever since the man from the ministry got all awkward about that, and Defender 90s came down in price to the point where it was easier just to buy an old one and restore it, the flood of such vehicles has dried to a trickle.
Anyway, kit-cars off-roaders. They're a rare sight. And Leigh's is even more rare, because it's a one-off.
How do you get a one-off kit car? You start with an NCF Traka, that's how. Then you cut the ends off.
Launched in 2003 by NCF Motors, the company behind the original Blitz buggy, the Traka was designed to make use of a donor chassis from a Mk1 Range Rover. It was marketed as an MSA-spec kit for people who wanted to stand out from the crowd of Defender lookalikes, with the capacity to be used for comp safari racing – although, by retaining the original Range Rover underpinnings, it remained a four-seater.
So too does Leigh's vehicle. In creating it, he retained only the centre section of the Traka cage structure – though for added strength even this gained an extra cross.
To this, he then added his own front and rear sections, beefing up the chassis as he went. 'I made a few rot repairs,' he says, 'reinforced the outriggers at the front and replaced and tied through the ones at the back. I added two 3mm C-sections in the centre, and replaced the rear crossmember to accommodate a winch.' He also made his own winch mount and steering guard – as well as further protection underneath for the gearbox, which itself sits in a DIY cradle.
The smart new front end bolts on, and therefore off again for ease of maintenance, while the rear of the cage was extended to surround the occupants' heads. The Traka cage stops at the rear diagonals, so Leigh extended it into a breadvan and added flanges for windows – that four-seat layout is perfect when off-roading is a family pastime, but obviously you're not going to put your kids in the back without surrounding them in as much stout steel as you've got around yourself up front.
Leigh also built new centre outriggers, on which went 6mm rock and tree sliders, then 3mm chequer plate was used for the roof, bonnet, bulkheads and side panels, creating a vehicle whose appearance is distinctive in pretty much more ways than you can count.
Twin snorkels, for example, you don't see many of those. But only one of them feeds air to the engine. The other routes it directly to the interior – what you might call a belt and braces solution to the never-ending problem of steamed-up windows caused by wet standard intakes.
Talking of the engine, it's still the original 3.5-litre V8, though it's been modded to run on LPG and now sits on mounts from Qt Services. It breathes in through a modded Southdown snorkel and runs twin alternators – the second, a 120-amp job, being from a VW Golf.
One of the things we like most about 4x4s built by people who service everyday cars for a living is that they tend to be a treasure trove of unusual parts. And if the use of a Golf alternator appeals to your sense of make-do, the exhaust definitely will. Behind a set of tubular manifolds, Leigh piped it through to middle boxes from a Rover 414. Obvious, really. Spent gases are then swept up to exit above the waistline at the back of the car, via Ducati back boxes which he stripped out and rebuilt with perforated tube and glassfibre packing.
These sit just ahead of the radiator, which is from a Mitsubishi Evo 8. Again, obvious. Leigh actually rates this as one of the best mods he's made – not the source of the rad so much, though there's nothing wrong with it, but moving it to the back has definitely made life less difficult. Given that he lives a stone's throw from Tong, where there's never any shortage of mud waiting to clog up whatever it touches, you can see why.
Future plans include replacing the rad with an alloy unit and fan cowl, at which point the vehicle's family resemblance to his old Pajero will diminish to just the L200 oil cooler on the auto box (itself a later 3.9 unit, fitted after the original blew up). But as you'll have guessed from the above, the new one will be going in exactly the same position as the Evo job.
Leigh reckons that shortening the front of the vehicle was another of the best things he's done. You could probably add 'strengthening' to that, too. And you get the impression that he definitely does like being surrounded by a strong cage, even though playdays and laning with his mates are as far as his off-road ambitions lie.
Hardly surprising, actually, given where the Traka project came from. 'It started out eight years ago as a green Disco 1 on a 4" lift and 35" tyres,' Leigh recalls. 'I replaced and uprated things as I broke them, until the body was stress-cracked everywhere.'
So it kind of happened by accident, but kudos to him for not just weighing in the old Disco and starting again. And indeed, kudos to NCF Motors for giving people a ready-made way of reusing a set of parts with plenty of life left in them, even if for Leigh's purposes it wasn't quite as ready-made as all that.
Having had the decision on a donor car kind of made for him, though, would he have done it differently? In retrospect, maybe. He talks in terms of a TD5 engine, maybe even a whole Disco 2 base vehicle – though of course by the time you get into that model, you're talking about a whole new set of typical issues and a whole different kind of project.
As it is, future plans for this one aren't that radical. As well as the alloy rad, Leigh intends to replace the trailing links with adjustable rose-jointed efforts and ditch the still-standard handbrake (shudder) with an X-Brake (phew). That apart, it's pretty much job done – and he can finally go back to having fun in it the way he used to when there was still a Discovery body creaking around on that chassis.
Safe to say it's come a long way since then. It's hard to believe that there are four seats in there, but by modding the kit he started with Leigh has turned that knackered old beater into a playday weapon with a lifetime ahead of it. It's every inch a hardcore off-road machine – and just like the Disco it started out as, it's the perfect family car.
Share this article