A Series of Fortunate Events
Originally Published: May 2007
Words: Alan Kidd
Pictures: Steve Taylor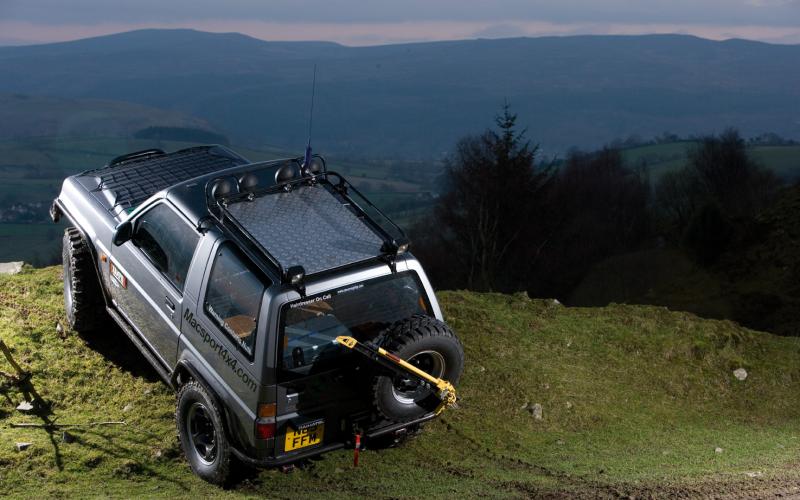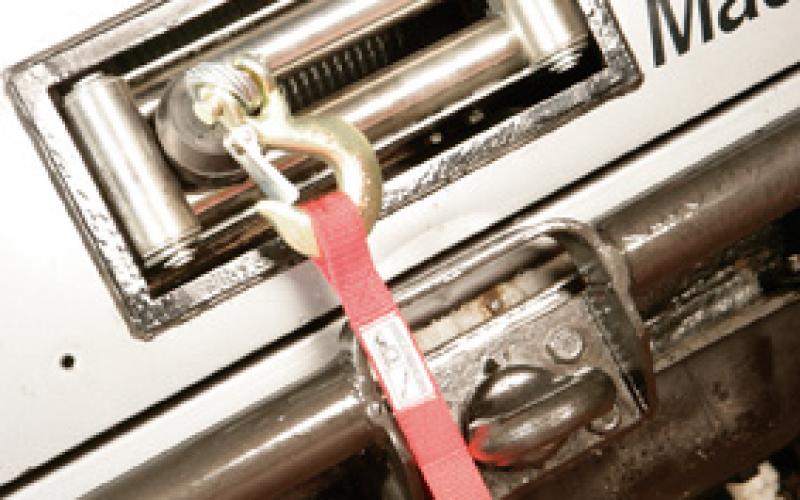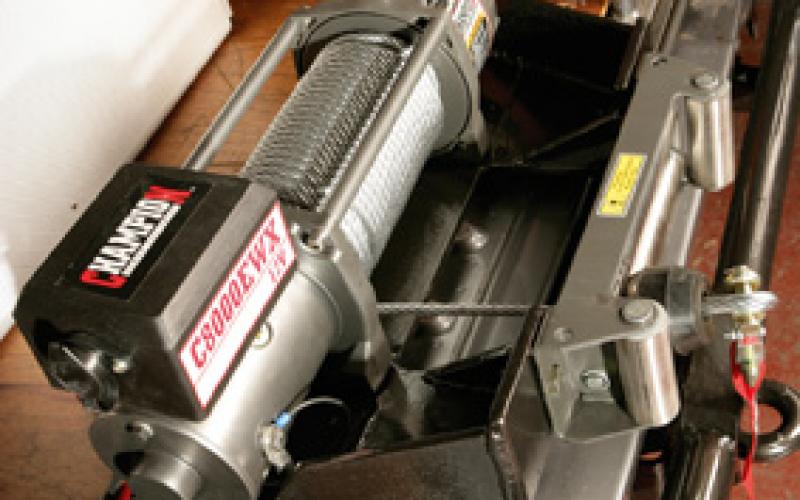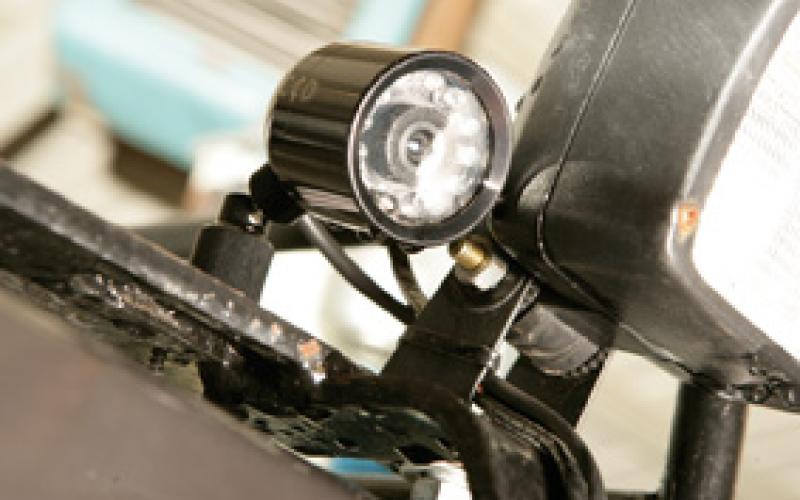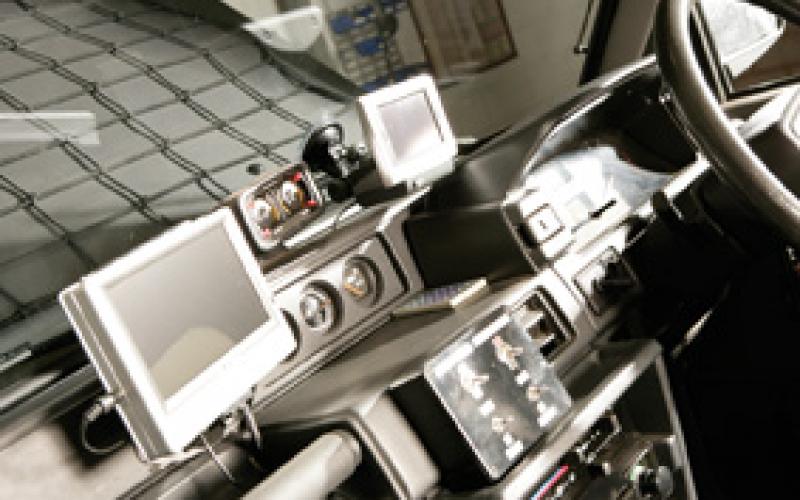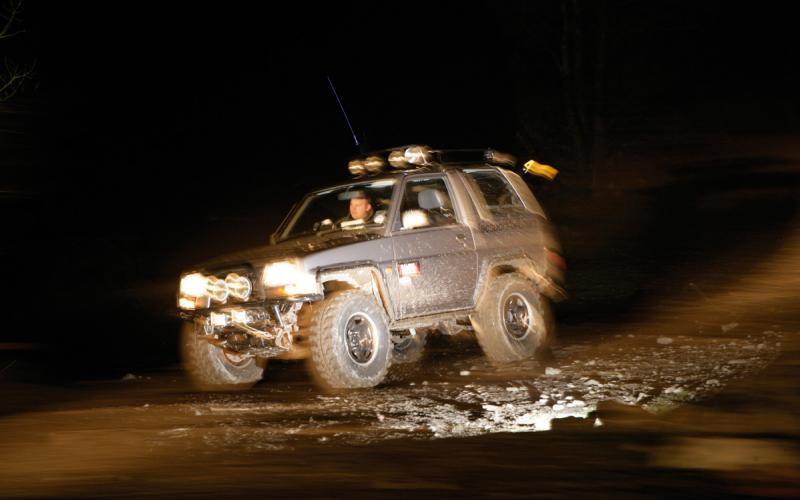 <
>
It took one happy fluke after another to introduce Paul McCleary to the world of off-roading. Now he's here, however, he's rapidly turning into one of Britain's most innovative 4x4 engineers – and the country's most radical Daihatsu Sportrak is just the beginning.
Look around the off-roading world, and you'll find no shortage of people who've got into it more or less by accident and ended up as confirmed fans. Not many of them, however, have gone as far as Paul McCleary – for whom a series of chance events have led to a hobby that's now also a profession.
Paul is the man behind Macsport 4x4, a company which specialises in bespoke engineering for off-road vehicles. If you saw Andy Barlow's Suzuki Samurai in last month's issue, you'll already be familiar with the sort of work Paul turns out – Macsport was responsible for that vehicle's sensational front suspension, and a lot more besides.
Going back another month, you might recall the Defender 90 belonging to Dafydd Belton which featured in our March issue. And Dafydd plays a pivotal role in Paul's story. Both were members of the Lancer Register, a group devoted to Mitsubishi's Evo series of rally-bred supercars, and one day Dafydd persuaded Paul to join him in the cab of his old Series III on an off-road playday.
'I was very sceptical,' admits Paul, whose background is in rallying and performance. 'But by the end of the day, I was hooked. After that he took me to a winch challenge, and I decided that's what I was going to set myself up to do.'
The Lancer may've looked like the dogs nuts, but at the time Paul had a large husky which he needed to cart around with him. A dog of that size definitely doesn't go with a stripped out performance saloon like a Lancer, so Paul went out and paid £600 for the Sportrak you see here.
Cue a barrage of ribbing from his friends. 'A couple of the lads were saying "What are you doing in that? It's a hairdresser's car, you want to get yourself a Land Rover." That's why I started modifying it – it was mainly out of spite!'
Paul acknowledges that the Sportrak's independent front end means there's only so far you can go. But with a background in engineering, his instinct was to start looking for solutions – and, rather than going shopping for off-the-shelf bits, wherever possible he wanted to make them for himself.
Thus the only real money that's been spent on the vehicle has gone on tyres and winches. Paul made all the tubular metal parts himself, including a very nifty roof rack, front and rear bumpers and lots of body protection, and lifted the suspension using a combination of ingenuity and parts robbed from other vehicles. There's been a certain amount of trial and error, of course, and he's the first to accept that the Sportrak isn't the best vehicle in the world on which to base an off-road project, but he's adamant that it's a far better vehicle than most people would expect.
Of course, a whole load of professional training and experience helps a lot for stuff like this, as does a well equipped workshop. But there's no substitute for simply being clever, just as, in the words of that delightful old adage, you can't polish a turd. You couldn't base a project like this on a new-shape Grand Vitara, for example.
Still, every project has a natural limit, and Paul reckons that's where he's got to with this vehicle. 'It's probably as good as it's going to get without going to a live axle up front,' he says, before revealing plans for another, much lairier Sportrak.
This is one of two vehicles he's planning to build in a bid to make a serious impact on the 2008 Ladoga Trophy. The other will be a long-wheelbase Samurai; both will be on Unimog portal axles, and Paul is talking about 300bhp Volvo engines, trick transfer cases and heavily modified bodies.
Listening to him talk about his Ladoga plans, you just know that his vehicle is going to be one of the most professional projects ever conceived by a British competitor, in what has come to be recognised as the Northern Hemisphere's most gruelling off-road event. Which brings us back to where we started, and the series of events that turned a rally and performance car engineer into one of the country's most innovative 4x4 specialists.
As you'll recall, Paul's impetus for building the Sportrak was largely just to prove that it could be done. So it's maybe not surprising that as the work was in process, he posted a variety of pictures of it on the internet. You can probably guess what's coming next… suddenly, his inbox was filling up with emails from people asking if he'd do some work on their vehicles, and lo and behold, Macsport 4x4 was born.
Maybe the company's genesis was a happy fluke, but now it's here Paul's determined to take it in the right direction. Ladoga will be a very big deal, but the quality of vehicles coming out of his workshop demonstrates that in an industry dominated by bolter-onners, here's a genuine engineer who instinctively knows what off-road hardware is all about. This particular Sportrak may just be a fun machine, but it's only the beginning – and with vehicles like this flying the flag for Macsport 4x4, this is an outfit whose star is very much in the ascendancy.
Wheels & Tyres
265/75R16 Insa Special Tracks
Suzuki Grand Vitara steel rims
30mm spacers
The Insa Special Tracks isn't a brand you come across every day, but they're instantly recognisable as a tyre with an aggressive off-road tread pattern. The 265/75R16 is around 32" tall, necessitating a lot of body trimming to make it fit.
Suspension
+2.5" Jeep Wrangler YJ springs
Pro-Comp shocks, +1" front and +3" rear
Front Torsion bars wound up by around 3.5"
+2" shackle lift on rear
Modded front bump stops for more wishbone travel
Paul estimates that the 2.5" Jeep springs give around 3" of lift on the lighter Sportrak. 'The most people can usually lift the Sportrak is about two inches,' he says. 'That's the physical limit of the suspension.'
The limiting factor is the front wishbones, though these can be wound higher and higher 'until they're so stiff it's unreal.' Paul went looking for more as he kept smashing the Sportrak's belly plate, and found it by cutting down its front bump-stops.
'You can trim the rubber and it creates more travel in the upper wishbone,' he says. 'But you don't want to trim the lower one as you want to limit your up-travel, otherwise you'll end up with the tyre touching the wing. Where the bump stop lands on its landing plate, it sits about three inches above the chassis. If you calculate the travel of the wishbone and the angle it can sit at, you can trim off just the right amount so you get more travel.'
A welcome surprise was that despite all this, the amount of travel in the track rod ends means the vehicle's steering has never started binding. 'I thought I was going to have to flip the steering,' says Paul. 'But I didn't – and the geometry's spot-on.'
Protection
Standard front diff, sump and tank guards
Tubular bumpers, wings and arches
Rock sliders
It's easy to assume that the bash guards fitted as standard on the Sportrak will be flimsy, but Paul reckons they're all right and not of 'token effort' quality. Hence their survival on a vehicle that gets much more punishment than probably any other example ever brought to Britain.
The tubular bumpers came because he kept digging the standard front unit into the ground. It didn't originally carry a winch; that came later. Paul says that because he built the vehicle on a budget, he didn't use the same Clubman 500 tube that he routinely uses on customers' cars.
Bodywork
Tubed wings and arches
Tubular bumpers
Fourtrak rear lights
Raised spare wheel mount
The tubular bumpers replaced standard units which 'stick out a country mile.' Approach and departure angles are much improved as a result, even with a rear winch – which is internally mounted and runs through an aperture cut in the door.
Replacing the original back bumper means losing the tail lights it carries, but the Sportrak was designed to use the same lights as the Fourtrak in some countries. Hence the convenient blanking plate, which made way for a set of lights from the bigger vehicle.
One thing Paul didn't bother with is a roll cage. His rationale is that 'because of the suspension, it's never going to get used to that sort of extreme level.'
Roof Rack
Tubular structure
Ring Rally Giants
Reversing camera
Paul made the rack himself, principally to mount auxiliary lights and carry equipment from his work (the Sportrak was his daily driver at the time, as well as being home to a large dog). He considers it one of the best mods he's done, as it places the lights up high and well back from the screen, meaning no glare. It's no matter that the lights themselves are just cheap Ring units, chosen because 'they're only going to get smashed eventually' – and Paul reckons they make a huge difference off-road.
The reversing camera on the rack isn't actually a piece of surreal bling. Having raised the spare wheel to make space for the rear winch, he had scant vision out of the back of the vehicle. The camera looks down over the wheel, allowing him to back up in tight spots without either stuffing his vehicle into a boulder or dropping it off a cliff.
Drivetrain
Standard engine and gearbox
Standard gearing
Standard axles and driveshafts
Front diff welded up, lowered by 2"
With plenty of ground clearance but still limited articulation, it's no surprise that the vehicle's welded-up front diff does the work in getting it through off-road. 'It makes a massive difference,' says Paul. 'It wags its wheels for England – it's great, it looks brilliant!'
The welded diff doesn't cause a problem on the road as the vehicle also runs freewheeling front hubs. But combined with the extreme angles at which the front CV joints are required to run by the suspension lift, it means it's only a matter of time before one of them lets go.
Paul's solution was to drop the front diff; he says that even after this, the independent suspension set-up means the vehicle has more clearance than a Defender on 35-inch tyres. The result is that driveshaft angles are near standard, meaning a much longer service life.
Recovery
Champion 8000G front and 8000EWX rear winches

Custom rear winch installed through back door

Wireless remote winch controls

Steel cable

Dual batteries

Paul describes the Champion 8000G as 'the best thing I've ever bought.' So much so that when he added a rear unit, another Champion was a no-brainer.

This is the newer 8000EWX, with Allbright-style solenoids. These can withstand water, meaning you can abuse the unit with much greater impunity and you don't need to silicon the motor first as it's already sealed.

To protect the old-style solenoid pack on the front winch, Paul situated it in the hottest part of the engine bay. Switches are mounted on the dash, with wireless remotes also available.

The rear winch is mounted in a cradle which runs to the chassis through grommets in the rear floor. Its cable (steel, like the front's, as this is just a playday vehicle), feeds out through a 'letterbox' in the back door, which was fashioned using Paul's plasma cutter and is reinforced on its inner and outer skins to keep the door as rigid as ever.
Inside
OMP driver's seat
Standard seatbelts
The vehicle is largely standard inside, with an OMP seat used for more shoulder support. Paul says he didn't bother with harnesses as there was nowhere he'd be happy to mount them without compromising load space.
SPORTRAK, INSA TURBO SPECIAL TRACKS, JEEP WRANGLER YJ SPRINGS, PRO-COMP SHOCKS, SHACKLE LIFT, DIY BUMPER, CHAMPION WINCH
Share this article