Silenced By Suzukis
Originally Published: January 2016
Words: Dave Theaker
Pictures: Nev Brindley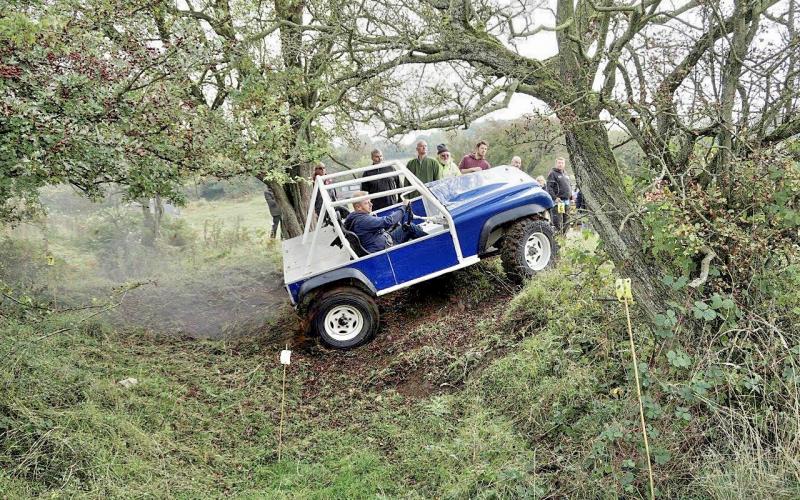 <
>
Set in 20 acres of shrubland with views over the surrounding hills of the Peak District, the Tearsall Farm site has a decent grassy area for camping – and some almost impossibly steep, muddy gulleys for those who want a challenge.
Although it was the last event of the season, our Tyro on the Saturday afternoon attracted nine eager contestants – the most we'd had all year. One of our long-standing members, Lord Hollinsclough, and his Lady, joined in with a very new and shiny looking Range Rover Vogue. Carl and Tracey (as we know them) also brought some friends in an equally shiny D3.
During the competition, it was truly amazing to watch Land Rover's electronic wizardry doing its thing, as the vehicles glided in almost complete silence over the bumps and hollows in the slippery grass. We're more used to leafers and battered 90s groaning and crashing their way through the terrain!
We often include a reverse manoeuvre in the Tyro, the only observation being that the Range Rover's parking sensors got confused with the two canes forming the gate!
Further down the valley in the rough stuff, we also had a record turnout for the trial on the Sunday. This was boosted by the presence of some guests from Spondon Off-Road Club in their Suzukis.
Apart from getting lost on some sections, they did very well indeed against the bigger Land Rovers – particularly John and Justine Wasley, whose SJ featured on the front cover of TOR a couple of years ago and who beat several of our members who were packing modified Land Rover hybrids and excellent previous knowledge of the site. With their smaller size and gerat agility, these very capable Suzis gave some die-hard LR folk food for thought!
The sections had been set out the previous day by several different people, providing a different twist and style to each one. Some were quite long and required a bit of brute force for the steep, slippery bits; others had their gates very close together and required a lot more thought and finesse in the driving.
This method seemed to have worked, as from the favourable comments received both events went down well and, coupled with the decent weather, made for a really great weekend. From the organiser's point of view, it's very gratifying when it works out like that – a very pleasing end to the season all round.
Share this article