NEXT-GENERATION WRANGLER – STILL THE REAL THING
Originally Published: April 2016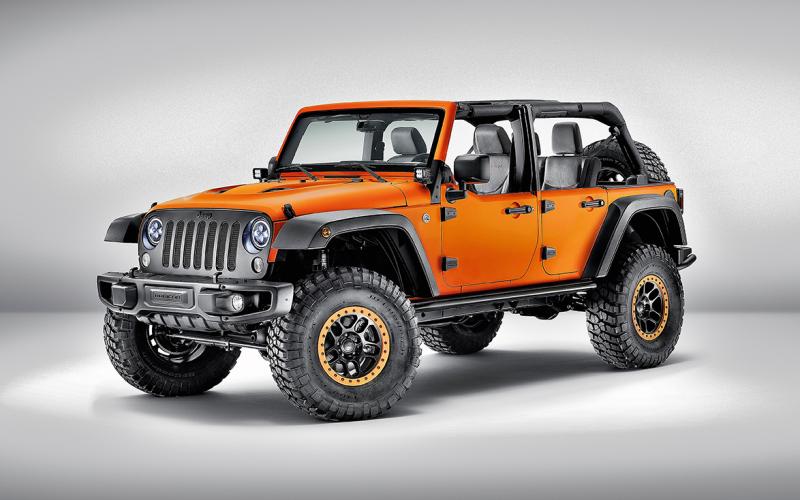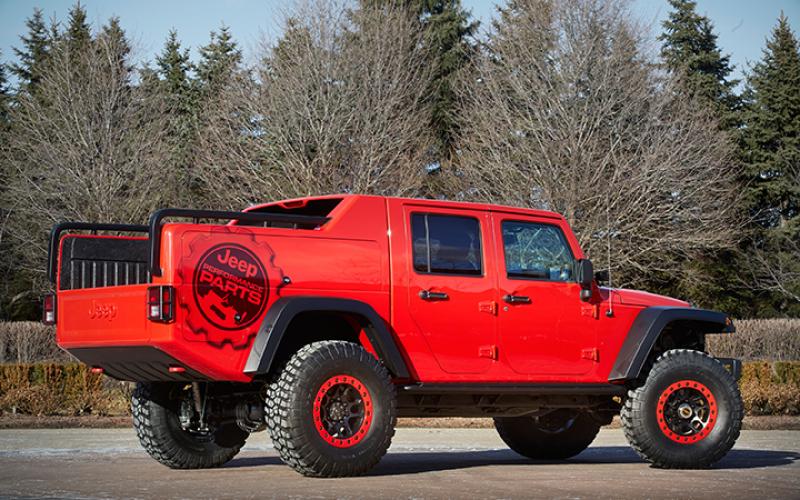 <
>
Ladder chassis • Live axles • 240bhp, 420lbf.ft diesel • On sale in 2017 • And there's a double-cab on the way
Jeep has been teasing its fans with pick-up concepts for as long as we can remember. The 2015 Red Rock Responder (above) was a super-sized fantasy on a 4" lift, while the Gladiator concept (below) was described as 'a glimpse of where the brand might go in the near future'
Amid all the song and dance about the next-generation Defender and what it's going to be like, British 4x4 fans might be forgiven for not having noticed the rest of the off-road news. But there is some. And it's big. Well before the Defender makes an appearance, Jeep will launch a new Wrangler to replace the current JK model that's been around since 2007. It's expected to come to the UK next spring, following on from a likely debut on home turf later this year.
While speculation continues to surround the Defender (will it have a chassis, will it have live axles, what will it look like, will I be able to afford one if I sell my house, etc etc), Jeep's test mules for the next-gen Wrangler have already been out and about on America's roads.
They've been disguised as current-model JKs, of course – but underneath, the differences are there for all to see. And the good news is that so too are the similarities. While more and more manufacturers give up on ladder-frame chassis and live axles in order to save weight, meet emissions regs and improve road manners, in the Wrangler's case Jeep is sticking resolutely with what works.
The new Wrangler is, however, expected to make widespread use of aluminium in its body panels. Its chassis is likely to remain all-steel, albeit using more modern grades and construction techniques to achieve greater rigidity and lower weight than before, but making the most of lighter materials where possible is essential – especially given the persistence of speculation that the long-wheelbase Wrangler is going to get longer than ever.
These rumours appear to have been triggered by an extra-long scuttle panel on the test mules, which experts believe may be there to disguise the length of the wheelbase on the five-door model. It's also possible, however, that vehicles displaying this feature are testing the underpinnings for the new Wrangler pick-up (see below).
While it's now clear that the Wrangler will have live axles, Jeep has done a good jobs of keeping quiet about what will turn them. The company says only that it will feature 'next-gen powertrains' – though it has confirmed that in the North American market, these will include a petrol-electric hybrid.
In a bold break from tradition, however, some time after launch the Wrangler will for the first time become available in the USA with a diesel engine. This is likely to be the 3.0-litre V6 EcoDiesel that made its debut in sister company Dodge's latest Ram pick-up last summer.
Economies of scale would suggest that this engine will also be at the heart of the Wrangler that debuts in the UK next year. Cranking out 240bhp and 420lbf.ft in the Ram, it would certainly fit the bill. This also yields the immensely tempting prospect of a diesel-engined Wrangler Rubicon becoming reality in the future.
We've long been fans of the JK in Rubicon form – basically, it's the best off-the-peg off-roader we've ever driven – but in Europe, uptake has always been limited by the fact that it's only available with a thirsty petrol engine. Even the latest Pentastar V6 isn't enough to make the difference to what remains a special-order model in the Wrangler range – but with its standard-fit locking diffs, heavy-duty axles, lower drive ratios, underbody armour and sway bar disconnects, it would certainly attract a lot more in the way of serious interest here if it was available with the engine we all want.
Most of all, with live axles and a real chassis the next Wrangler will stay as moddable as ever. And that's something which is looking less and likely that we'll be able to say about the future Defender.
Share this article