Mac Concepts Reveal X-Class Double Cab
Originally Published: December 2016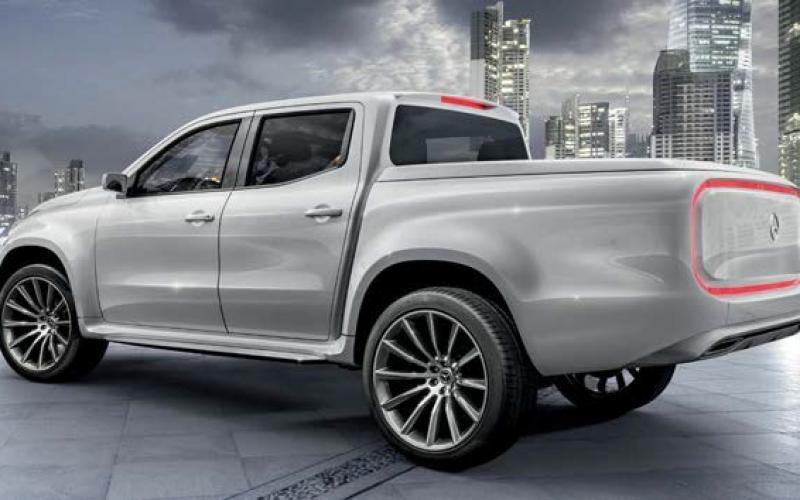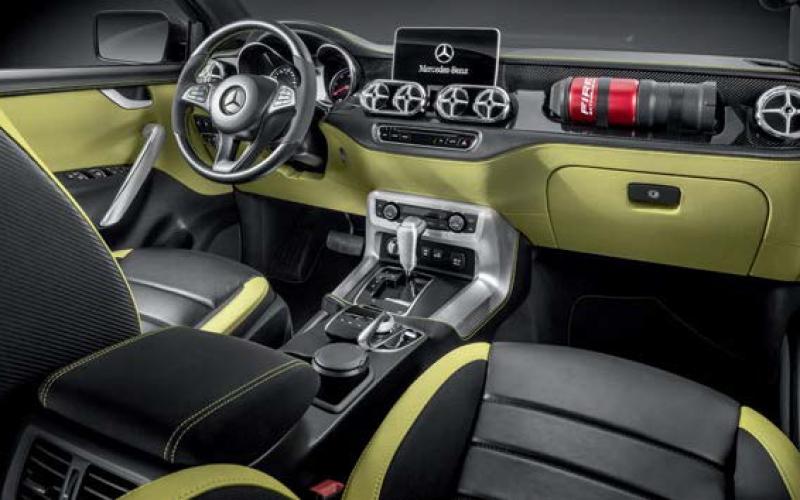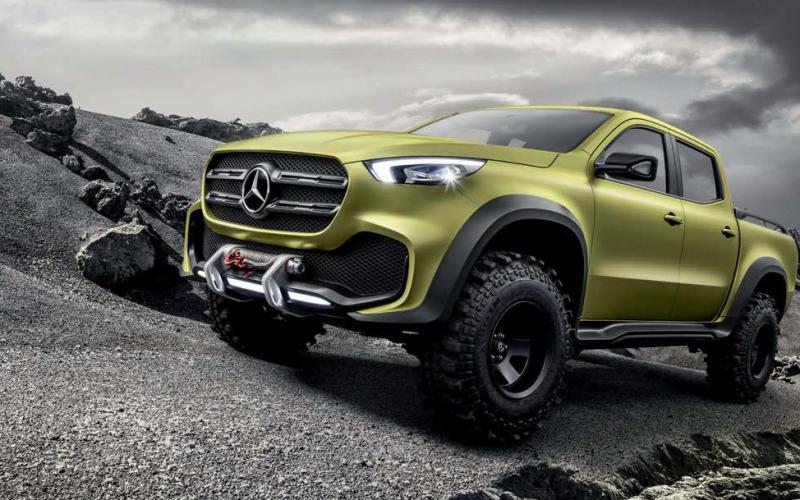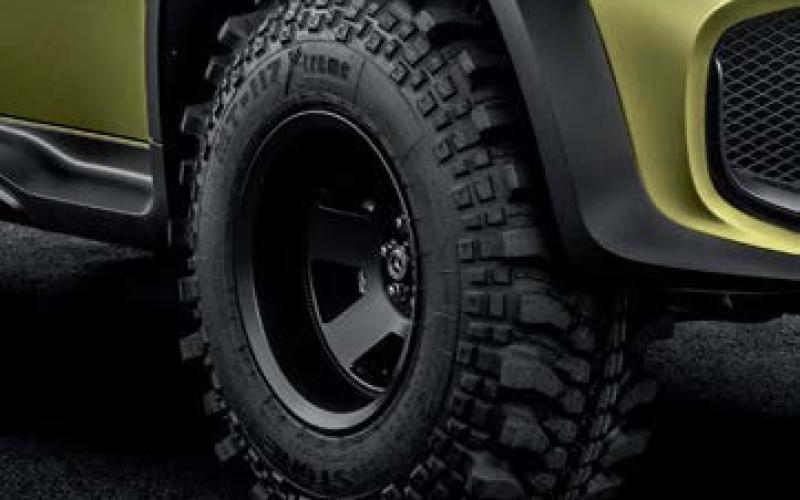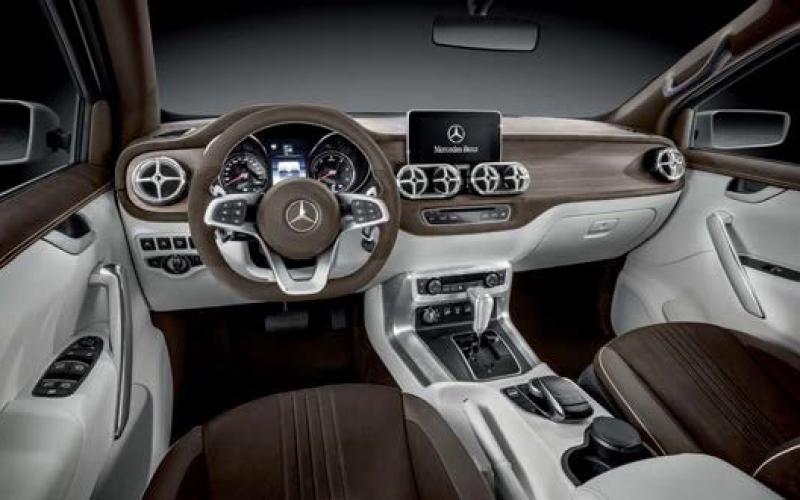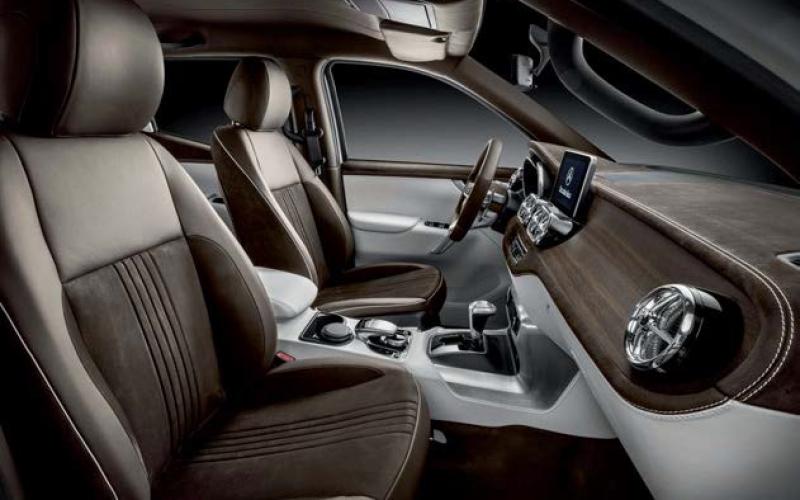 <
>
On sale late next year, premium pick up will take the one-tonne market more upmarket than ever before...
Mercedes-Benz has lifted the wraps on what it calls 'the first premium pick-up.' Called the X-Class, it will go on sale towards the end of next year – moving the double-cab segment further upmarket than ever before. 
So far, the vehicle has been unveiled only in concept form – with separate trucks designed to illustrate the two sides to its character. These are 'stylish explorer' and 'powerful adventurer' – no sign there of a sweaty roofer or muddy gamekeeper, but with its Nissan Navara underpinnings the X-Class will be as capable as any other one-tonner of siting a mini-digger or carting a dead deer down the side of a mountain. 
Scheduled to be built in the Japanese company's Iberica facility near Barcelona, the X-Class is the result of investment 'in the high nine figures'. While Mercedes is known for its vans, however, it appears to be taking a leisure first approach to the pick-up market. It says the move towards more car-like double-cabs mirrors that made in the traditional 4x4 market in the mid-1990s – which saw the beginning of the end of ladder chassis, live axles and dual-range transfer cases as common features across the whole market. 
The good news is that the X-Class will have all those things – and more besides. A variety of engines will be available, with a V6 diesel unit and full-time four-wheel drive at the top of the range. 'The high-torque engine will provide high driving dynamics on and off the road,' says Merc. 'The all-wheel drive will combine an electronic traction system, a transfer case with reduction gear and two differential locks. The traction system and the electrically operated on-demand differential locks channel the power to where traction is best. 
'Under extreme off-road conditions, the rear differential and the inter-axle differential can be locked. This will make it possible to safely master difficult obstacles and inclines.'
Equally importantly, Merc promises a 3500kg towing weight – and a payload of more than 1.1 tonnes. The Navara's multi-link coil-sprung rear suspension will be retained – though Mercedes' engineers have devised their own spring and damper settings to achieve suitable levels of ride comfort on all surfaces. 'The pick-up bearing the three-pointed star will impress with precise steering, a comfortable ride and agile cornering,' the company says. 'It will absorb bumps in a superior fashion, making it a perfect fit for the urban environment.' 
Merc says the vehicle will also carry an advanced suite of driver assistance technologies using cameras, radar and ultrasound sensors. These will make life easier – as well as aiding safety, which is already a strong point on typical one-tonne pick-ups. Further features will include  cabin materials and infotainment systems borrowing from the current C-Class (whose interior is very highly regarded indeed) and a more sophisticated level of connectivity than any pick-up has yet offered. In typical Mercedes fashion, buyers will also be offered a wide range of factory options – as well as accessories such as styling packs and loadspace covers. Illustrating the vehicle's configurability and wide range of applications are the two different concepts shown by Mercedes at its unveiling. 
The 'stylish explorer' model is designed to look 'markedly expressive and dynamic,' with clear references to the company's SUVs such as a pronounced bonnet bulge and flared wheelarches. Beneath these, 22" alloys give the vehicle a 'towering and superior stance'. Or lots of bling, if you prefer. Inside, this X-Class is trimmed in top-quality materials including smoked oak, polished alloy and a blend of brown nubuck and white nappa leathers. Vehicle functions are controlled using a tablet-style touch pad and a controller located in the centre console. 
The 'powerful adventurer' model, meanwhile, is sure to strike something of a chord with off-road enthusiasts – if for no other reason than that it's shod with 35x11.50R16 Silverstone Xtremes. For all its talk of premium quality and suitability for urban life, this surely makes Mercedes the first ever manufacturer to put even a concept car on tyres with the classic Simex-style tread pattern. 
Merc says this vehicle 'focuses on the classic traits of a pick-up – toughness, durability, and off-road capability.' Fitted with an electric winch and underbody bash plates, it sits 1.9 metres high and boasts huge ground clearance even by the normally excellent standards of the one-tonne segment. Inside, nappa leather might stretch the concept of a wipe-clean cabin somewhat, but the seat side bolsters are trimmed in high-grip material to help keep their occupants in place when crossing uneven ground. 
The two concepts are very much designed to illustrate what the X-Class is all about – and, obviously, attract attention to the fact that it's coming – rather than to suggest that there'll be an actual showroom model along similar lines. Mercedes says it has identified five key groups of customers for its truck, and people who want to go on off-tarmac adventures aren't among them – however small business users are, along with working landowners, so the reassurance of knowing the vehicle is built for the toughest off-road environments is a key part of Merc's marketing strategy. 
In addition, the company also expects to sell the X-Class to thrill-seeking adventurers, fashion-conscious car buyers and families with active lifestyles. 
'We will open up and change the segment of mid-size pick-ups with the world's first true premium pick-up for the modern urban lifestyle,' said Merc's light commercials boss Volker Mornhinweg. 'Our future X-Class will be a pickup that knows no compromise. 
'Ladder-type frame, high-torque six-cylinder engine and permanent all-wheel drive are compulsory for us. As an added value we bring safety, comfort, agility, and expressive design – in other words, everything that distinguishes vehicles bearing the Mercedes star. We will thus appeal to new customers who have not considered owning a pick-up before.' Whether the X-Class will appeal to off-road enthusiasts who have not considered owning a pick-up before is another matter. If you've got the money, however, there can be little doubt that this Navara-based super-truck is going to be a one-tonner like no other.
Share this article