Jeep adds new 75th Anniversary models
Originally Published: October 2016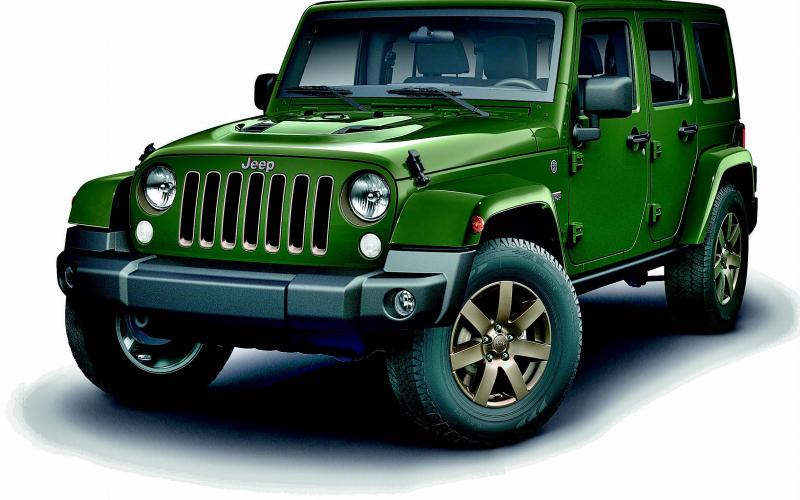 <
>
More equipment and heritage styling for Wrangler and Grand Cherokee - Wrangler priced from £34,765
Here we are, 150 years of birthdays for the iconic Yankee 4x4. Okay, so we're going to spread them between the Wrangler and the Grand Cherokee, so that's 75 apiece. That's three quarters of a century, 75 years that we've had the Jeep in our lives. That does seem cause for celebration. And, being a motor manufacturer, they're celebrating by releasing special editions of both vehicles.
The 2016 Jeep Wrangler gets some minor upgrades anyway, but the key model is the 75th Anniversary Wrangler – of which we in the UK are going to get just 85 examples in 2-door and 4-door form. It's based on the Overland version, which gains front side airbags and revised rear
axle ratios and then gets a bronze-effect grille, bronze and orange badging, new alloys and bodycoloured top among other amends.
Inside there is a 1941 logo embossed on the heated part-leather seats. Somehow we can't imagine those WWII GIs could ever envisage sitting on heated seats while listening to an uprated Alpine sound system. And the sat nav might have flummoxed them, although they'd have liked the deeply tinted sunscreen glass.
They might have laughed too at the prices, with the 4-door 75th Anniversary edition in 3.6-litre V6 auto form going for £36,435. Even a 2-door diesel will set you back £34,765.
The Grand Cherokee meanwhile gets a few more upgrades to the revised model, mostly to do with trying to improve economy. There is a new electric steering system so it doesn't draw power from the engine. Along with stop-start technology, this should push consumption to 40.4mpg on the diesel versions, according to Jeep. 
There will also be a 75th Anniversary edition, although we're going to get a giddy 125 examples here in the UK. The model comes with the 250bhp 3.0-litre V6 linked to an eight-speed auto box and Quadra-Trac II 4x4 system. This model gets the bronze treatment like the Wrangler, but there is more to the package.
It benefi ts from air suspension, a dual-pane panoramic sunroof and the inclusion of the Safety Technology Pack, which includes such tech as
adaptive cruise control, blind spot monitoring and forward collision warning with crash mitigation.  Imagine telling someone about that little lot in 1941 and watching their brow furrow.
In the cabin there is a similar treatment as in the Wrangler, including the 1941 logo – a perfect present for anyone you know born that year. The 75th Anniversary Grand Cherokee will be available in four colours, and you can have one if you're prepared to not have £50,550.
Share this article