Cobley takes second Defender Challenge title
Originally Published: February 2016
Words: Steve Blakeman
Pictures: Danielle Cooper and Gina Williams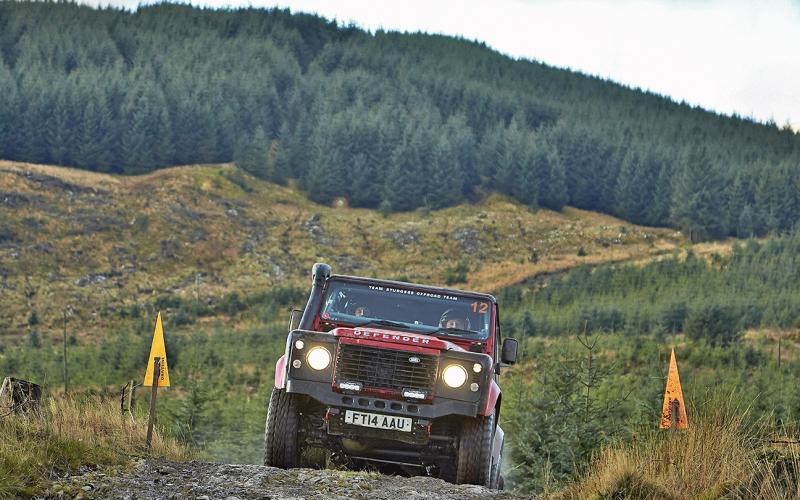 <
>
AFTER A LONG AND TESTING SEASON, the finale of the Defender Challenge by Bowler series got underway in late November at The Scottish Borders Hillrally. Held at the Forrest Estate in Castle Douglas, this would determine who was to be crowned champion for 2015.
Most rounds of the Challenge are run held alongside traditional stage rallies, meaning the terrain has to be suitable for everyday rally cars. But this 13-stage, 100-mile hillrally was a true cross-country event, mixing off-piste terrain with the faster forest tracks. Besides, the Scottish winter was getting into full swing. And with a night stage as part of the event, it was definitely one to sort the men from the wee laddies.
None of this can have concerned reigning champion Edd Cobley, an experienced off-road instructor and winch challenge veteran who's driven most kinds of terrain.  And as the Defenders fired off from the start, it wasn't long before the form man of 2015 staked his claim on proceedings.  Alongside co-driver John Tomley, Cobley established a comfortable lead over the field, with Gareth Carruthers and Fraser Ward charging hard after them in second for Lookers Land Rover.
Throughout day one, Team Palmer and Northern Ireland Racing were engaged in a closely fought struggle for third place.  This came to an end on the night stage when the latter's Defender ended up on its roof – requiring a recovery that took long enough for the organisers to be forced to abandon the stage.   This gave the Bowler team's mechanics a job to get done overnight as they worked to repair the damaged 90, determined that it would be ready to resume hostilities the following morning.  The incident pushed the Irish team to the bottom of the table.  But with the 90 repaired and scrutineered, it was able to join
the rest of the field for the final five stages. A triumph for driver David Johnston, who had twice previously posted DNFs at the Borders Hillrally.
Following another gruelling day of action, though, it was Edd Cobley's event – and year. The Englishman sealed victory with co-driver Tomley in the final round by finishing around half a minute ahead of second-placed Carruthers, a one-two that was replicated in the final championship standings.  The Defenderists took third place on the Borders podium, having closed the gap on Team Palmer during the day and finally
overhauled them on the last stage of the event.
Jon Chester, Brand Director of Bowler Motorsport, said: 'The Defender Challenge 2015 has been everything we hoped it would be. It's brought drama, excitement and some challenges, but always with a lot of fun.
'This season has reinforced everything we knew about Defender. It's massively versatile and robust, and in the right hands is an incredibly capable performer and remarkably reliable. We've not had to change a clutch all season, not replace a driveshaft or a diff. It's remarkable.
'Furthermore, it's staggering that many of the competitors drive their Defender to each event, rally for a full weekend and then drive home. It's given us a lot of insight into the development of our next year's Class Two V6 Defender 110, and the next generation of vehicles beyond that.'
Share this article