37" RUBBER FOR MIGHTY PORTAL G-WAGEN
Originally Published: August 2016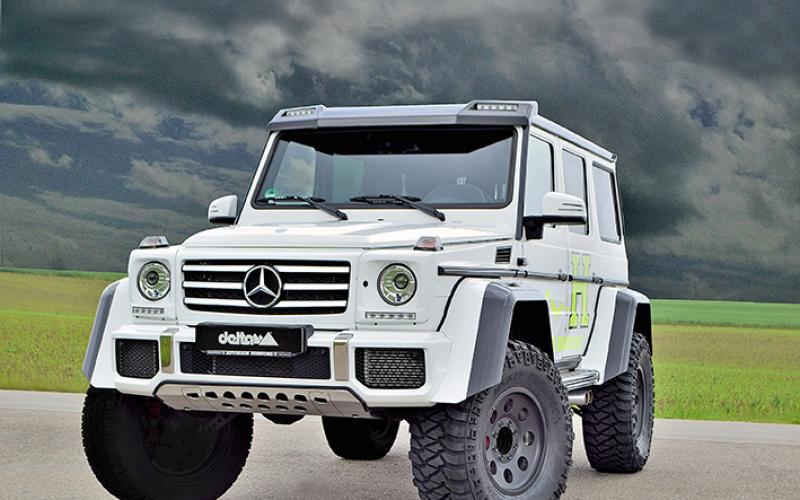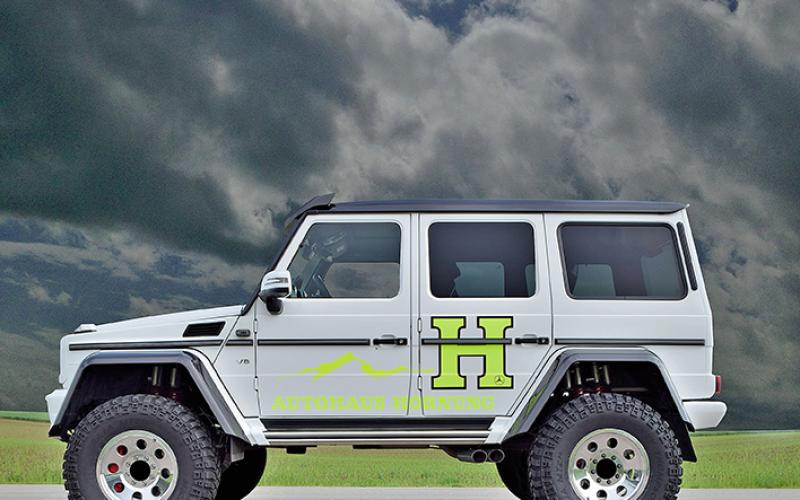 <
>
37x13.5R18 Mickey Thompson ATs • €7900 plus vehicle
First you take the mighty G-Wagen, a 4x4 that has proven itself all over the world in every situation. Then, if you're Mercedes-Benz, you take that 4x4 and you square it. The boxy '4x4 Squared' carries portal axles with immense clearance and wheel travel, aided by a bi-turbo 4.0-litre V8 under that bonnet – some people wouldn't be tall enough to even see into the engine bay. But for one German firm even that isn't enough.
Delta4x4 is an all-terrain vehicle tuning specialist in southern Germany, and the good folk there have decided to make the G500 go larger still. The 4x42 naturally runs on some impressive rims and tyres but Delta4x4 thought they'd Tonka it up some more.
The German tuners modified their own 18-inch Legacy Forged aluminium rims to better match the Mercedes and then fitted a set of Baja MTZs from American specialists Mickey Thompson. These absolutely vast 37x13.5R18 all-terrains weigh 12.7kg each and can handle a load of nearly two tonnes per wheel so they should be up to the job of waltzing down to The Creek in Dubai for an evening's entertainment.
They should also be really rather good if the owner then wants to head into the desert the next day, as they are quite aggressively patterned for off-road use – as well as having a 3-ply sidewall and 6-ply tread to keep evil stuff at bay. Given the wide stance of the vehicle and those portal axles, the G500 4x42 actually rides quite well on the road and this conversion shouldn't make much difference to that. And they certainly do look good and manly.
Joking apart, while this you clearly do need to be loony-tune rich for this to be your toy of choice there's no doubt that the portal-axled G-Wagen 4x42 is a sensationally equipped off-road machine. And with these tyres putting down all its traction, it's more sensatonal than ever.
A set of four rims, finished in matt or polished black, as well as a set of four tyres will set you back 7900 euros. Before you place your order, remember you'll need to find more than £200,000 for the basic G500 4x42 as well. 
Share this article