Getting A Bag On...
Originally Published: May 2013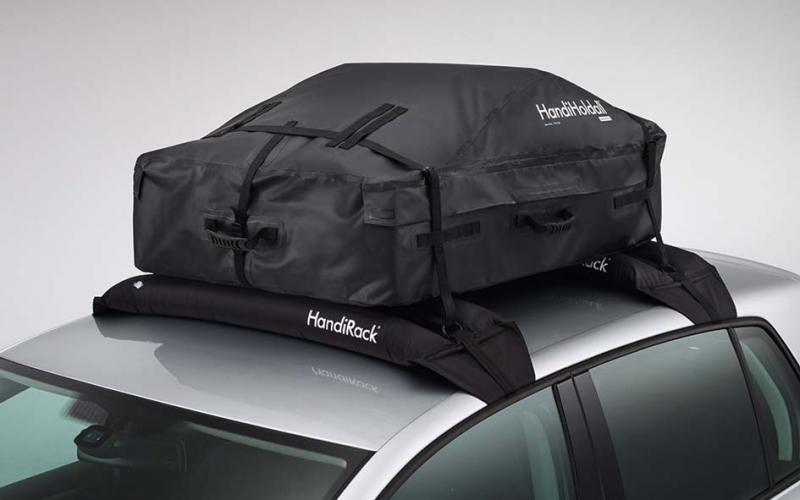 <
>
Anyone who has children or dogs (or, worse still, both) will be familiar with the sweat-inducing panic that accompanies loading the car for a holiday or weekend away. Even the largest boot can be guaranteed not to have enough space for everything you need.
There are two solutions. One involves not having a family, which kind of qualifies as using a hammer to crack a nut. No, using a hammer to crack a nut isn't the way not to have a family, though it sounds like it might work. Compared to that, a roof box will save you lots and lots of pain.
The trouble with conventional roof boxes is that they're a pain to store. When they're not strapped to the roof of your truck, they take up an amazing amount of the valuable space in your shed.
Fortunately, packing products purveyor HandiWorld has the solution. In fact, it's got more than one solution, and all of them are pretty appealing if travelling light isn't an option.
Consider the HandiHoldall, for example. This foldable waterproof roof box provides 320 litres of extra storage capacity. That's like having the boot space of a family hatchback strapped to the top of your truck. It costs £119.99 including VAT, and can be attached to conventional metal roof bars or HandiWorld's own inflatable (yes, that really does say inflatable) HandiRack.
If that's too much for your needs, try the HandiDuffel. This waterproof soft storage bag carries up to 135 litres and can be strapped directly to a HandiRack, or used as a compartment within the HandiHoldall. It costs £44.99 including VAT and, like everything else mentioned here, is available from www.handiworld.com. 
ROOF BOX, HANDIWORLD, HANDIHOLDALL, HANDIRACK, STORAGE SOLUTIONS
Share this article