Four-Strong Truckman Range For New Volkswagen Amarok
Originally Published: May 2017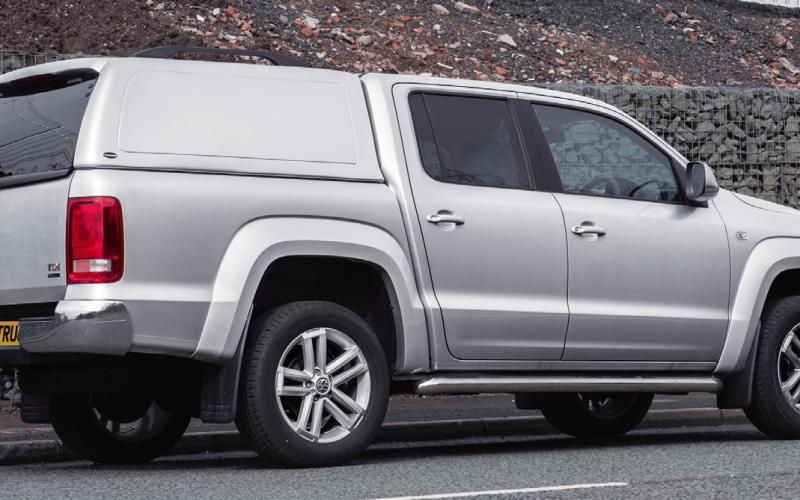 <
>
ONE OF THE VERY MANY GREAT THINGS about the recently revised Volkswagen Amarok double-cab is that it now has a 3.0-litre engine. Another is that it's a Volkswagen Amarok. And a third is that you can specify it with a range of four different Truckman hard-tops. 
Available as approved accessories from VW Commercial Vehicles are the Grand, GLS, Utility and RS. Between them, says Truckman, these offer 'a mix of practical and stylish storage and security solutions… created to meet the varied needs of commercial and leisure users.' 
The Truckman Grand comes with remote central locking, roof bars, sliding bulkhead window, automatic interior light, tinted windows and vinyl lining. Very much a premium option for leisure users, it also includes a new tailgate and hidden bed seal – giving the appearance of a cleaner line between the vehicle and the top itself. 
The GLS is designed with dog owners in mind, featuring as it does sliding side and bulkhead windows which provide ventilation to the truck bed area. The RS canopy (pictured), meanwhile, majors on strength and security while offering a high-sided, high capacity design as well as a practical wipe-clean interior aimed at commercial users. And the Utility has gull-wing side doors – providing access to racking, tools and equipment to create a mobile workshop capable of accessing hard-to-reach off-road locations. 
That'll be why Network Rail uses the Utility top on its Amaroks. And if it's good enough for them… 
'Achieving approval for the Amarok is a great endorsement of our hard-tops' quality and design that perfectly complements the practicality and stylish lines of the Amarok pick-up,' commented Truckman boss Mike Wheeler. To find out what the company can do for your truck, pay a visit to www. truckman.co.uk.
Share this article