Bowless soft-top makes JK Wrangler even cooler than ever
Originally Published: December 2015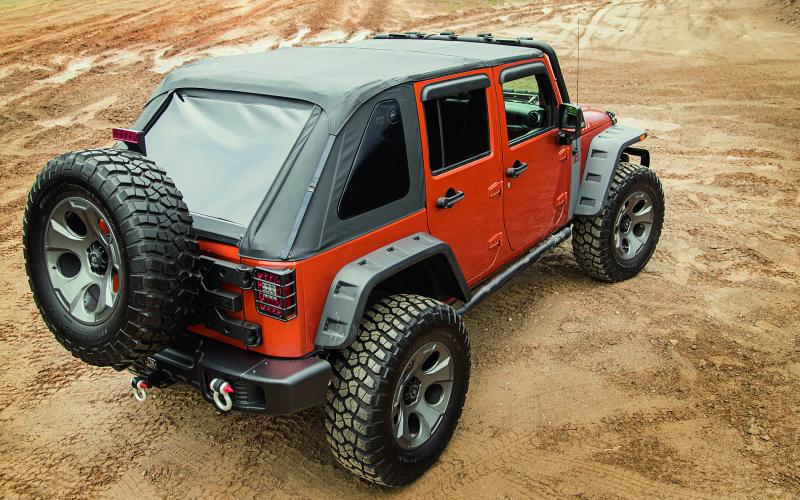 <
>
RUGGED RIDGE HAS INTRODUCED a new range of soft-tops for the two-door and four-door Jeep Wrangler JK. Suitable for all models from 2007 onwards, these can be run as full traditionally shaped hoods or fastback-style Savannah tops.
The Bowless Soft Top, to use its very descriptive proper name, does away with the factory-fit hood frame while retaining the door surrounds and tailgate bar. It fits snugly over the standard roll bar and is supported by foam-clad 'whisper bars' which as well as adding to its structural strength help reduce the wind and road noise you tend to get from frameless hoods.
Rugged Ridge says the hood zips up to be effectively air-tight. It's made from vinyl-coated polyester and cotton fabric, with marine-grade thread used for the stitching – which is reinforced in 'pull areas'. Inside, there's a pair of zip-up mesh corner pockets for added oddment storage.
'We wanted to raise the bar in bowless and frameless JK soft-top design by creating a more affordable, quieter and better fitting top,' says Product Development Manager Patrick Bennett. 'We couldn't be more proud to add this our already impressive line-up.'
The tops are available now from the Rugged Ridge website. This is US-based, with prices quoted at $419.99 and $429.99 for two and four-door use respectively; the place to go next is www.ruggedridge.com.
Share this article