Turn Your Wrangler Into A Disco
Originally Published: May 2017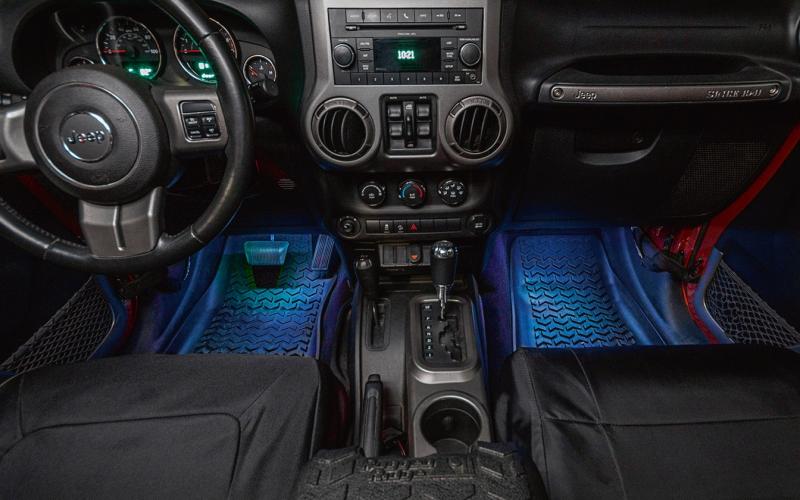 <
>
FAR BE IT FROM US to drop the B-word without reason, but there's a danger that there could be some bling in the building. Or in that Jeep Wrangler over there, to be precise. 
Made by Rugged Ridge, the new LED Interior Lighting System is suitable for all 3-door and 5-door JK Wranglers built from 2007 onwards. It's intended to add additional lighting inside the vehicle – as well as letting you personalise your ride with a choice of ambient colours in the footwells and rear cargo area. 
The lighting kit includes a hardwired controller which allows you to control system power, light pattern adjustment and pause functions at the touch of a button. It also has a built-in microphone with variable sensitivity – allowing you to set the LEDs to pulse away in time to whatever tunes you've got pumping out. 
Yes, we know, you'd look right down your nose at anyone with such a thing in their off-roader. But go on, admit it – behind the veneer of disdain, part of you would be secretly jealous. 
This being the case, you might be interested to learn that as well as the LEDs, controller and cables, the kit includes everything you need for installing it – all the way down to the connectors, mounting clips and instructions. You might also be interested in the price, which over there in the US is a pretty modest $132.99. Doubly modest where there's a fi ve-year warranty included, too. 
Rugged Ridge has gained more representation in the UK recently, so its stuff should be easier to get hold of without importing it yourself. To fi nd out more, visit www.ruggedridge.com
Share this article