Taylor-Made
Originally Published: January 2006
Words: Anthony Singer
Pictures: Anthony Singer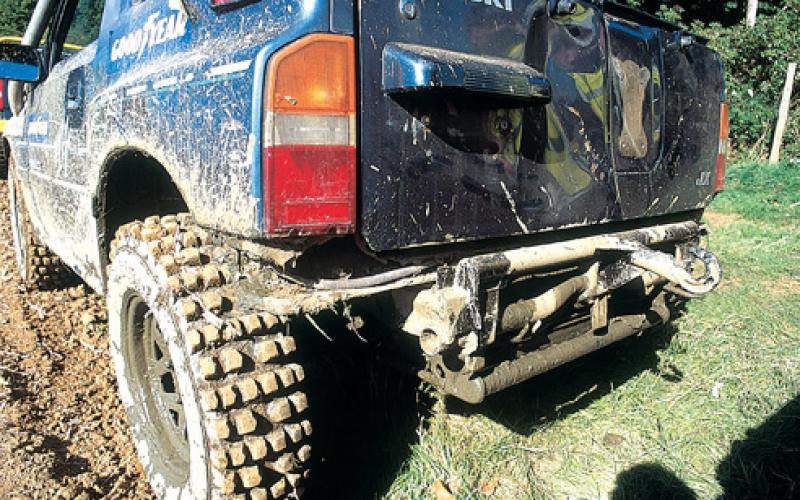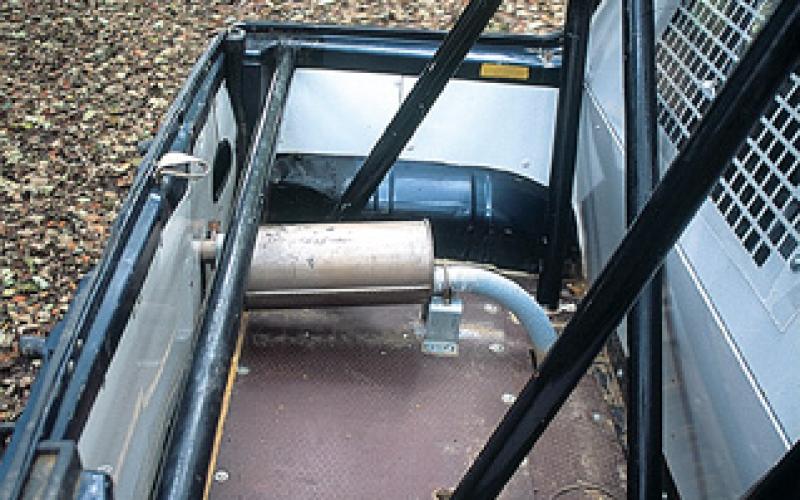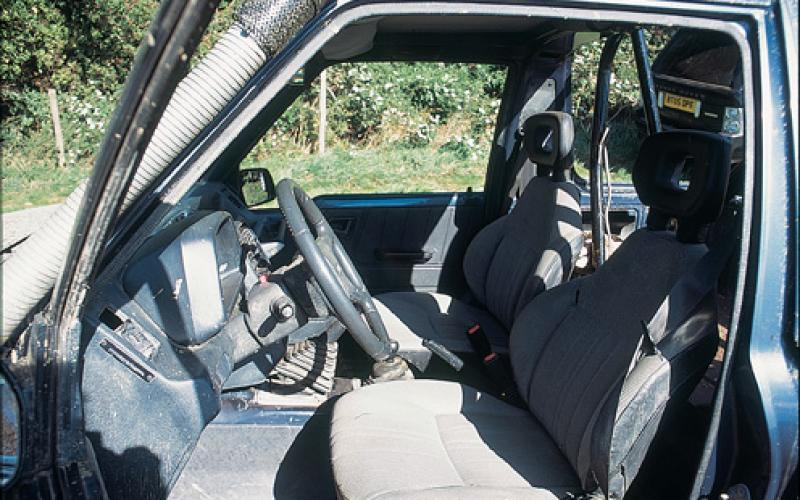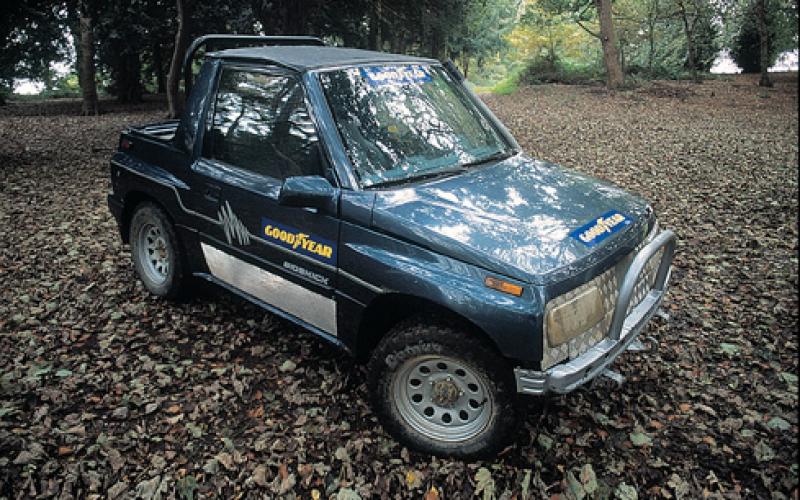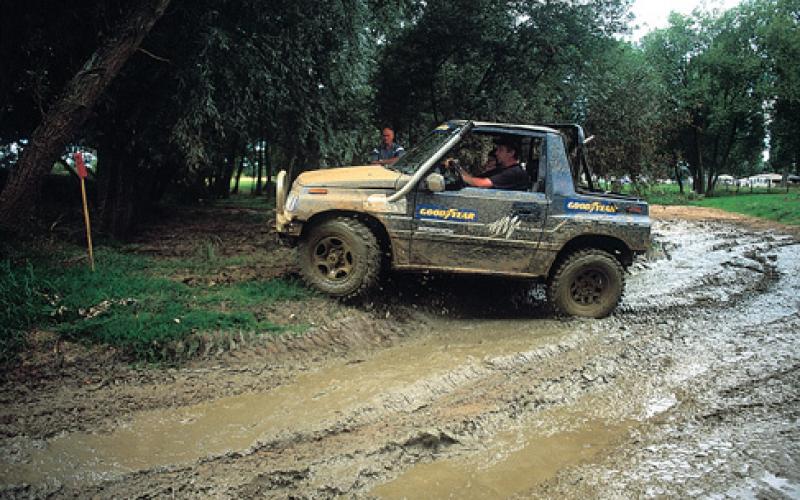 <
>
Suzuki Vitaras are growing in popularity for off-road projects, but they're still a rare sight at trials. Not least when, like Geoff Taylor's, the Vitara in question isn't actually a Vitara at all…
Turning old Suzuki Vitaras into modified off-road toys has become quite a growth industry over the last few years. As early examples drop ever-lower in value, the list of kit available for them grows longer and longer, and the availability of more traditional cheap vehicles gets squeezed more and more by the passing of time, many people would reasonably argue that Vitaras are very much the next big thing in off-roading.
Geoff Taylor certainly thinks so. He's been running a Vitara as his family car for some time – and now he's got another one as his family toy.
Actually, that's not completely true. You'll already have recognised that the vehicle pictured on these pages has the classic Vitara shape, but a second glance reveals that the steering wheel is on the left; it may be a Vitara in every relevant way, but Geoff's off-road plaything is in fact a Suzuki Sidekick – the North American equivalent to the vehicle we know so well from over here.
To all intents and purposes, the Sidekick is like a Vitara – and it's got a name that's worth more in Scrabble. It's based on the familiar ladder-frame chassis, with a coil-sprung rear axle and independent front end. Part-time dual-range four-wheel drive is fed through to the wheels from the fuel-injected version of the time-served 1.6-litre petrol engine.
These matters are all very familiar to Geoff, whose trials career took off (literally, on several occasions) at an All Wheel Drive Club RTV at Billing. 'I'd joined the AWDC with the idea of doing some green laning – if I could find some people to go with – or doing some RTVs,' he recalls. 'The first RTV we went to was at Billing, in May. We got a first for it… the simple reason being that we were the only ones in our class! I think we scored 14 points for the whole day.
'This was in our road-going Vitara – all I did was take off the nice shiny chrome running boards to give us a little more ground clearance. It was even still on its fat-boy tyres – I realised that if I went slow and they started spinning, we wouldn't get anywhere, so I was hitting everything a bit fast. People were wondering if I was in a speed trial – I was landing on the canes rather than going through them!'
All well and good, but this is most definitely not the sort of behaviour that's going to keep your family car in the best of health. 'There were some sections I really wasn't looking forward to,' Geoff admits. 'I ended up ripping off a fog light, and I knocked the front valance. Having come back and inspected the damage we did, that's when we decided we'd really enjoyed it, and we'd have to get another one specifically for off-roading, otherwise I could see us wrecking a perfectly decent vehicle. So I put my running boards back on, to stop me going off-road, and put new fog lights on it. That one now is just for towing – it gets us to the events. But I was surprised how well it did, even where some of the others were struggling.'
No surprise, then, that a second Vitara was high on Geoff's shortlist as he started the search for a dedicated trials machine. 'I did look at a Series III Land Rover, but the bloke wanted just too much money for it. There were only three months left on the MoT, and I could see where the bulkhead was rusted – and I knew that was major work on a Land Rover. The rest of it didn't look too shabby, and it had an enormous capstan winch on the front, but I didn't want to get into that – I just wanted a nice little trialler. Besides, the prices of Vitaras are a lot more in our range.'
And Sidekicks, evidently. The vehicle that was to become Geoff's new chariot cropped up in Leeds, but it wasn't just the price that attracted him. 'What really got me interested in this particular one is the A-frame, which it came with. Because I haven't got a trailer, I needed some way of getting it to and from trials. The other way would have been to opt for a road-going vehicle, but then you're looking at the extra cost of taxing it, insuring it and MoT-ing it. This one was only ever going to be used off-road, so we didn't have to worry about all that.'
As well as the A-frame, the Sidekick brought with it a number of other goodies. One was a set of Greenway Alligators, which Geoff thought would be ideal for trialling, and another was a roll hoop. Not that this was destined to stay in place for long.
'The lads I got it from didn't really know what they were doing,' says Geoff. 'They'd just attached it to the body. I've got a friend who's done quite a lot of off-roading, and he advised me to get rid of it because it wouldn't do any good if I went over badly – it would just fold. 'So we took it out and bought a length of seamless scaffold. He's got a bender, so we formed it up and mounted it to the chassis. We took the back floor out for ease of welding, especially around the fuel tank; the roll hoop goes down to main chassis rails, just short of the rear crossmember, and we built some flat footings on the chassis to give it a firm mounting.'
The departure of a rear floor from the plot left something of a void in more ways than one, so Geoff fabricated a replacement using that well known vehicle-builder's favourite, timber. 'It was lighter than steel,' is his explanation – a consideration that was also foremost in his mind when he initially weighed up the Vitara's qualities as a trials truck against those of the Solihull-built alternatives.
'I might have to change it later,' he admits, 'because ideally I want some four-point harnesses. If I've got to come through the bulkhead I put in [a Citroën Dispatch unit in 1.5mm steel, which he salvaged from the skip at his work], I can't see the scrutineers being happy with me mounting the harnesses to a wooden floor! So I might have to replace it with steel, or weld plates on to the roll hoop and mount them there.'
Something else not exactly ideal for getting through scrutineering was the original position Geoff hit on for the vehicle's exhaust. 'I had it sticking up in the air tied to the roll hoop to start with, because I didn't really know what to do with it. But since then, I've taken it down across the floor and out through the tailgate, thus keeping it away from the ground… and my wife's head!'
Also helping out in terms of ground clearance was the removal of both front and rear bumpers, though Geoff does blot the latter back on when he's towing the vehicle on it's A-frame in order to keep it looking tidier. He's also welded recovery hooks on both ends – essential for trial use – and is looking into the options for lifting the suspension by a couple of inches.
Before forking out for that, however, he's a bit worried that the Alligators, which looked like such an ideal tyre for trialling, might turn out to be rather less of a bonus than he'd thought. The problem is that, with a bar-grip tread pattern, they contravene most clubs' rules for this level of competition – rules which were originally devised to prevent excessive ground damage, but which enterprising tyre manufacturers quickly got round by developing diamond-patterned alternatives.
'This being my first venture into trialling,' admits Geoff, 'I didn't realise the controversy tyres would cause. I've been allowed to run on the Alligators, but I don't know how long that will continue. I see what they're on about, about being able to look across the tread and see daylight, but I can't see how a lightweight Suzuki on those is going to cause more damage to the ground than a V8 Landy on Diamonds or Grizzly-Claws. Fortunately, they've looked in the rules and it's up to the person running the event whether I can use them or not, and they've said yes. Because otherwise, that's £200 down the drain.' Even at this grass-roots budget level, off-road motorsport has that unerring ability to part people from their money…
Overall, however, Geoff's Suzuki is a classic example of how you can modify a 4x4 to suit your needs without having to wave your wallet in all directions. Like the hoop, the exhaust and the recovery hooks, not to mention that wooden rear floor, much of what you see here is home-brewed – and how many people, on buying themselves a vehicle, would respond to a completely blocked radiator by doing anything other than replacing it?
'The two lads that had run it,' says Geoff, 'they'd had a whale of a time. You could tell, because there were two inches of mud inside the actual vehicle! And the radiator was one solid block of clay. It took me a whole week of soaking it, cleaning it, soaking it again… but I got away with it. It worked, and it's still there now.'
Further mods are the usual commonsense safety-first stuff most people think of before subjecting their vehicle to the rigours of off-road life. Geoff treated the diffs and gearbox to high-level breather tubes, and ran a snorkel made using flexible hose through a chequerplate panel cut into the nearside front wing.
'Another reason for choosing the Sidekick was that it's fairly basic,' he says. 'You lift the bonnet and you can do most things. The only thing that would throw me a bit was the fuel injection – I was expecting to find a carburettor under there. But then, I don't have the problem many Suzukis have when they go up steep banks, which is that they get fuel starvation. You can hear it – that's why they stall and splutter.'
Inside, Geoff has helped accommodate his 6ft 3in frame by removing a major portion of the dashboard. 'It normally comes down between the seats, so I've chopped that out and filled it in with a piece of ally so the dash doesn't flap around. Being fairly long-legged I kept bashing my knee on it.'
On the subject of not bashing bits of your body on bits of your car, one of Geoff's plans for the future involves replacing the soft roof with something a bit more substantial. 'I'm thinking about putting in a sheet of ally chequerplate, or I've got some ribbed aircraft aluminium which is lighter. But I still don't want to hit it with my head – that's the reason for looking at the four-point harnesses.'
These would go hand-in-hand with a set of bucket seats, and Geoff is also looking at extending the roll hoop forward to create a full cage. 'The higher you go with the suspension,' he remarks, 'the more chance you have of going over. At the moment, we've done things other vehicles have struggled with, so I think I'll keep it standard, suspension-wise, for a little while, until I get a bit more experienced. Otherwise I can really see me rolling it.'
This is one of those refreshingly honest confessions many are often scared to make when they're new to a hobby, but Geoff's not one of those people who pretends to know it all. And that's why you get the impression that unlike some who arrive in a blaze of glory and disappear in a puff of smoke, he's going to be around the off-road world for a while. 'At the moment, the car is more capable than that driver,' is his straightforward reasoning for not wanting to go overboard on the mods at this stage. 'I'm up against people who've been doing it for years, and I'm still trying to get out of the habit of going down hills with the clutch in! That's how rank a beginner I am.'
It might be early days for Geoff Taylor's trialling career, but he's already well on the way to creating a tidy little Open Class motor that gets the job done – and, importantly, owes him next to nothing. Even if the tyres he turned up with furrowed a few brows, he's got just the right attitude to make it in grass-roots off-road sport.
'Why do we do it? Fun and adrenaline! We are either laughing or screaming – or both.'
DIY ROLL CAGE, VITARA, DIY SNORKEL
Share this article