Combined Knowledge
Originally Published: April 2010
Words: Tim Gibson
Pictures: Steve Taylor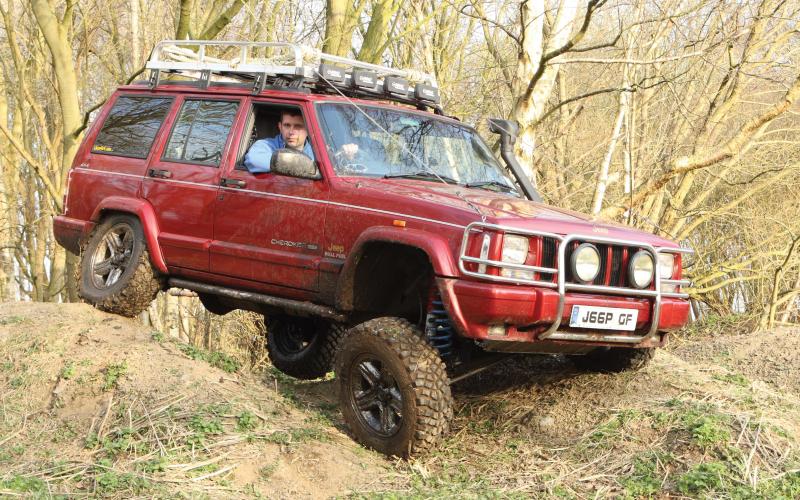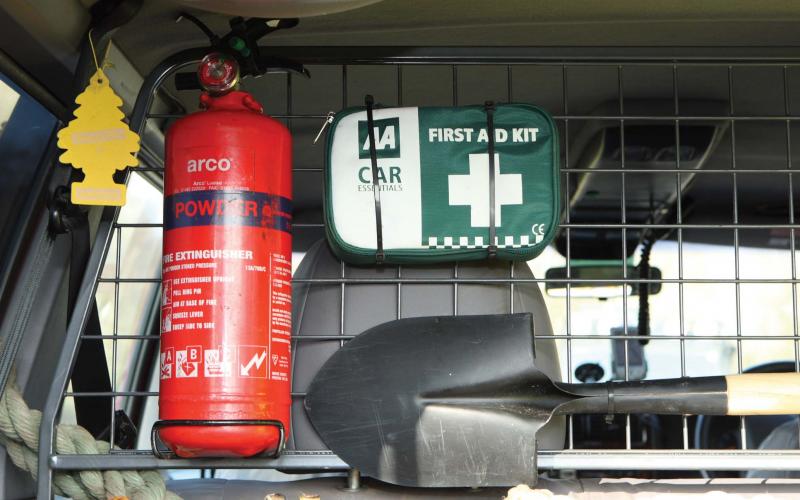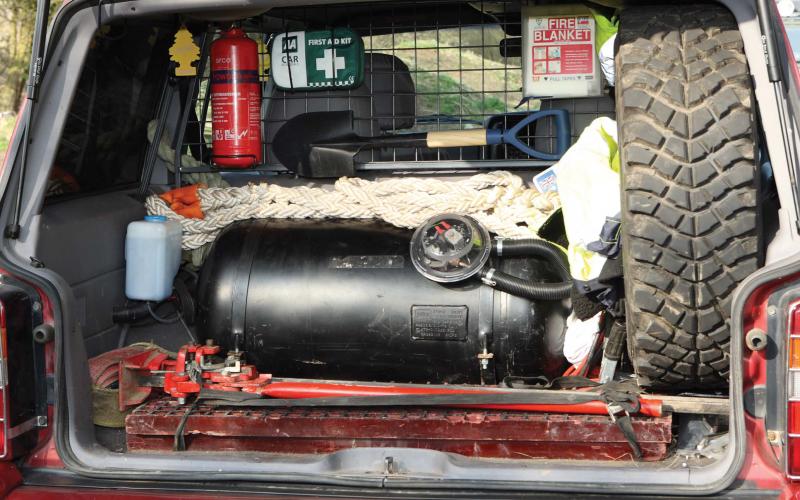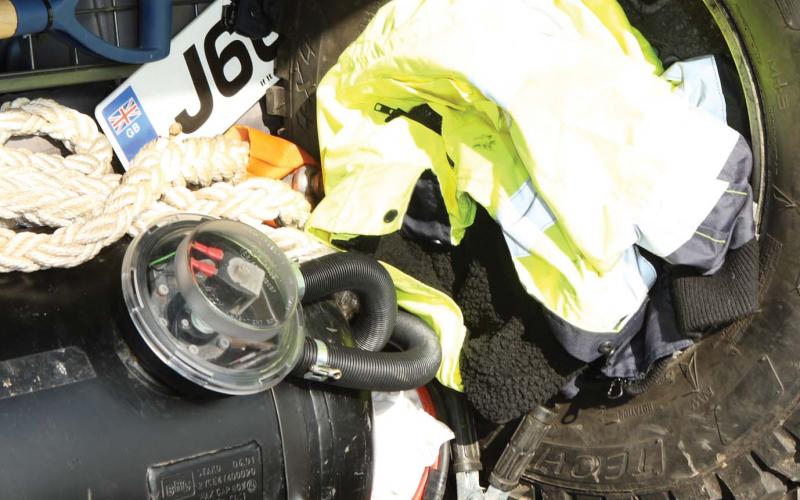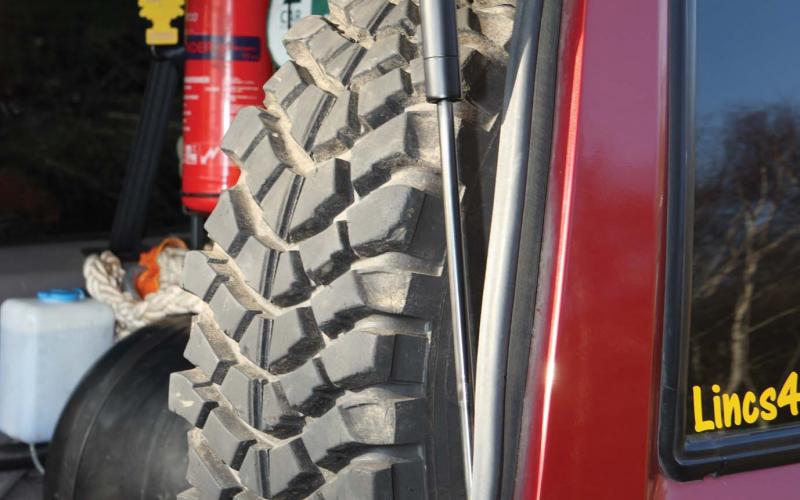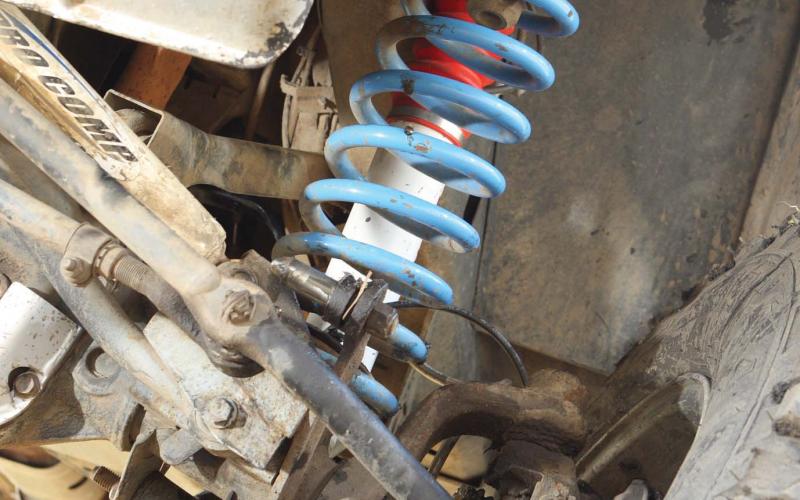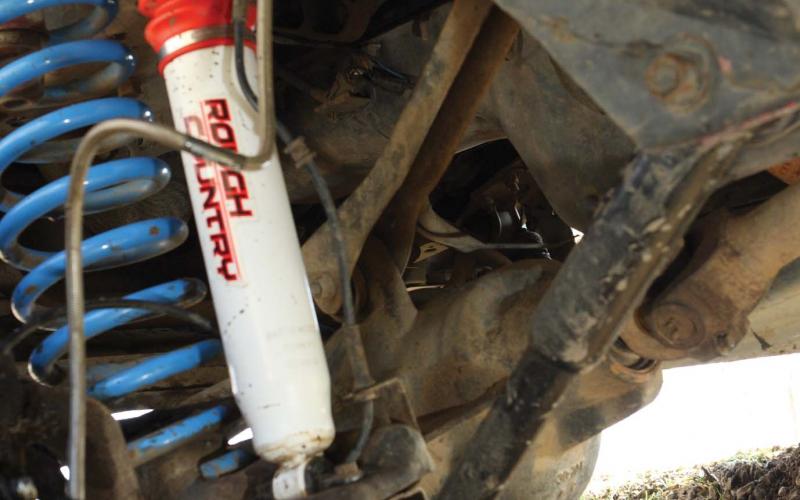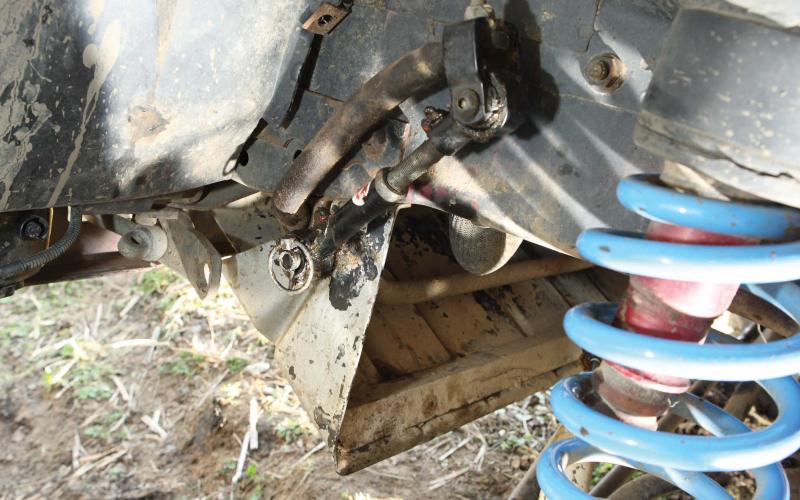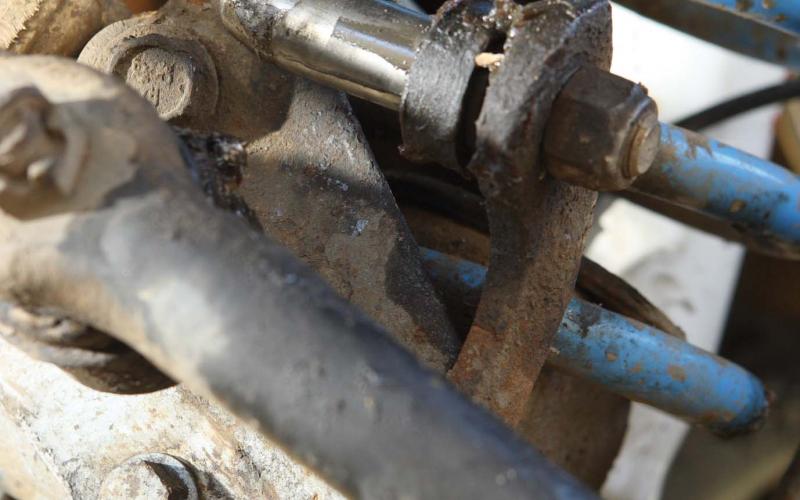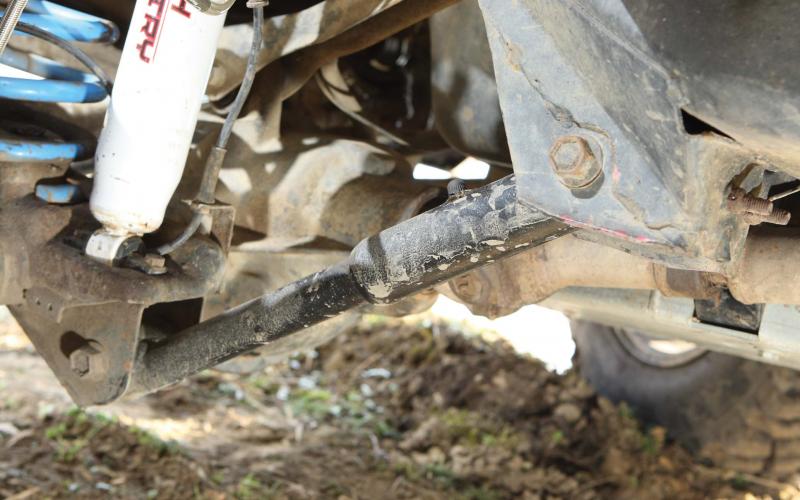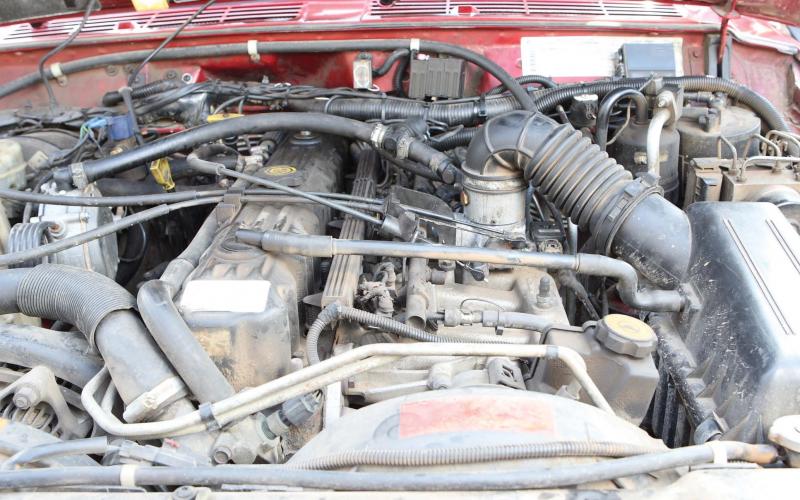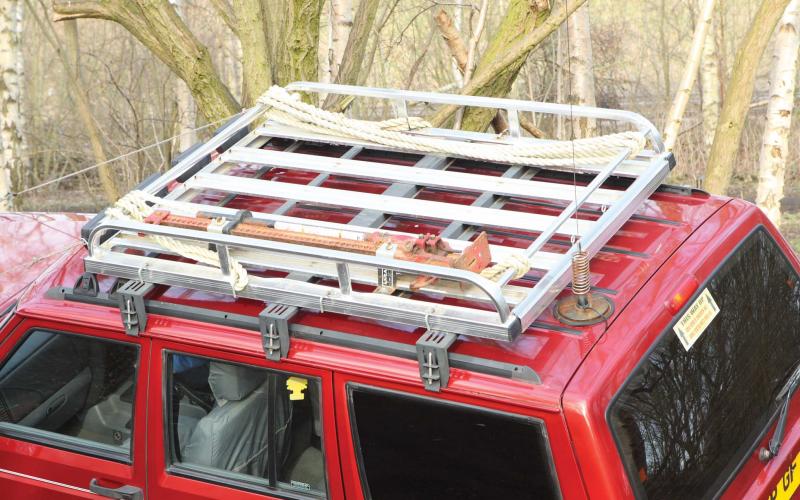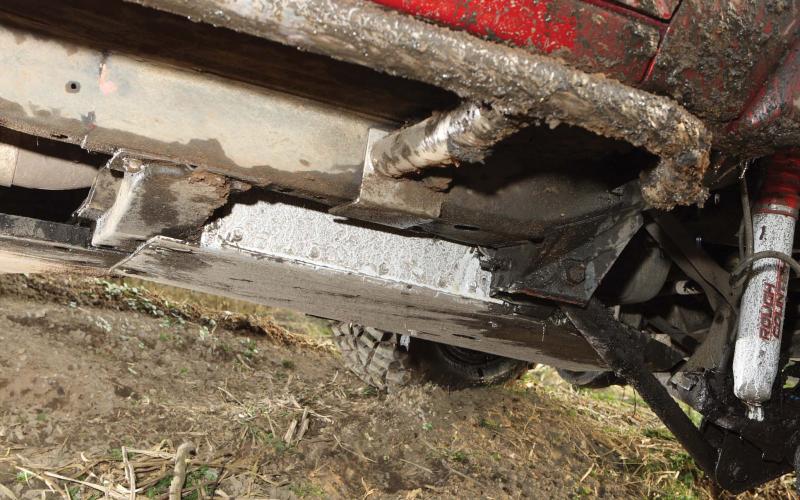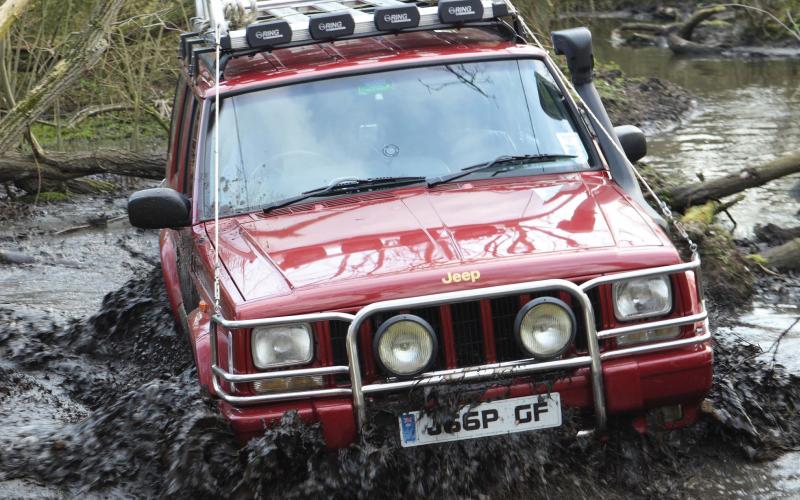 <
>
Gary Fisher has learned a bit about modifying Jeeps over the last few years. He's owned no less than six of them – and the Cherokee he owns today is the culmination of all the knowledge he's gained from each.
For some people, the fun of owning an off-road vehicle is only partly to do with its go-anywhere ability. The rest of the enjoyment comes from spending time in the workshop. For these people, there can be no greater satisfaction than developing a creative solution to a mechanical problem, or installing a modification that will make their vehicle stand out in a crowd.
Gary Fisher is certainly one of these people. Although he's a big fan of mud, he also gains immense satisfaction from spannering. As a qualified mechanic, he finds it easier than most to work on his own 4x4; even so, his appetite for getting oily is unsurpassed, and the mods he's performed on his off-roaders bear testimony to his ingenuity.
Take the Suzuki SJ413 he's owned for the past four years. He paid £500 for a run-of-the-mill standard Samurai – which nowadays sports a winch, a roll cage, mud tyres, Pro-Comp suspension and a host of other mods that make it the perfect tool for pay-and-play adventures.
But impressive as the Sammy undoubtedly is, our attention when we met Gary was focused squarely on his Jeep Cherokee. This vehicle is Gary's pride and joy, and represents the current stopping-off point in an impressive list of 4x4s that have graced the Fisher driveway over the last decade.
First there was a Daihatsu F50, which Gary discarded after an accident rendered it unusable. The experience actually put him off mud-plugging for a time, and Gary focused his attention on motorbikes instead until a chance stop-off at the Kirton Off Road Centre reminded him how much he loves off-roading. 'When I visited the Kirton playday,' Gary says, 'I knew it was time to get back in the groove. I realised how much I'd been missing the fun of owning an off-roader!'
Shortly afterwards, Gary acquired a fire-damaged Cherokee to use as the launch-pad for his return to the world of mud. Next came a series of vehicles including a Range Rover P38A ('a great truck, but with typical green oval gremlins'), a Series IIA and five Jeeps. One of these was a Grand Cherokee, which Gary thought better of abusing off-road once he realised how luxurious it was. Another was a 4.0-litre Wrangler, which was brilliant in the brown stuff but struggled to pull a trailer. Three Cherokees complete the picture; all have since been sold on or broken for spares.
Gary's current Cherokee represents the culmination of all his previous Jeep-related experiments. J66P, as it's known, is a 1998 model with the familiar 4.0-litre petrol engine and automatic gearbox. It's a nice looking car finished in an unusual metallic red, and Gary has done well to preserve its bodywork despite a series of off-road adventures.
Before Gary bought the vehicle, it was used as a tow barge by a boating enthusiast in South East England. It wasn't in the best condition, but Gary had his heart set on another Cherokee and he knew he'd be able to rectify the car's shabby appearance. 'I like Cherokees because of their combination of comfort and reliability,' he explains, 'and the power of the large capacity engine makes the vehicle ideal for towing. It may not be the newest 4x4 on the road nowadays, but the Cherokee offers an awesome amount of car for the money.'
It certainly does, especially if you can do all the maintenance yourself. Although he now works in a supervisory role, Gary was a municipal vehicle engineer for 15 years, so he knows his way around an internal combustion engine and there's no job he's unwilling to tackle on the Jeep.
That said, he's not unwilling to use off-the-shelf components when he thinks they genuinely serve to enhance a truck's off-road prowess. And he'll modify such components if necessary, in order to squeeze the best performance out of them.
Take the 4.5-inch suspension lift as a case in point. Gary originally installed a three-inch lift that utilised parts from a variety of sources. When the rear of the Jeep began to sag, he decided the time had come to do things properly. In consequence, he sourced not one but two sets of Pro-Comp lift springs and set about using them as the basis for a custom-made suspension hike on the rear axle.
Gary experimented with the precise configuration of the leaf packs, eventually settling on an arrangement that suits his tastes. There's enough flexibility to deliver a satisfactory degree of ground-hugging ability, with enough stiffness retained to keep things tight on the asphalt.
It's Pro-Comp again up front, with JKS quick disconnects on the anti-roll bars liberating a surprising amount of articulation while allowing the on-road ride to stay tight when they're snapped back in place.
The result of all these mods is a ride quality that belies the Cherokee's high-and-mighty stance. The Rough Country shock absorbers help in this regard, adding an extra five inches of travel over stock, while the adjustable front lower control arms, also from Rough Country, provide an effective means of maintaining correct steering geometry in light of the lift.
Increased ride height is one thing, but the only way to capitalise on the benefits of a suspension hike is to wrap appropriate rubber around the wheels. Gary was using a set of 235x70R16 Insa Turbo Saharas when we met him, but he has subsequently replaced them with 31x10.50R15 Recip MTs, mounted on chrome slotted Mangel rims. He's still not completely happy with the set-up, though, and is mooting a set of 33-inch mud tyres. This will increase the Cherokee's ground clearance, enhancing its off-road performance and giving it a more macho appearance to boot.
Not that this vehicle is a pussycat, exactly. It might not be as overtly aggressive as, say, your average lifted Defender, but its tidy appearance doesn't disguise the seriousness of its intent.
With Jeep's legendary 4.0-litre straight six beneath the bonnet, too, it's hardly lacking in spunk – even if Gary does go up to 33-inch tyres, the engine won't struggle to pull it along. There's a payoff in terms of fuel costs, though – or at least there would be if he hadn't treated it to an LPG conversion.
Interestingly, it's the vehicle's range that Gary brings up when extolling the virtues of gas. 'I probably wouldn't go anywhere near as far in the Jeep if it was still running solely on petrol,' he says. 'But the LPG means I rarely have to worry about fuel costs – it's definitely one of my favourite mods.' The big six-pot is otherwise largely unmolested, though it does breathe more easily thanks to a Twinflex stainless steel exhaust manifold, Hi-Flow catalytic converter and Janspeed back box.
The extra power this liberates is transferred to the wheels via a standard AW4 four-speed auto box, which is a reconditioned unit taken from one of Gary's earlier Cherokees. The original gave up the ghost during a laning trip on Strata Florida; while fitting the replacement, Gary also installed an oversized Hayden transmission cooler imported from the States, which helps prevent overheating when the gearbox is working extra hard. Yet more peace of mind comes from a transmission thermometer on the centre console.
As with the main gearbox, the transfer case is a replacement unit. This time, though, the swap was for practical reasons rather than damage repair; earlier-model Cherokees had longer propshafts, which are better suited to the higher operating angles imposed by lifted suspension, so the late tranny made way for an older example. Gary reports that his Jeep suffered from vibration when he first installed the suspension upgrade, and that the new transfer case has cured it, so that'll be the proof of that particular pudding.
Bigger suspension will always have an impact on your props, and of course bigger tyres will always have an impact on your gearing. The solution here was a set of 4.1:1 diffs in the axles – standard Dana 30 and 35c units at the front and rear respectively. When we took these pictures, the Cherokee was still on its original diffs, but since then Gary's told us that its gearing, and the engine's fuel consumption, are back to where they were before the 31-inch rubber went on. He does reckon on further mods should he take the plunge and go up to 33s; whether this would be another ring and pinion job or, given the Dana 30 and 35's reputation for fragility when pushed too far, a whole new set of axles, is one for the future.
Either way, what he's currently packing is a rear Aussie Locker – which helps things moving when the terrain gets beyond what the tyres and/or suspension can cope with. An unusual choice for UK-based Cherokee drivers, this got the nod because Gary had heard so many enthusiastic reports about it – and he hasn't been disappointed. 'The locker helps to maintain traction when things get rough,' he remarks, 'although I've recently bought a Champion C9500TDSC winch that will give me a few more options off-road.' A good idea, because his tastes appear to be moving in the direction of more extreme adventures.
Not that he'll be rushing to expose the car to the rough and tumble of challenge events anytime soon. He hasn't fitted a roll cage, and he's quite happy enjoying fundays and laning trips just now. The truck has just the right specification for this kind of use, and Gary is careful to protect it as much as possible. For that reason, he's fitted Mopar steering and fuel tank guards, a Rusty's engine and transmission protector and a pair of chrome side bars. The latter might sound a bit bling, but Gary reckons they've prevented the Cherokee's sills from many a trashing. He's planning to fit some heavy-duty rock sliders in due course, but that's just one of the jobs on his extensive to-do list.
Others include the installation of a Powertrax front diff-lock, and the fabrication of a hidden winch mount for the front bumper. Gary also wants to fit a heavy-duty rear bumper, with integrated recovery eyes, so that the Jeep's overhanging rear end is less prone to damage.
There's no shortage of things to keep Gary occupied over the coming months, then. And with his commitment to modifying and improving his 4x4s, you can be certain that this Cherokee will never stand still for very long. What's more, even if his current vehicle does get moved on ('it's always for sale at the right price!'), a replacement will surely only be a very short distance behind. And you can be pretty certain it'll be another Jeep.
LPG CONVERSION, INSA TURBO SAHARAS, PRO-COMP SPRINGS, ROUGH COUNTRY SHOCKS, JKS DISCONNECTS, ROUGH COUNTRY CONTROL ARMS, ITG AIR FILTER, RUSTY'S SKID PLATE
Share this article