Bright Future
Originally Published: April 2016
Words: Harry Hamm
Pictures: Vic Peel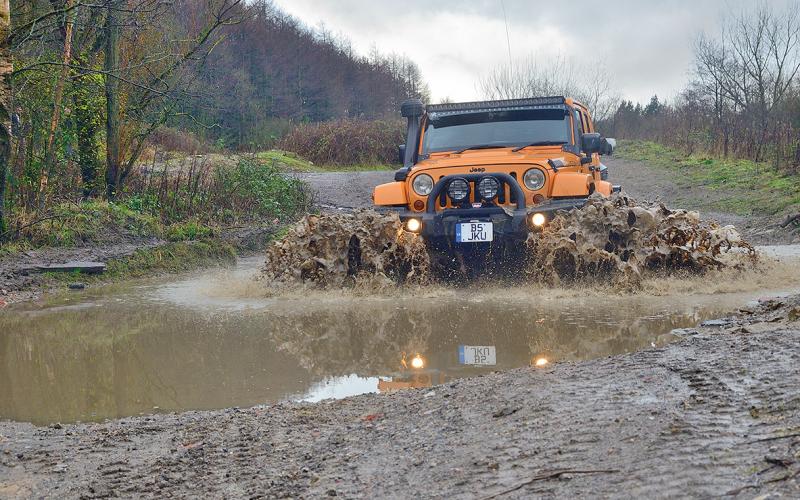 <
>
Jeeps have always been a bit of a left-field choice for modifying in the UK. Having suffered from being too similar to the Land Rover Defender, however, the demise of the Solihull warhorse means it's now time for the Wrangler to emerge from the shadow of its old rival and control of the modding marketplace. That's what American Expedition Vehicles thinks, anyway – and one of the first British JKs built using its kit is out there proving the point to anyone who dares take a look
Coming on for four years ago, we featured a Jeep Grand Cherokee which had been turned into what its owner thought was probably the biggest and most extreme in Britain. Called Grey Thunder, it ran a 6" long-arm lift and flexed like a total pro.
The owner was Bob Seaborn, but he's not the owner any more. That's because, for one thing, somebody opened their wallet for it. More to the point, though, it's because he's now the owner of another Jeep instead.
This one's big too. At a mere 4.5", it's not been taken as far away from standard. But this time it's a Wrangler, so it was bigger in the first place – and it's a Rubicon, so it was already pretty well tooled-up from the word go.
The Rubicon is Jeep's hardcore version of the Wrangler. It's like a BMW M3 or Porsche GTS compared to an everyday 3 Series or Boxster, the difference being that it's designed to do its thing on serious off-road trails rather than around racetracks. It comes out of the factory with uprated axles, locking diffs, lower-ratio crawler gears, rock sliders and disconnecting anti-roll bars, and without beating about the bush it's the best showroom-standard off-roader money can buy.
Jeeps being Jeeps, though, there's no shortage of aftermarket suppliers queuing up to make it better still. One of the biggest players in this field is American Expedition Vehicles (AEV), which recently became a supplier to the UK market after erstwhile Land Rover specialist Nene Overland became its importer here.
AEV relations with Britain's Jeep enthusiasts go back a long way, however. And Bob's long-wheelbase JK Wrangler is a perfect example of it. Originally owned by Stewart Harding, the main man at the Jeep Owners' Club, it's unlikely to be mistaken for anything else – except possibly the Wrangler Stewart built to replace it after letting Bob take it on.
More of that in a future issue of TOR. For now, how about this eye-catching and very well prepped example of what a current-model Wrangler can become?
Having bought it from Stewart, Bob set about making it his own. It was already lifted, but he removed the kit that was on it and fitted a new 4.5" job from, of course, American Expedition Vehicles.
'AEV has got this JK sorted,' he says. 'It's unbelievable how this thing goes round corners on a 4.5" lift.' It also flexes pretty well, but a lot of the credit for the balance between height and handling goes to the remote-reservoir Bilstein shocks controlling AEV's lift springs at each corner. They might look like something from a comp safari racer, but these simply illustrate what it takes to put this much extra space under a vehicle without turning it into a jelly.
The Wrangler's road manners matter a lot because for Bob, off-roading is a thing that involves putting in a lot of miles. In Britain, you're more likely to find him exploring the lanes than getting axle-deep in mud on a playday site, and though he's got a quality winch, 35" tyres and lockers all round he's definitely not in it for challenge-style competition. On our photoshoot, he joked constantly about hating mud – he definitely isn't shy of taking his truck places, but he's not one for searching out a swamp then trying to get through it non-stop until his engine melts.
More than that, though, Bob is also a fan of long-range 4x4 travel. He's the owner of tour operator Compass Adventures, and in 2013 he led the Help For Heroes Arctic Challenge – an expedition in which four UK-based Jeep owners drove to Nordkapp, the most northerly point of the European mainland, in the middle of winter. That was in his old Grand Cherokee, but two of the other vehicles on the trip were Wranglers. Perhaps they caught his eye…
This one certainly did, and it still does. Having owned a variety of 4x4s in the past including a Defender, a Range Rover Classic, an 80-Series Land Cruiser and of course his old Grand, he says he's now 100% happy – and that there's nothing about his Wrangler that he'd change.
This includes owning it. He's had offers, some of them impressively persistent, but this Jeep ain't for sale.
Apart from anything else, he likes the fact that even in standard form, it was so unusual. Verging on the unique, in fact. It was one of only two right-hand drive long-wheelbase Rubicons built to order in the unusual Dozer orange colour – the other one being Stewart's. So whether they turn up individually or side by side, they can always be pretty sure of attracting attention.
So they should, too. And if Nene Overland's hunch is right, the tie-up with AEV will lead to more highly-prepped Wranglers appearing on the UK off-road scene. The company sees this as being the way people at the top end of the game will go now that the Land Rover Defender is history – and with the hardcore credibility of that vehicle's replacement still unknown, the Wrangler is now the only option if you want to modify a still-in-production 4x4 with live axles that's big enough to be more than a toy.
Bob certainly thinks there should be more people converting to the Jeep way – and he'd recommend doing it just the way he has in terms of his vehicle and suppliers alike. His club may have strong ties with AEV, but it's more than just a business relationship that's put all that kit on his JK. This truck is the destination of what has been a long journey through the world of 4x4s and how they're modified – and now, finally, he's got a keeper. The future's orange.
Share this article