Big In America
Originally Published: December 2007
Words: Tim Gibson
Pictures: Steve Taylor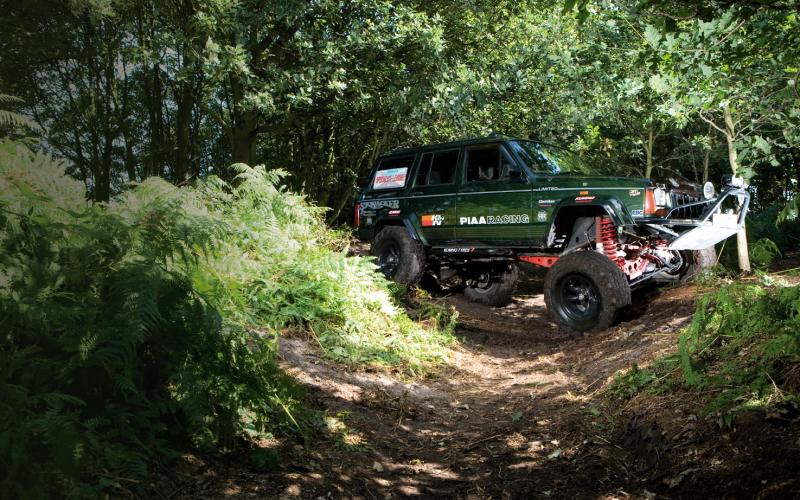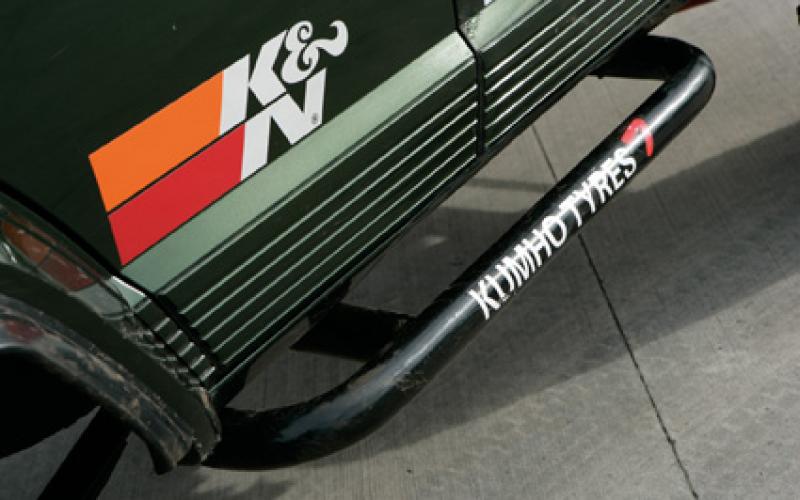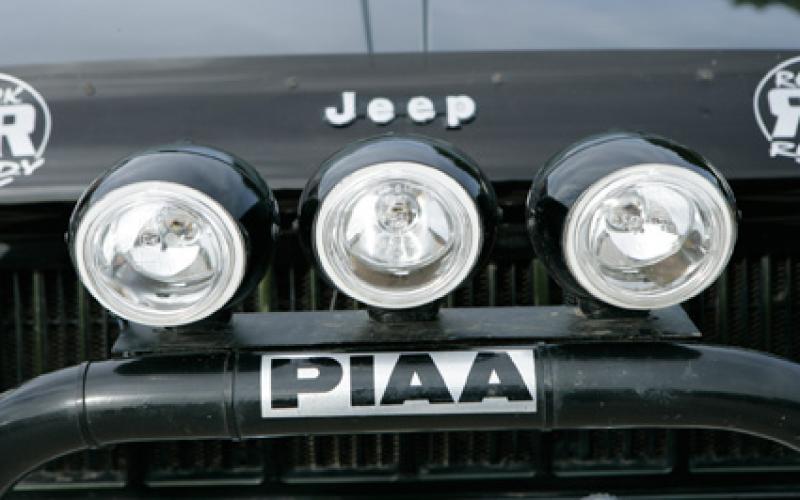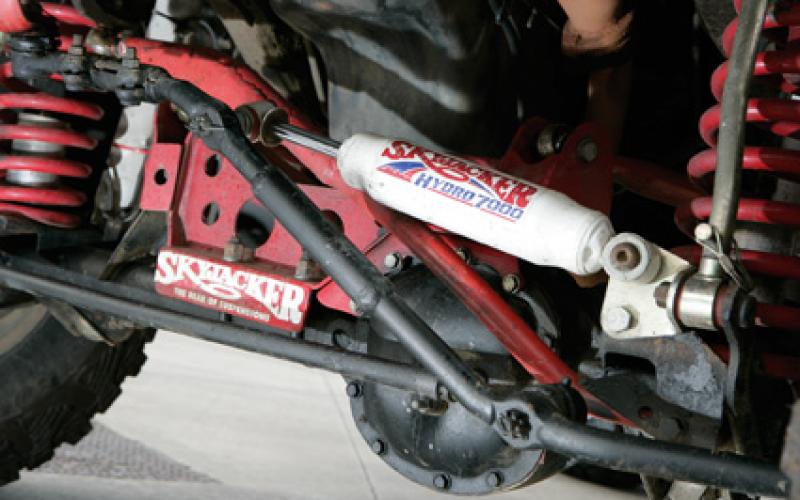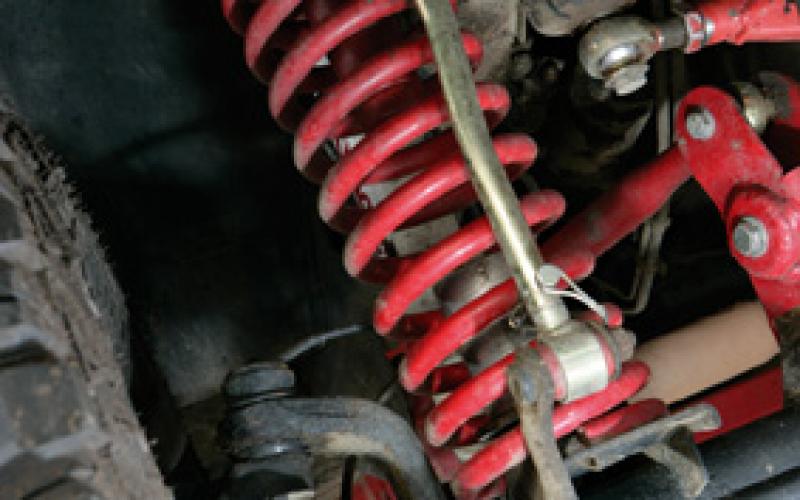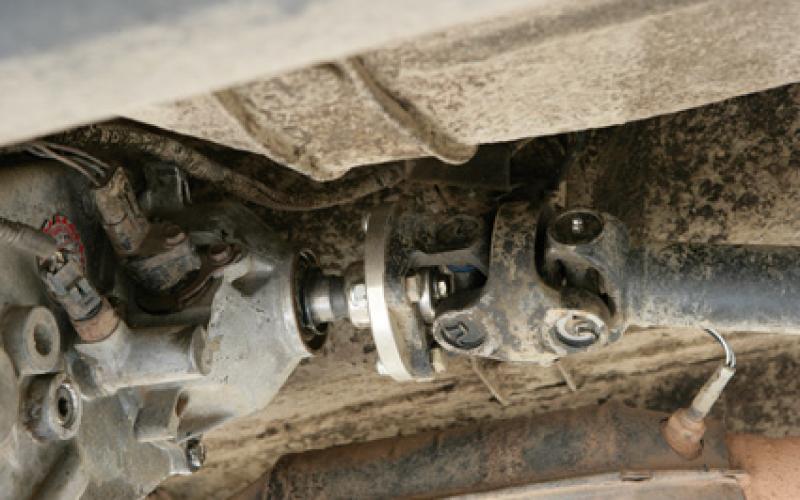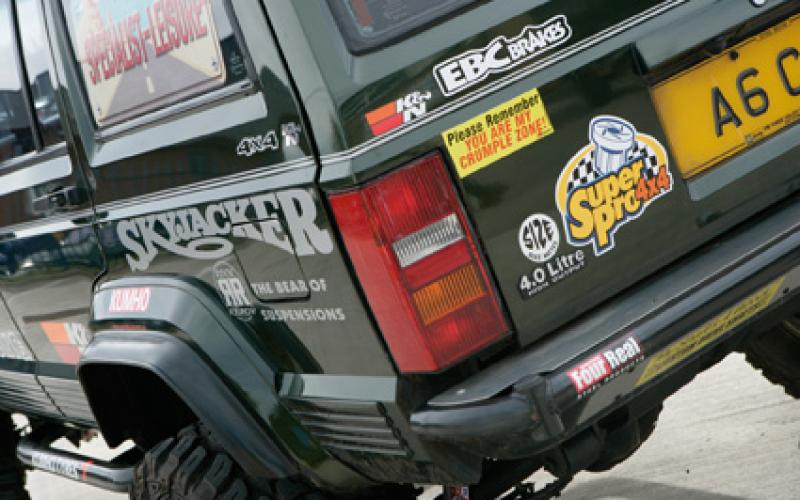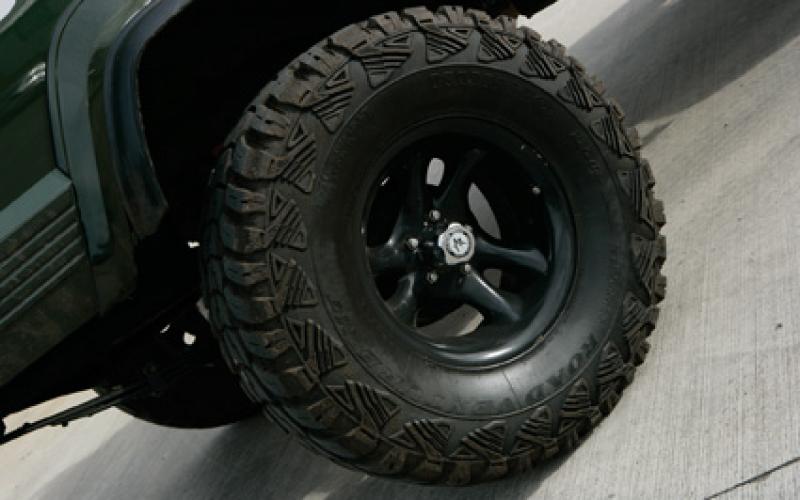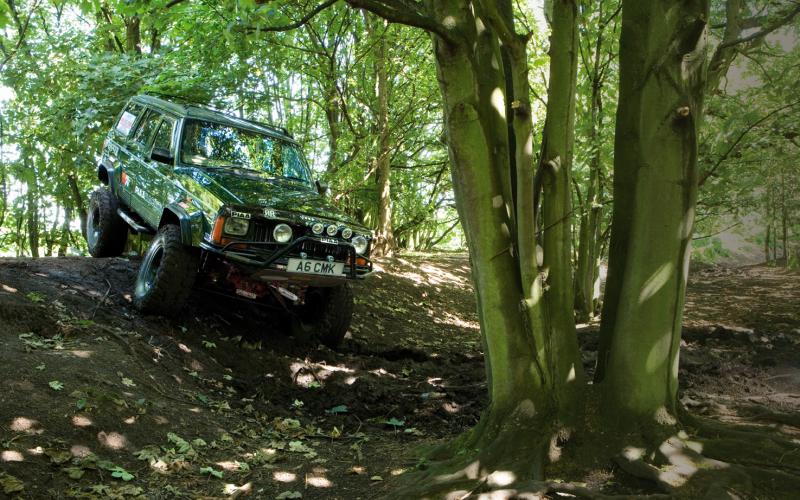 <
>
Ged Wade's Cherokee is one of only a handful outside the USA fitted with Skyjacker's eight-inch suspension lift. So was it worth the effort to convert a left-hand-drive kit to suit a right-hooker Jeep?
Much as we may hate to admit it, the UK is a very small country. Sure, our history of imperial rule ensures the British mark has been left on a vast array of places across the globe, but when it comes down to it, the actual land mass that most of us regard as home represents a tiny fraction of the world's surface.
It's hardly surprising then, that original thinking is at something of a premium in this nation. We may have a relatively large population, but there simply isn't enough variety in our landscape to prompt us to think much beyond the limits of our comfort zone.
To give you an example, the highest peak in England and Wales is Mount Snowdon, which stands at just over 3500 feet tall. Take a trip to the Canadian Rockies and you'll be at that height within about half an hour of stepping off your plane. So that fleece you bought to see you up the Llanberis Pass in mid-November won't even come close to keeping you warm on a Canadian mountainside, even in the height of summer.
It's a similar story for off-road enthusiasts. Head out in your 4x4 in this country and you can be reasonably sure that, unless you make a real balls-up of proceedings, you'll be able to cope with most of the terrain that Mother Nature throws your way. Head for the wilderness in parts of the USA, however, and unless your truck is appropriately equipped you might never see your front door again.
All of which explains why British off-roaders with a taste for extreme modifications often look across the Atlantic when it comes to kitting out their vehicles. And this counts a fortiori for Jeep owners. The manufacturer's iconic status among American motorists ensures a simply bewildering selection of modifications is available in the transatlantic market. But with the brand a relative newcomer in the mainstream UK car industry (it has been present for around 15 years, whereas Land Rover is about to hit 60), the domestic trade in Jeep components can look a little pedestrian in comparison.
A number of UK off-road equipment suppliers have worked hard to change that state of affairs, of course. Foremost among these is Warrington-based Specialist Leisure, which offers a comprehensive selection of components to suit the full range of Jeep derivatives.
Many such components are imported direct from the States, where they are favoured by some of the most hardcore off-road enthusiasts in the world. Buy a suspension kit from Specialist Leisure, for example, and the chances are you'll end up with a configuration comparable to that of the Jeeps used by rock-crawling nutcases in Moab.
While this guarantees the pedigree of the gear supplied by the firm, it can occasionally bring certain difficulties, as Specialist Leisure's own Ged Wade found when ordering a suspension upgrade for his Cherokee. 'I wanted to fit an eight-inch Skyjacker lift,' he says. 'But the kit is only made for vehicles with left-hand drive. That made installation of the upgrade a pretty demanding task.'
For a start, the Jeep's panhard rod (on the front – the leaf springs obviate any need for a track bar on the rear axle) had to be remade, in order to account for the increased distance from chassis to axle. The component that came with the Skyjacker kit was no good, because the front diff on Ged's Jeep was on the wrong side. A key component was effectively useless to Ged, therefore, and the only way to replace it was through a process of trial and error.
It was a similar story with the steering linkages, which took three workshop days to perfect. 'The mechanics would modify the angles and then take the car for a spin to see how they worked. It was certainly a test of their patience, but they got there eventually!'
In the end, the only way to configure the set-up effectively was to blend the Cherokee's existing components with the replacement parts provided by Skyjacker. So the factory-fitted steering arms were removed, cut about and welded to bits of the Skyjacker kit in order to ensure everything worked as it should.
A similar process resulted in the Jeep's heavy duty Pitman arm – fitted to complement a previous two-inch suspension upgrade – being re-routed, and the steering damper being changed. If you look closely at the pictures, you'll see that the entire structure of the front axle has altered in order to accommodate the lift – and most of that is a result of long hours spent in the Specialist Leisure workshop.
The steering arrangement is working well now, but Ged is shortly to hand the vehicle over to Gold Digger 4x4 so they can fabricate the relevant components from scratch. The firm will use reinforced steel for this work, which should ensure many years of reliable service in the future.
This might all sound like a great deal of hassle for one vehicle, especially when you consider that Ged originally wanted to limit himself to a six-inch lift in order that his young children might still be able to alight from the Jeep unaided. But if you're going to chuck an extra six inches beneath the sills, you may as well go the whole hog. And as Ged remarks: 'By putting in the extra effort, I've got a vehicle that is pretty much unique in this country.'
That's nice for Ged personally, but it also means that Specialist Leisure has a giant-sized mobile shop window. This aspect of the vehicle hasn't escaped Ged's notice. He recently returned from a holiday in Wales to be greeted by a customer who'd spotted the logo-laden Jeep in a Welsh car park and taken a note of the firm's number. 'This guy diverted his journey home to Essex in order to see what Specialist Leisure could do for him. You couldn't buy coverage like that for any amount of money.'
Don't be fooled into thinking that the Cherokee's only purpose is as a promotional hack for Ged's employer, though. He's been off-roading for almost as long as he's been standing up to pee, and an RAF tour of duty in the Falklands gave him a discerning taste for the roughest terrain imaginable. This Cherokee is built for action, and a shake-down trip to Tong has already evidenced its not inconsiderable capabilities.
That said, Ged is keen to remind us that the Jeep also functions as his everyday run-around. The access issue that comes from the extra eight inches of ride height (more like 11 if you include the extra rubber beneath the arches) is addressed by means of second-hand rock sliders that were previously fitted to a Wrangler. These enable Ged and family to clamber into the vehicle with a degree of poise – and the view from the top justifies the effort expended to get up there. 'I borrowed a friend's MX5 the other week,' he laughs, 'and the roofline of the Mazda didn't even reach my Jeep's windows!'
You might be surprised to learn that, according to Ged, the Cherokee handles as if on rails. That's partly to do with the rigidity that comes from a leaf-sprung rear axle, but it's also testament to the efficacy of the anti-roll bars that come as part of the suspension kit. Additionally, Ged adopted what he calls a 'pyramid principle' to the build, and has fitted 30mm wheel spacers and offset alloy rims to ensure stability. Moreover, he claims the Kumho tyres he's used have excellent traction on tarmac and give a genuine sense of control, even under the rigorous acceleration that is his favoured driving style.
Such acceleration is made easier by the stage II JetChip and K&N induction kit. The full potential of this performance set-up is yet to be realised, however – because despite fitting 33-inch tyres, Ged has yet to make any adjustments to the Jeep's gearing. He's sourced a pair of axles from the lower-geared 2.5-litre Cherokee, though, and intends to fit them any day. That should ease the strain on the vehicle's standard automatic gearbox, and bring an appreciable improvement in its already impressive turn of speed.
Given this, it's probably a good thing that the Jeep's adornment of PIAA lights, Daystar front and rear bumpers and sponsors' decals – not to mention its epic height – help it to stand out from the crowd. If any other vehicle moved as quickly as Ged likes his Cherokee to, there's a risk it would blur into the background. With something as recognisable as this truck, though, there's little chance of that happening. Indeed, you might say that it's a little taste of transatlantic excess on these conservative shores. It could well be just the eye-opener that UK off-road enthusiasts need to stimulate their vehicular ambitions.
Modifications
Eight-inch SkyJacker suspension lift
Hydraulic shock absorbers on rear, gas shocks on front
33x12.50R15 Kumho KL71 Mud Terrains
8x15 American Racing 136 series offset alloys in black
30mm wheel spacers
Daystar front and rear bumpers
Super Pro bushes all round
K&N Apollo system (snorkel compatible)
JetChip Stage II performance chip
PIAA auxiliary lights/uprated bulbs
Three-inch Flexi flares, to ensure legality of tyres
Second-hand rock sliders
Short shaft conversion – enables rear shaft to be removed and car to be driven in two-wheel-drive if needed
Tom Wood double cardon propshaft, allowing adjusted yoke from suspension lift
Optima Red-Top battery
Goodridge brake hoses
EBC Greenstuff brakes
Cherry bomb exhaust
The Tyre Issue
Ged first used 31-inch tyres, when he fitted a two-inch lift. This brought a 'tolerable' reduction in speed
When the Skyjacker kit was first fitted, Ged opted for 35x12.50R15 BFGoodrich Mud-Terrains
These had a massive impact on gearing, and the Jeep's automatic gearbox was forever hunting as it tried to cope
Keeping the 35-inch tyres would also have necessitated major adjustments to the wheelarches and wings
In consequence, Ged went down to 33-inch tyres. These fit without any need to cut the Jeep's bodywork
When the 2.5-litre Cherokee axles are in place, Ged is confident he will have sorted his gearing issues
CHEROKEE, SKYJACKER SUSPENSION, DAYSTAR BUMPER, KUMHO MUD-TERRAINS, SUPERPRO BUSHES, OPTIMA BATTERY
Share this article