Technology Can't Stop A Great Day's Laning!
Originally Published: August 2015
Words: Noel Watson
Pictures: Noel Watson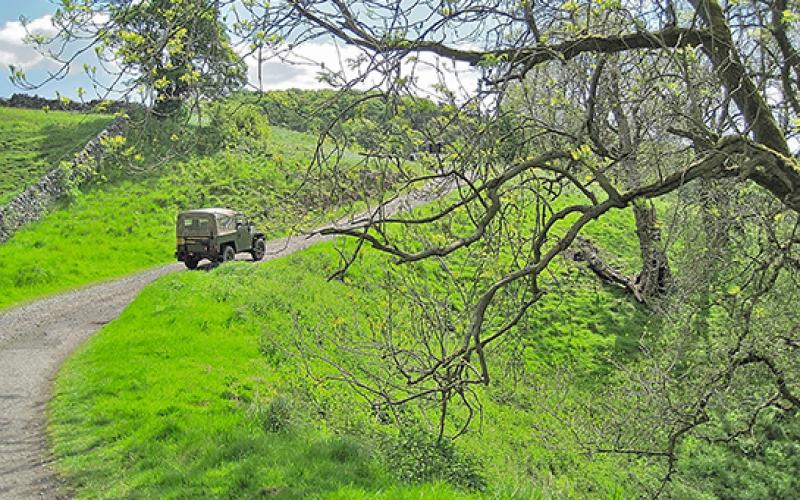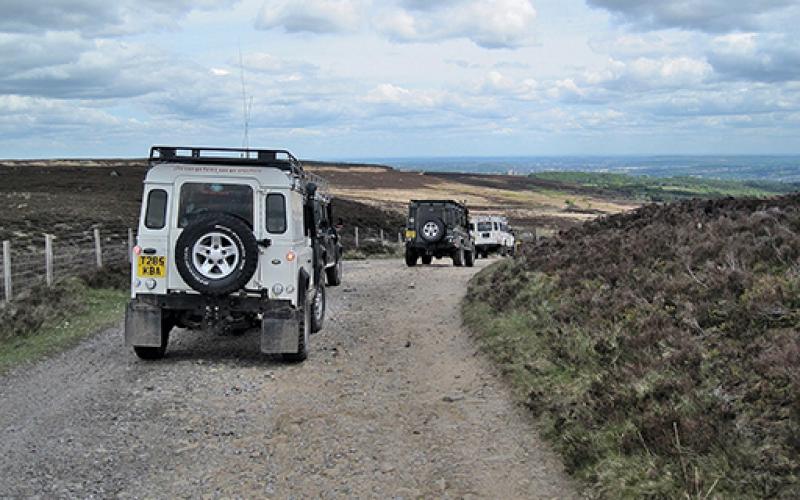 <
>
Saturday morning, bright and fairly early, saw a quartet of vehicles from the Cheshire LRC set off en route for Buxton. We took the scenic route, avoiding the M6 – with the unexpected addition of a couple of laps of Macclesfield due to leader Mark following his sat-nav instead of his nose! Despite the electronic aids, we all arrived at the Cat and Fiddle Inn on schedule to add members Baz and Chris' two Defender 110s to the party.
The weather was holding well – sunshine with some cloud and a light wind. It was something of a contrast to our previous visit in February en route to Worksop, when it was snowing with high winds and double digit minus temperatures with the wind chill!
Off down the Old Coach Road into Buxton, at least this time we could actually distinguish the track from the surrounding moorland. Picking up the A6, we headed east and tackled the second lane near Millers Dale and then continued straight into the third lane through to Monsal Head. Thankfully there was little traffic about, despite it being the end of half term week.
Pressing on through Little and Great Longstone to the fourth lane, a closure notice in place for High Rake forced us to make a detour through Calver
and Froggatt heading north, crossing the Yorkshire border, and picking up our sixth lane across Houndkirk Moor. Hunger pangs overcame all 
the crews at this point, so we decided to 'hove to' at the panoramic picnic spot which presented itself at just the right moment.
A wonderful view meant that we were able to admire all seven of the hills upon which the City of Sheffield is claimed to be built. The lines of similarity with the seven hills of Rome become slightly blurred as Sheffield can actually lay claim to seven rivers and eight hills… how's that for Yorkshire one-upmanship! It made for one great lunch stop, during which Colin's attempts to record everyone's butty box selection from his quad-prop drone were thwarted by the gusty wind – probably just as well!
Adequately refreshed, we looped south and headed back towards the Peak District, following the River Derwent through the Hope Valley. Hathersage was notable for the rush hour traffic that appeared, causing a major rift in the team arrangements at a junction when Colin and Noel's Defenders, acting as Sweepers/Tail End Charlies, became separated from the main 'peloton' – the area turned out to be a black spot for CB radios, as well as offering mobile phone reception which varied between zero and zippo!
Despite Ray standing guard at the intended turn-off from the B-road to direct the stragglers, they flashed past. Apart from the obvious difficulty in flashing anywhere in a Defender, rumour has it that both Ray and his 110 were cunningly hidden in the bushes. Whilst the peloton took a tea break, the two Defenders toured the countryside accompanied by CB appeals for 'anyone receiving?' Eventually a broken communication established that a couple of miles and a few hills separated the team – and thanks to having a proper OS map on board, everyone was soon reunited.
The seventh lane of the day took us towards Great Hucklow, followed by four narrow lanes between high walls, twisting between the fields, no doubt following ancient boundaries, leading back to Millers Dale, Buxton and onwards to home – using known direct routes!
In all, it was a great day out in attractive countryside with the sun shining on us. Thanks to Mark and Fiona (plus kids and dogs) for leading us and providing a thoroughly interesting route.
Share this article