Surrey Seems To Be The Hardest Word
Originally Published: August 2015
Words: Stewart Harding
Pictures: Jeep Owners' Club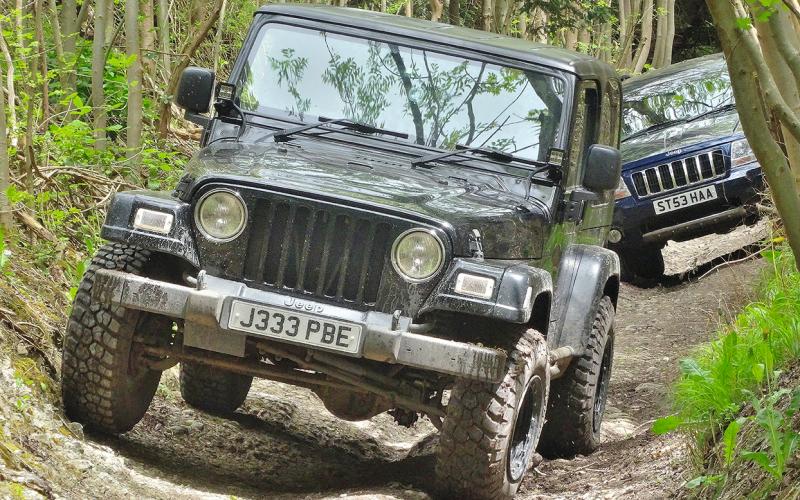 <
>
Our day on the lanes in Surrey began with a brief meet up at the westbound Clacket Lane services on the M25 for a rendezvous with part of the group. After a quick coffee, we headed on to the main meeting point near Ockham Common.
Having acquired the rest of our group, we split into two units and group one soon headed off, with Arno leading the pack. Though this was his first day at the head of a group, Arno has driven this route many times so felt he would be up to the challenge of being group leader. As it happens, he did a mighty fine job and no one got lost!
I led the second group. In our number we had one newbie to green lanes, Michael, aboard a very shiny looking KK Cherokee! Michael had recently been to our Yarwell event and has since upgraded his KK with a suspension lift – which seemed to cope very well.
The second group would remain approximately ten minutes behind the first, to prevent us from catching them up and creating one long convoy. Etiquette is there for a reason, and taking care not to make your presence a nuisance for others is very important to every motorised lane user.
Elm Lane was our first port of call, not too far from the starting point. There was a lake with a water hole to consider, which can be particularly tricky, but fortunately there had not been enough rain to make this more than a few inches deep – not a problem for even the most standard of Jeeps.
From here we headed back on to tarmac and navigated some more lanes, bringing us down to West Horsley. After that, the route went through Effingham and towards Effingham Forest, passing under Troy Bridge – built by the Earl of Lovelace in the 19th Century for horse-drawn carts hauling felled timber.
Another blast back on the tarmac took us towards another couple of lanes, before we journeyed over towards Wotton. Before lunch, both groups were able to take in a stunning trip though Squires Great Wood – with some brilliant scenery.
With lunchtime looming, we headed up to Coldharbour then parked up for lunch by the cricket pitch. Up here in the Surrey Hills, we were at more than 800 feet above sea level – not half bad, especially when you've got a perfect view of Gatwick Airport in the distance!
After lunch we set off for the last few lanes of the day. Ride Lane is one of the more interesting routes round here, being in a cutting with natural erosion changing the lane regularly, creating uneven banks and tipping the Jeeps over at mild angles. It certainly makes for some interesting photos!
The last lane took us up Albury Downs to Newlands Corner, where we were able to relax, have a chat about the day and naturally talk a bit about Jeep stuff too! A very civilised way to end a splendid day out, really. For more information on the Jeep Owners Club, visit www.jeepowners.club.
Share this article