Twin-Weber Manifold for Samurai
Originally Published: January 2014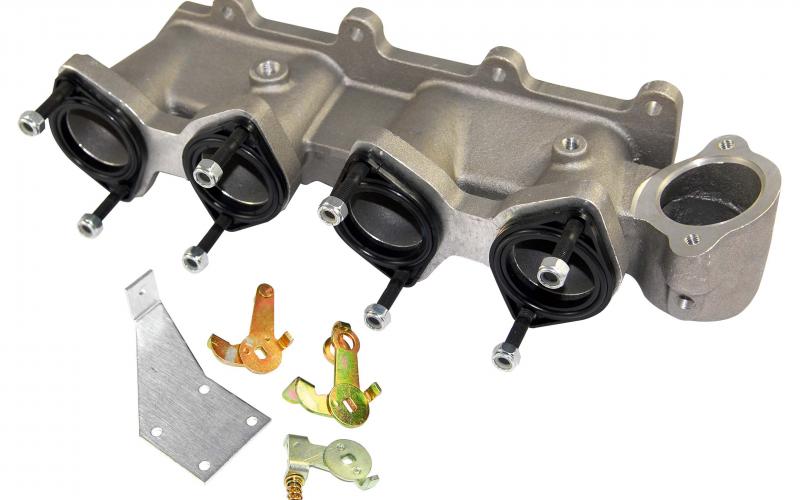 <
>
There's not a lot of Suzuki Samurais left that haven't had major work done to their original 1.3-litre engine (such as removing it altogether for a Vitara unit or Vauxhall diesel instead). But if you find one still in factory form and fancy turning it into even more of a giant-killer than it already was, Webcon has just launched a new manifold designed to let it run with twin Weber DCOE carbs.
Retailing at £299 plus VAT, this is the sort of accessory you'd only buy as part of a wider programme of engine upgrades. Getting the best from a pair of Webers isn't something you can do by guesswork, so budget for some expert tuning too.
Of course, swapping out the standard carb is something Samurai owners have been doing for decades, normally the day after their truck first cuts out on them on the way up a hill. Curing this with a twin Weber conversion could just possibly be seen as overkill, but since when was that a bad thing?
Intriguingly, Webcon says it believes the manifold is also likely to fit the 8-valve Suzuki Vitara 1.6 engine. The company has only done a 1.3 conversion as part of the development process, so this remains unconfirmed, but it would offer more fun yet – especially if you were shoving said engine under the bonnet of a Samurai.
Admit it, you're just picturing the results now, aren't you? The manifold is available direct from Webcon at www.webcon.co.uk.
ENGINE ACCESSORIES, WEBCON, SUZUKI SAMURAI, SUZUKI VITARA
Share this article