New Brakes for Old Trucks
Originally Published: May 2015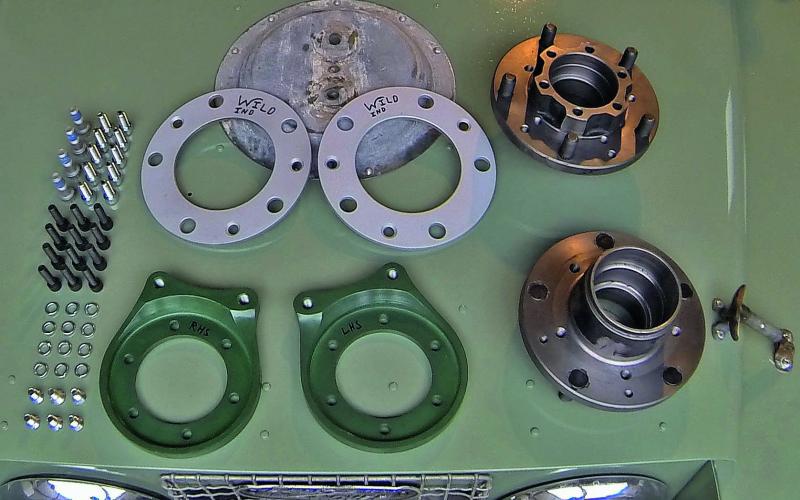 <
>
Land Rover axles have found their way on to all sorts of different trucks over the years. Normally these days it's the later, coil-sprung units that people try to hunt down, but there are still plenty of old down-home trials motors and playday beaters going about on Series I, II and III axles.
Most things with Land Rover axles beneath them are still Land Rovers, of course. But let's not get carried away with that. When a cool mod comes along for Series axles, it could spark interest almost anywhere – whether you drive a Suzuki, a Mahindra or a CJ Jeep, as well of course as if yours is an old 88 or 109.
Either way, old Landy axles mean old Landy brakes. Which in turn means an endless cycle of stripping, cleaning, adjusting, replacing and wishing you had a decent set of discs instead.
With this in mind, you may be interested in Wild Industries' new Series Disc Brake Conversion Kit. This is designed to let you swap out your long-suffering old drums for the more modern disc set-up from a Discovery or post-1992 Defender.
The parts in the kit have been put through extensive testing and harsh treatment both on and off-road, says the manufacturer. They're constructed from high-quality steel (and you'd jolly well hope so) and allow you to retain your original-style Series wheels – or, if you'd prefer, later-style Wolf or Disco rims.
Wild advises that when fitting the kit, you should update the entire system to the twin-line servo-assisted set-up system introduced on late Series vehicles or, even better, that from the early 90 or 110.
Included in the kit are two machined caliper brackets, two hubs accepting Defender discs, two track correction shims (accounting for the switch from drums) and four OEM caliper mounting bolts. You also get the necessary high-tensile disc mounting bolts, bracket fixing bolts and spring washers.
Will Donaldson, owner of Wild Industries, said: 'These components are now in use on numerous Land Rovers. The first set has been in use for over 50,000km and they are, as always, pulling up very quickly and perfectly straight every time.'
Buyers also receive fitting guidelines, along with a list of part numbers of consumables and the different caliper and disc options. This conversion is based around the use of standard parts, which should keep things simple and cheaper when it comes to finding spares.
There are options to choose, too, including longer wheel studs and adaptor brackets to fit a Defender servo to the Series pedal box. Leave these alone, and the standard kit will set you back £525; to find out more, head for www.wildindustries.co.uk.
AXLE UPGRADES, BRAKING, WILD INDUSTRIES
Share this article