Kam Launches Drop In Locker
Originally Published: April 2015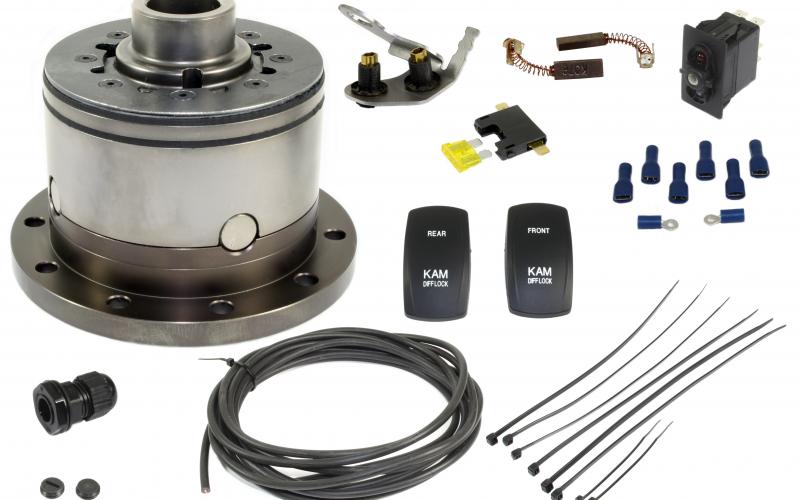 <
>
We all know the benefits of having diff locks on our 4x4s. Engage them in the right place and ye with them shalt travel further than ye without…
We also know what the drawbacks of lockers can be. They're expensive and, in particular, they can be a pig to install.
Well, if that latter issue has been coming between you and locker ownership, a watershed moment in your life may be on the way – courtesy of the good people at KAM Differentials. The company, which is no stranger to locker manufacture, has come up with the Drop In Locker – a new electronically locking differential named for its ease of installation.
The benefits are clear.  No compressor or air lines, and no need for any welding or drilling of metal. All you need is a pair of wires and an illuminated dash switch.
When this is operated, an electric current is sent through two industrial high-grade carbon brushes to four high-power solenoids located inside the differential. Once these become energised, they pull a locking ring into engagement with the differential sun gear. The result, says KAM, is a silent and instantaneous operation.
Precision-machined here in the UK and heat-treated using high-grade materials, this patented device accepts original Land Rover props and 24-spline halfshafts. Thus you get the flexibility of a fully manual locking diff, but with less hassle during fitting. KAM says the only work you need to do to fit the unit is to drill and tap a hole in the diff case suitable for the electrical cable gland.
'A competent DIY mechanic should take no more than a few hours to completely install a KAM Drop In Locker from start to finish,' says the company. You don't need any fancy oils or fluids, and all the service parts are those which were already on your truck anyway. As well as full instructions, you'll receive a two-year warranty – though this doesn't cover competition use or tyres over 35" in diameter.
The Drop In Locker is priced at £718.80 including VAT. To find out more, point your web browser at www.kamdiffs.com.
Share this article