12-Pot Brakes for V8 Land Cruiser
Originally Published: September 2013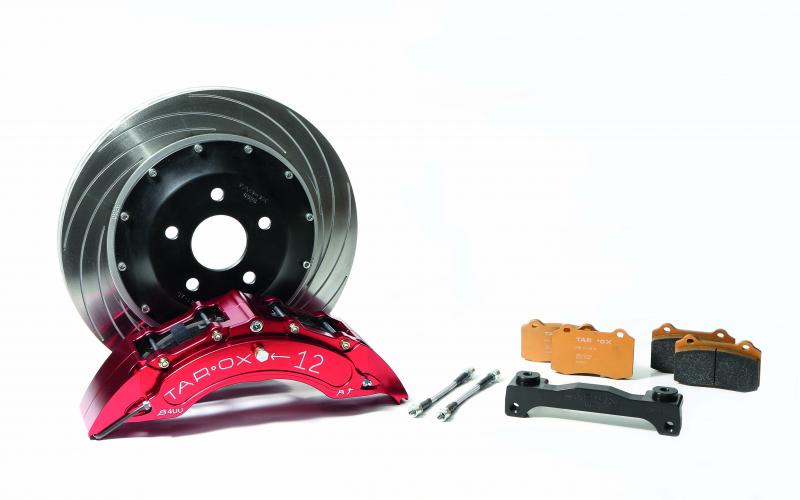 <
>
Does the word 'armour' make you think about metal plates that stop rocks from putting fist-sized holes in your sump? Or trucks that keep you safe from angry people who want to stop you from nicking their country?
Either way, it's heavy. And heavy stuff takes more stopping, especially when the tyres providing the grip for it are about 20% taller than the ones your truck was built to go on.
Toyota's mighty 200-Series Land Cruiser is a hefty great animal of a truck at the best of times. Beef it up with a big winch and steel bumper, all the underbody protection you can get and a full load of expedition gear, and there's an awful lot of momentum to get rid of one it's up to speed.
The standard brakes are, in our experience, excellent at their job. But Tarox has just launched a 410mm two-piece disc upgrade for the front axle, complete with 12-pot calipers (yes, twelve), which the company says is designed specifically for fully armoured vehicles and those which are regularly used off-road.
Designed around the Cruiser's 20" rim size, the brakes' calipers are made up of two six-pot units joined together into one complete monster. Clamping the two-piece discs with four pads, they were developed through an extensive testing programme to deliver the last word in performance for heavier-than-standard vehicles without over-working the factory ABS system. In particular, testing focused on the flooded roads and low-grip surfaces on which the Land Cruiser was made to excel.
'Ideal for the off-road enthusiast,' says Tarox, which we don't doubt if the off-road enthusiast can afford to smoke around in a 200-Series Land Cruiser as his toy of choice. Which brings us to the price, which at £3900 is another way in which these brakes are very good at making you stop. Still, if you can afford one, you can probably afford the other, in which case en.tarox.com is the place to go.
AXLE UPGRADES, TAROX, TOYOTA, TOYOTA LAND CRUISER, BRAKING
Share this article