Sound-Deadening Kit For JK Wrangler
Originally Published: July 2014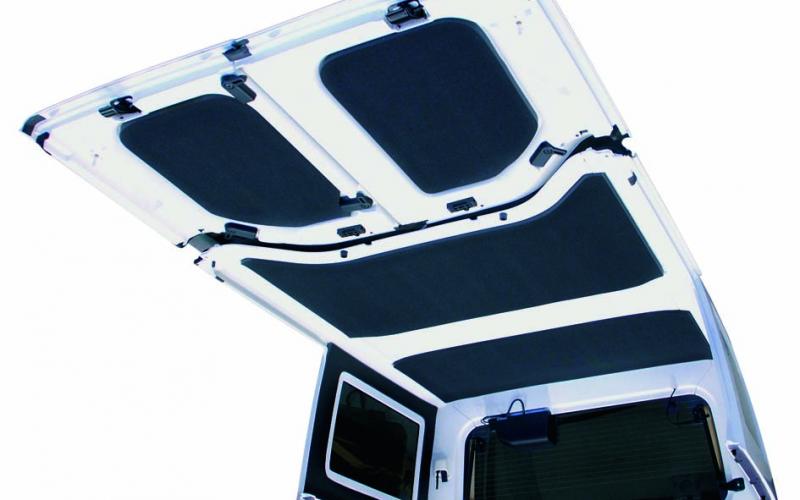 <
>
It was all a bit revolutionary when Jeep brought out the JK Wrangler. Where once it was folding canvas for a roof, suddenly you got a proper hard-top – with lift-out panels to let you get the wind in your hair without having to get your knickers in a twist.
We'd not call the JK an uncivilised vehicle in which to ride, but there's always ways and means of improving anything. And that's just what Boom Mat want to do, with this Sound-Deadening Headliner.
Available for 2-door and 4-door models alike, the headliner is a simple die-cut, peel-and-stick affair. The panels stick to the Wrangler's roof to damp out noise – something that's particularly likely to become an issue if you're running big tyres with an aggressive off-road pattern.
Made from high-quality marine grade acoustic foam, Boom Mat says the headliner can reduce noise levels by three to four decibels. It resists mould and mildew, too, while insulating the cabin from heat or cold with an R4 value – a useful defence against the outside environment from a material that's also used in military vehicles.
The interior face is finished in cloth – which is available in black, white or grey for either short or long-wheelbase models. The panels come ready cut to shape and are self-adhesive, so fitting them shouldn't tax you.
Prices? From $270.97 plus shipping and tax, says Boom Mat, which is of limited use, but a visit www.boommat.com will give you links to the company's UK distributors, so don't be put off.
SOUND DEADENING, JEEP WRANGLER, BOOM MAT
Share this article