AJD Adds DRL Bumper
Originally Published: November 2013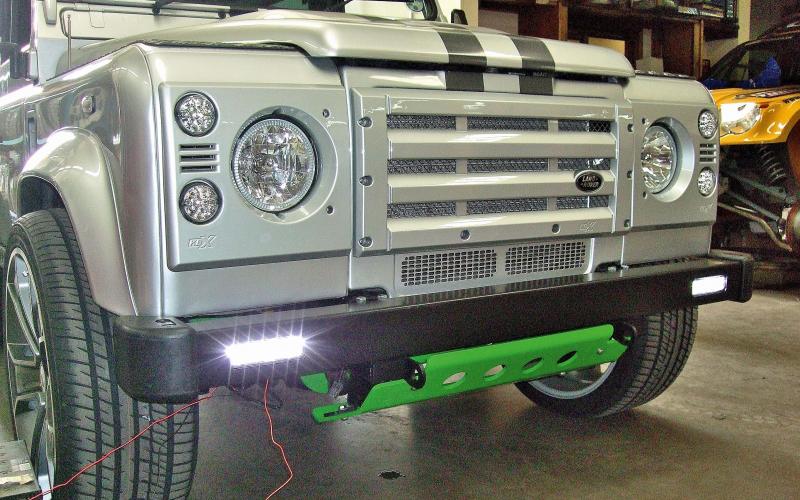 <
>
Ever since February 2011, when the EU started requiring new cars to have daytime running lamps (DRLs), manufacturers have been working out ways of incorporating them into their headlamp designs. The best look very, very cool: the worst look, er, not.
Either way, DRLs are all the rage. They're something that's associated with cars made in the last couple of years, so the aftermarket has been hard at it to launch products for people who see them as a way of making older motors look newer.
As we all know, there's no motor in the world better suited to bringing up to date than the Land Rover Defender. A coat of paint and a new set of rims can be all it takes to make a truck from the Thatcher years look like a new 'un. Add a set of DRLs, and the image looks more contemporary than ever.
Hence these new front bumpers from AJD Landrovers, which contain LED running lights and are finished off with rubber end caps (themselves a mark of modernity as far as Defenders are concerned). They definitely look the part and they're as tough as any other standard-shape Landy bumper, too.
The price? At £175 plus VAT, not tiny but not silly, either. Good-looking, hard-wearing and made to do the job… just like the truck itself, really. Find out more from AJD at www.ajdlandrovers.co.uk.
LAND ROVER DEFENDER, LAND ROVER, AJD LANDROVER, DAYTIME RUNNING LIGHTS, LIGHTING, FRONT BUMPER
Share this article